FEATURED POST
'The Last Flight,' 'Thirteen Women,' 'Blessed Event' and more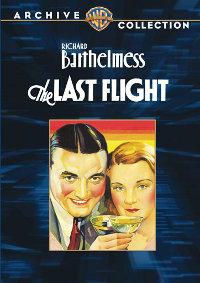 A month ago I covered a collection of pre-code movies released through the Warner Archive Collection, 11 early sound films of varying quality and pleasure that all, in their own way, had a little audacity to them.
Those releases found an appreciative audience, apparently, if the Warner Archive Facebook page and Tumblr blog  and Warner has continued mining their library of pre-1933 movies, the year the production code went into effect and started censoring Hollywood films in earnest. Here are the most interesting films I've been watching from this batch, plus one released in 2010 that I just caught up with and adds another dimension to the pre-code sensibility.
That earlier release is "The Last Flight" (Warner Archive), Hollywood's 1931 "lost generation" film, the story of four World War I fliers discharged after being shot down and injured. They are "spent bullets," as one officer calls them with some sympathy, unfit for service but unprepared to reenter society. Richard Barthelmess and David Manners headline this one as buddies who survive being shot down but they are too damaged (emotionally and physically) to go back home, so they live it up in Europe as if there was no tomorrow, drifting from one party and nightclub to another and, in turn, hitting in Nikki (Helen Chandler), a guileless rich girl who takes an interest in looking after these broken, directionless men. Hollywood never managed to get Hemingway or Fitzgerald right in this era, but this film takes a respectable run at the same themes in the Hollywood vernacular: high society meets classic Warner street smarts as four Americans in Paris resort to witty repartee and hard-drinking antics to hide haunted souls. Barthelmess was one of the best of the era's heroes, earnest and intent but guarded, and he had a coiled-up presence that suggested a man fighting to keep himself together while the rest of the world let go, and Helen Chandler is enchanting as the dizzy yet genuine rich girl who finds some purpose in a rudderless existence when she adopts these men. She comes off as a jazz age Carole Lombard, an uninhibited screwball beauty as reimagined by F. Scott Fitzgerald.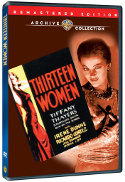 "Thirteen Women" (Warner Archive) is a "Ten Little Indians" thriller set in a circle of sorority sisters whose planned reunion is marred with premonitions of death, murder, and suicide sent by a swami whose astrological readings are all the rage in their society. The 1932 film, a David O' Selznick production for RKO, is a mix of Selznick elegance and pre-code audacity. You won't find the saucy sexuality that defines many the pre-code films here, but you do get death by trapeze and train and a bomb in a birthday present. Irene Dunne is the good girl center of the sorority society and Myrna Loy is the exotic villain (her skin darkened to a dusky "other") masterminding the revenge plot and murdering her way through the circle by suggestion and hypnosis. She's a cool one, so mad with vengeance that she targets the young son of her nemesis in one scene, and stands outside the stateroom of another victim to wait for the suicide gunshot to confirm her plan has succeeded. The smile of satisfaction that spreads across her face confirms it. It's all accomplished in under 60 minutes (the film was cut down from about 75 minutes, apparently, and a few characters were excised with it; details at the Warner Archive Tumblr blog). They don't make 'em like that anymore. This is a "Remastered Edition" and it looks quite good and, apart from the hiss common to the early sound era, it sounds fine.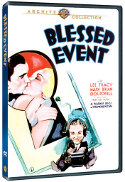 Lee Tracy is one of the pre-code firecrackers whose career never survived the production code (it had to do as much to his own drinking and unreliability than any changes in Hollywood style). "Blessed Event" (Warner Archive) is definitive Lee Tracy, a cynical, sarcastic 1932 Warner picture that casts him as a gleefully mercenary gossip columnist (a not-so-thinly veiled parody of Walter Winchell) who enjoys exposing affairs and revealing hypocrisy among the rich and famous just a little too much. Roy Del Ruth drives this one at the speed of Tracy's fast-taking patter, and while this lean, mean little comedy isn't quite as accomplished as the bigger-budget MGM comedy "Bombshell" just a year later (it's reviewed in Videodrone here), Tracy is even better here, more unscrupulous and ruthless, a man without a conscience (until, perhaps the obligatory and unconvincingly tidy happy ending) whose stunts leave a lot of wreckage in its wake. Like a lot of Hollywood films of the time, it offers up an anti-hero whose behavior is often reprehensible and then simply pretends he's a reformed man in the final seconds. Some people think it's just lazy, and perhaps it is, but I think the filmmakers are a lot less convinced of the happy ending than they are of the rest of the film, and the energy and engagement of those scenes stick around a lot longer than the shots before the fade-out.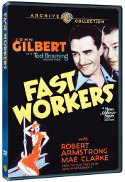 "Fast Workers" (Warner Archive), from 1933, is a rare Tod Browning film without a twist of the macabre, a buddy pictures starring John Gilbert and Robert Armstrong as a riveting team (their names, Gunner and Bucker, are also their jobs) building skyscrapers in New York City by day and competing for dames by night. It's a perverse kind of friendship, where the naïve romantic Bucker keeps asking women to marry him and Gunner has affairs with them to prove they are not worthy of his buddy's commitment. Mae Clarke (who got a grapefruit in the kisser from Cagney in "The Public Enemy") is the dame that Bucker falls for this time, and she's a real piece of work, which only makes her that much more attractive to Gunner. The cliché about John Gilbert, a silent superstar whose career stalled in the sound era, was that his voice couldn't make the transition, but "Fast Workers" proves that a lie. If there's a problem, it's that Gilbert is miscast, playing a seductive sophisticate in evening clothes living far beyond a construction worker's wage. There is quite a bit of wear and vertical scratching on this print, but modern digital mastering overcomes some of the problems simply by stabilizing the frame. The damage is a little distracting at times, but the film itself powers through it thanks to the rock-steady image.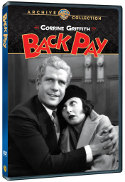 Also recently released:
"Back Pay" (Warner Archive) is one of the few sound features by silent star Corinne Griffith, who plays a small town girl who runs off to the big city and becomes the mistress of a war profiteer (played by Montague Love, another silent star negotiating the transition to sound). The 1930 melodrama is based on a Fannie Hurst story and directed by William A. Seiter.
Also based on a Fannie Hurst story, "Symphony of Six Million" (Warner Archive) stars Irene Dunne as a crippled young woman in New York's Lower East Side who is abandoned by her sweetheart (Richard Cortez) when he makes his fortune as a Park Avenue doctor. Gregory La Cava directs the sentimental picture, which became a big hit and helped launch Dunne as a major star in the thirties.
Available exclusively from Warner Archive:
"Back Pay"
MOD stands for "Manufacture on Demand" and represents a recent development in the DVD market, where slipping sales have slowed the release of classic, special interest and catalogue releases. These are DVD-R releases, no-frills discs from studio masters, ordered online and "burned" individually with every order. You can read a general introduction to the format and the model on my profile of the Warner Archive Collection on Parallax View here and on the MGM Limited Edition Collection on Videodrone here.