FEATURED POST
Plus 'Glee: Season Three,' the complete "The Forsyte Saga,' and more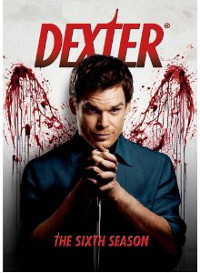 "Community: The Complete Third Season" (Sony) may be remembered as the season that this fan-favorite sitcom really gelled as the most clever comedy on TV. It will surely be celebrated as the last season with its brilliant creator/producer Dan Harmon at the helm. 22 episodes and loads of extras on three discs. Videodrone's review is here.
"Dexter: The Sixth Season" (Paramount) pits everyone's favorite serial-killer hero (Michael C. Hall) against religious psycho "Doomsday Killer" tag-team of Edward James Olmos and Colin Hanks. This isn't the show's best season and the "killing to bring about the apocalypse" plot is contrived even for this show. But I still enjoy Dexter's spirit guides (his dead brother tries to take over and replace the cautionary council of dad with a purely hedonistic philosophy) and the Miami PD politics gets a curve ball when Dexter's sister Debra (Jennifer Carpenter) gets a promotion and turns out to be pretty good, despite her own misgivings. And a nice closing shot that should shake things up next season.
12 episodes on four discs on both Blu-ray and DVD. Both feature cast interviews, but you have to access them via BD-Live on Blu-ray. Both also offer access to the first two episodes of Showtime's "House of Lies: Season One," "Californication: Season Five" and "The Borgias: Season Two," via BD-Live on Blu-ray and E-Bridge on DVD (which essentially means via computer with an internet connection).
"Lake Effects" (Anchor Bay) is a family drama starring Scottie Thomson and Madeline Zima as grown sisters who reconnect after the death of their father (Jeff Fahey). Originally shown on The Hallmark Movie Channel, the TV movie also stars Jane Seymour, Ben Savage, and Sean Patrick Flannery. DVD only, with a featurette and deleted scenes.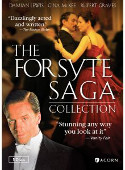 BritTV:
"The Forsyte Saga Collection" (Acorn) – In 1967, the BBC's ambitious 26 episode adaptation of John Galsworthy's novel cycle was a TV landmark. 35 years later Granada TV returns to the cycle for the seven hour-plus mini-series "The Forsyte Saga" (2002), which follows two decades in the life of London solicitor Soames Forsyte (Damiam Lewis, co-starring Gina McKee is his beautiful but unfulfilled wife Irene, Rupert Graves as bohemian cousin Jolyon, Ioan Gruffudd, and Corin Redgrave. It's collected in this box set with the 2004 sequel mini-series (called "The Forsyte Saga: To Let" in the UK), which reunites Lewis, McKee, and Graves to explore the next generation of the Forsyte saga. DVD only.
"Exile" (BFS), a 2011 mini-series created for British TV by Paul Abbot (of "Cracker" and "Shameless" fame), stars Jim Broadbent and John Simm as father and son, reunited when the son, a London reporter, returns home to Lancashire to care for his ailing father and dig into an old mystery that hangs over them both. Two discs. DVD only.
"Dalziel & Pascoe: Season 5" (BBC) features four more episodes from the odd couple mystery series starring Warren Clarke and Colin Buchanan. "Bomber Boys" (BFS), Ewan and Colin McGregor's follow-up to "Battle of Britain," is a TV documentary about the RAF's Bomber Command. Both DVD only.
Jon Pertwee is The Doctor in "Doctor Who: Spearhead From Space" (BBC), story number 51 from the series, and Sylvester McCoy is The Doctor in "Doctor Who: The Greatest Show in the Galaxy" (BBC), story number 155. Both releases feature commentary, featurettes and other supplements. Both DVD only.
Another season:
"Glee: The Complete Third Season" (Fox) takes the kids of New Directions to Nationals, baby, and along the way there are new member (our kids are getting close graduation, after all), tributes to "West Side Story," "Saturday Night Fever," and Michael Jackson. 22 episodes on six discs on DVD and four discs on Blu-ray, plus the usual music jukebox (jump directly to the musical numbers) and featurettes.
"Vega$: The Third Season, Volume 2" (Paramount) presents the show's final 11 episodes on a three-disc set. Which means that's the last of Robert Urich's swinging bachelor insouciance as Las Vegas private eye Dan Tanna, his groovy bachelor pad, and Tony Curtis as casino owner Phil Roth. DVD only.
Reality TV: "Pawn Stars: Volume Five" (History) features 16 episodes from seasons three and four and "American Pickers: Volume Four" features 8 episodes from season two. Two discs each, DVD only.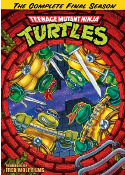 Animation:
"Teenage Mutant Ninja Turtles: Season 10 – The Complete Final Season" (Lionsgate) features the final 8 episodes of the original animated series that ended in 1996, plus two bonus episodes from Season Four, on a single disc. DVD only.
"Young Justice: Dangerous Secrets" (Warner) features 14 episodes from the Cartoon Network series on two discs, plus a digital comic. "Angry Beavers: Season 3, Part Two" (Shout! Factory) features 11 episodes from the Nickelodeon series on two discs. Both DVD only.
Plus:
- "The Fresh Beat Band" (Paramount) features four episodes from the Nickelodeon series, including "The Wizard of Song" (a two-episode story identified on the cover as a "TV Movie). DVD only.
- "Power Rangers Super Samurai, Vol. 1: The Super Powered Black Box" (Lionsgate) and "Power Rangers Super Samurai, Vol. 2: Super Showdown" (Lionsgate) feature four episodes apiece from the second season of "Power Rangers Samurai." DVD only.
For more releases, see Hot Tips and Top Picks: DVDs, Blu-rays and streaming video for August 14