FEATURED POST
Plus more 'Parks and Recreation' and 'The Office,' three HBO shows end, a 'Holy Flying Circus,' and more
"Person of Interest: The Complete First Season" (Warner), one of the success stories of the 2011 TV season, is a clever melding of surveillance conspiracy, freelance good guys, and mystery puzzle, with Jim Caviezel as a burned-out CIA special operative and Michael Emerson as a computer genius with a guilty conscience. Videodrone's review is here.
"Fringe: The Complete Fourth Season" (Warner) sends the cast of the brainy weird science fiction show of parallel universes and dimension-hopping villains into a whole new alternate reality where Peter (Joshua Jackson) never existed, until he pushes his way back in. Reviewed on Videodrone here.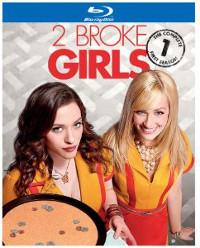 "2 Broke Girls: The Complete First Season" (Warner), a randy sitcom from Michael Patrick King ("Sex and the City") and Whitney Cummings ("Whitney), stars Kat Dennings as Max, a sardonic young woman from the streets of Brooklyn with lots of attitude and very little self-esteem, and Beth Behrs as Caroline, a former socialite who lost her fortune and her reputation thanks to a dad who makes Bernie Madoff look restrained.
Caroline takes a job waiting tables at the downscale diner where Max drops sarcastic comments between orders. The instant clash transforms, in the tradition of all odd couple sitcoms, into unlikely roommates and friends struggling to launch a cupcake business on a waitress salary. Nothing new here, right down to the Israeli short order cook who can't utter a sentence without a lewd comment or the Korean owner who checks off every Asian stereotype within the first half-dozen episodes, but Garrett Morris co-stars the cashier and Jennifer Coolidge drops in as a regular customer with an affection for our down-and-out duo.
24 episodes on Blu-ray and DVD, with the behind-the-scenes featurette "2 Girls Going 4 Broke" and unaired scenes. The second season begins at the end of September.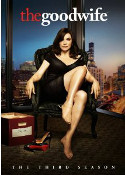 "The Good Wife: The Third Season" (Paramount), the legal drama starring Julianna Margulies, continues to stir the political with the personal through a season of challenges, including the election of her ex (Chris Noth) to the office of District Attorney and disbarment proceedings against her boss and one-time lover (Josh Charles). Things only get more complicated as Noth comes to terms with the separation and makes a decision about the gubernatorial race and Margulies starts to realize how much she misses the family, despite the meddling of her mother-in-law. 22 episodes on six discs on DVD only., with the featurettes "The Good Wife: A New Beginning," "Research and Development," "A Bi-Coastal Affair," and "Alicia Florrick at a Crossroads," plus deleted scenes. The fourth season begins at the end of September.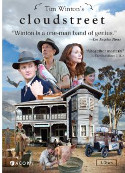 The Australian mini-series "Cloudstreet" (Acorn) is based on one of the country's most beloved novels that chronicles twenty years in the lives of two families sharing (not always amicably) a big, ramshackle house in rural Perth. The six-part, six-hour series was major television event in Australia. "'Cloudstreet' is fine, involving filmmaking that will meet impossible expectations, those of our own imaginations," writes Michael Bodey in The Australian. "The six hours begins grimly in the first two-hour episode, as it must, but soon opens into a delight that justice has been done to a grand novel." Stephen Curry, Essie Davis, Geoff Morell, Emma Booth, and Kerry Fox star. The two-disc set features over an hour of featurettes.
"Thriller Fan Favorites" (Image) - Stephen King cites "Thriller," the sixties anthology series hosted by Boris Karloff with easy dignity and a theatrical flair, as his favorite TV horror show of all time. The complete series was released a couple of years ago. The two-disc set samples ten classic episodes, including the famous "Pigeons From Hell," one of the creepiest horror tales ever made for television. DVD only.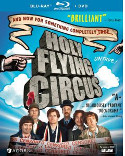 BritTV:
"Holy Flying Circus" (Acorn) reimagines the real-life controversy over the release of "Monty Python's Life of Brian" in Britain, and the famous TV debate that pitted Pythons John Cleese and Michael Palin against British comedian Malcolm Muggeridge and the Archbishop of York, as a TV movie that plays like a series of Monty Python sketches. The inherent problem with such an approach is that you can't help but judge it by the standards set by Python. So while it's often clever, with terrific impersonations of the troupe members, overall it feels more like loving impression rather than an original work. It's an obscure piece of cultural history for most Americans but irresistible Python lore for fans. Blu-ray and DVD, with deleted scenes, outtakes, and a brief featurette on the credits sequence.
"Young James Herriot" (Acorn) dramatizes the early life of famed British veterinarian who turned his life into the bestselling "All Creatures Great and Small" and other books.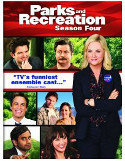 Another season:
"Parks and Recreation: Season Four" (Universal), the best season yet of what I think is the smartest sitcom on TV, takes us on the campaign trail as Leslie Knope (Amy Poehler) runs for City Council against the lovable doofus son (guest star Paul Rudd in perfect form) of the town's biggest employer while finding love in coworker Adam Scott. This is one of the funniest ensembles on TV (Rashida Jones, Nick Offerman, Aziz Ansari, Aubrey Plaza, Chris Pratt, and Rob Lowe are all priceless) and the series doesn't take a wrong comic step while it explores the complications of love and relationships. 22 episodes on four discs, plus four extended episodes, deleted scenes, a gag reel, webisodes, Knope campaign ads, and other supplements. DVD only.
"The Office: Season Eight" (Universal) struggled to find its identity in the post-Carrell incarnation, however, even with the addition of James Spader as the enigmatic new CEO Robert California. Which is to say, this ensemble is still clicking but it lacks a anchoring personality at the center or a sense of narrative direction. But hey, it's still pretty funny. 24 episodes on Blu-ray and DVD, with two extended episodes, deleted scenes, a gag reel, webisodes, and promos. The Blu-ray edition features bonus DVD and UltraViolet editions of each episode.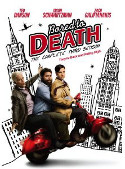 The final seasons of three of HBO's half-hour shows also arrive this week, all on Blu-ray and DVD. "Bored to Death: The Complete Third Season" (HBO) stars Jason Schwartzman as a neurotic New York novelist turned unlicensed private investigator and Ted Danson and Zach Galifianakis as his equally befuddled friends. Eight episodes of private eye conventions, modern fiction, urban malaise and intellectual disconnection, plus commentary, deleted scenes and "Inside the Episodes" mini-featurettes.
Also concluding this week are "Hung: The Complete Third Season" (HBO), starring Thomas Jane as a part-time gigolo and Jane Adams as his pimp (ten episodes, plus commentary, featurettes, and alternate ending of the season finale) and "How to Make It in America: The Complete Second Season" (HBO), the flip side of "Entourage" with Bryan Greenburg and Victor Rasuk trying to hustle their way through the streets of New York to hit the American Dream (eight episodes, plus commentary and two featurettes).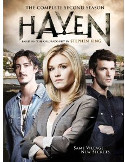 "Haven: The Complete Second Season" (eOne), the SyFy Channel series of strange behavior in small town Maine spun from the Stephen King story "The Colorado Kid," is back for 12 more episodes of supernatural mysteries, plus a Christmas special, on four discs, along with commentary on ten episodes, 11 featurettes, interviews and a comic convention panel discussion. DVD only.
"Grey's Anatomy: Complete Eighth Season" (ABC) features 22 episodes of medical drama and romantic complications with the staff of Seattle Grace, plus the featurette "A Journey Home with Kevin McKidd," an extended episode, and deleted scenes. Six discs, DVD  only.
"Criminal Minds: Season Seven" (Paramount), with Joe Mantegna as team profiler and Thomas Gibson as team leader, keeps the FBI's Behavioral Analysis Unit running for another season. 23 episodes on six discs plus featurettes and deleted scenes. DVD only.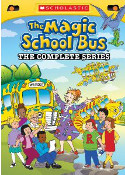 Kid stuff:
"The Magic School Bus: The Complete Series" (New Video) collects all 52 episodes of the animated educational series made for PBS in the 1990s. Eight discs in a box set of eight thinpak cases. DVD only.
"Ninja Turtles: The Next Mutation – Volume One" (Shout! Factory) is the debut of the live action TV incarnation of the series produced in 1997 by Saban, the folks behind "Power Rangers." The first 13 episodes on two discs. DVD only.
"The Haunting Hour: The Series – Volume One" (Shout! Factory) and "The Haunting Hour: The Series – Volume Two" (Shout! Factory) each present five episodes from the horror anthology for adolescent audiences, based on the stories of R.L. Stein ("Goosebumps") and produced for the Hub cable channel. And keeping with the spooky story theme, "Tom and Jerry: Tricks and Treats" (Warner) presents 22 cartoons with ghosts and monsters and other spooky subjects.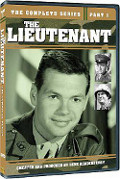 Plus:
The MOD TV round-up looks at Gene Roddenberry's first TV series, "The Lieutenant" (Warner Archive), and other shows arriving on the manufacture-on-deman​d service.
For more releases, see Hot Tips and Top Picks: DVDs, Blu-rays and streaming video for the week of September 4