FEATURED POST
The funniest portrait of misery, obsession, and emotional brutality you may ever see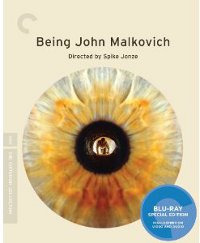 "Being John Malkovich" (Criterion), a devastatingly funny portrait of unhappiness, desperation, desire, and the vicious things we do for love, catapulted Spike Jonze from music video wunderkind to visionary director and Charlie Kaufman from sitcom scribe to brilliant screenwriter. In 1999 it was fresh and daring and inventive, and more than ten years later, in the age of reality TV and celebrity obsession gone viral, it is as timely and topical as ever, and just as inventive, surprising, devastating, and compassionate.
John Cusack stars as a shaggy, self-important only marionette artist who takes a  break from the angst-ridden wish fulfillment fantasies of his puppet theater to get a paying job and becomes obsessed with an acerbic woman (Catherin Keener) in the office next door. The fact that he's married (to an improbably dowdy Cameron Diaz in a dowdy frizz) doesn't phase his flailing attempts at seduction.
The mundane and the miraculous exist side by side in "Being John Malkovich." The half-scale size of the 7 ½ floor is groaner of a pun ("low overhead," get it?) turned deadpan surreal sight gag, and when Cusack stumbles into the weirdly organic portal that sends him into the mind of John Malkovich (played with exceedingly good humor by John Malkovich), the metaphysical implication pale beside the business opportunities.
It has been called quirky, clever, funny, and satirical, and it is all that, but behind all of the madcap invention and creative playfulness is a terrible sadness, a portrait of people so miserable in their own skins that they will do almost anything to become someone else. Jonze really gets Kaufman's multi-layered vision of anxiety and unhappiness and desperation for love and affirmation and success, bringing a compassion to the players and as he celebrates the dark humor, the painful comedy, the neediness, and the cruelty of it all with creative invention and cinematic delights. What better way to explore the vicious things we do for love than through laughter?
Criterion remasters the film for Blu-ray and DVD and fills it with excellent supplements. In addition to the extras carried over from the earlier DVD  release, it features the original 33-minute "All Noncombants Please Clear the Set," shot by Lance Bangs on the set of the film during the production and turned into a documentary for this disc, and a new interview with John Malkovich conducted by comedian John Hodgman (who takes the assignment seriously), plus a photo gallery with commentary by Jonze and about an hour of select scene commentary by friend and fellow director Michel Gondry.
See Criterion's "Three Reasons: Being John Malkovich" video below.
For more releases, see Hot Tips and Top Picks: DVDs, Blu-rays and streaming video for May 15