FEATURED POST
Wolfgang Petersen's World War II submarine thriller debuts on Blu with two different cuts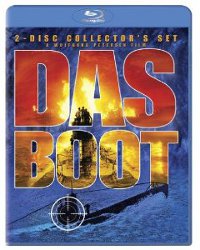 Wolfgang Petersen's "Das Boot" was originally created in two forms simultaneously: as a six-hour mini-series for German television and a 149-minute theatrical version, which was nominated for six Academy Awards. Not satisfied with either edition, Petersen went back in 1997 to create his "Director's Cut" and rereleased the film in a version that ran 208 minutes—over three and a half hours. "Das Boot: 2-Disc Collector's Set" (Sony) presents the Blu-ray debut of the film in both the 149-minute original theatrical cut and 208-minute Director's Cut.
The story remains the same—the ordeal of a German submarine crew in 1942, when the American battleships started turning the tide of the "Battle of the Atlantic." Jürgen Prochnow commands the film as the veteran Captain more concerned with keeping his loyal crew alive than bringing glory to the Fatherland (with the exception of the lone party official on board, these are not Nazis, merely soldiers in war) and Herbert Gronemeyer is the war correspondent who watches along with the audience.
The biggest change between the versions is in the detail of life on a sub: the waiting, the stress, the boredom of endless hours on the sea, and ultimately the numbing tour of duty in a claustrophobic metal coffin. In the theatrical version, a scene of the damaged sub plummeting to the bottom of the sea, the men racing the clock to repair the sub before they run out of air or the sub is crushed by the incredible pressure, is a suspenseful highlight, a gritty countdown as nerves fray and crew ingenuity is tested. In the Director's Cut it becomes an intense ordeal where the protracted wait, silent but for the sounds of the bending metal, is explored through the new luxury of time. Along with the restored footage, Petersen supervised a remix of the soundtrack into a digital, multi-channel design, and the brilliantly remastered sound (presented in DTS-HD MA 5.1) seems to close in on the audience while the *ping* of every popped rivet careens like a bullet. The Theatrical Cut features a DTS-HD Stereo soundtrack.
The two-disc set features one edition per disc. The Director's Cut features commentary by director Wolfgang Petersen and star Jürgen Prochnow. The rest of the supplements are loaded onto the Theatrical Cut disc, including the new 45-minute retrospective documentary "Wolfgang Petersen: Back to the Boat," a featurette with Petersen explaining how and why the director's cut was created, a 1983 documentary on the "Battle of the Atlantic," an interactive tour of the ship and other new and archival featurettes.