FEATURED POST
"Tamara Drewe," "Middle Men," "Life As We Know It," "You Again," "Hideaway" and more hit the New Release racks
A big week, at least in terms of numbers, so let's get started, shall we?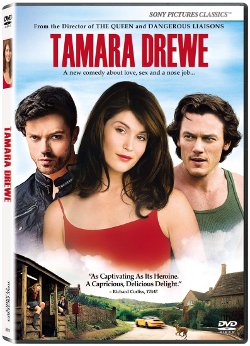 "Tamara Drewe" (Sony), directed by Stephen Frears, has a strange and wonderful pedigree: an adaptation of the graphic novel (by Posy Simmonds) inspired by Thomas Hardy's "Far From the Madding Crowd" and whipped up with a light sex comedy froth by screenwriter Moira Buffini and the cast (headed by the Gemma Arterton as the gorgeous heroine with identity issues and Roger Allam as the philandering author who wants to bed her). Frears brings a light touch and a knowing compassion to this pastoral romantic farce, where true love wins out and false love is (quite literally) trampled out of sight. See my exclusive interview with director Stephen Frears here.
Gemma Arterton and Luke Evans, the terribly gorgeous young things destined for true love in the film, contribute a lively and entertaining (if not particularly insightful) commentary track. The quote of the week goes to Ms. Arterton and her observation: "It's so hard acting with a chicken under your arm." The disc (DVD and Blu-ray both) also includes a couple of featurettes: the general, and fairly generic, "The Making of Tamara Drewe" and the more interesting "Reconstructing Tamara Drewe," which examines the adaptation of the graphic novel with comparisons between the film and the original pages. "It's not a storyboard for the film," explains Frears, "but you can see we captured the essence of it."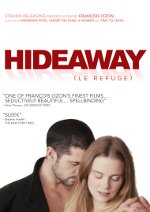 "Hideaway" (Strand) – The films of François Ozon constantly offer alternative family units and this elusive French drama (originally titled "Le Refuge") offers yet another. Isabelle Carré is the drug addict who discovers she is pregnant after surviving an OD that kills her boyfriend and heads out to her hideaway to have her child. Louis-Ronan Choisy is the gay brother of her dead boyfriend who shows up at the beach house escape and, for a time, enters her life with an intimacy that no one else is able. She's both childlike and terribly experienced, removed and yearning, unwilling to put her trust in anyone else but hoping she finds someone to change her mind as she allows the pregnancy to envelope her like a tide. This young gay man is not necessarily that person, but for a brief moment they find a connection and a reason to care for another. In French with English subtitles.
"The Romantics" (Paramount), starring Katie Holmes, Josh Duhamel and Anna Paquin in a romantic triangle centering the indie ensemble drama, is reviewed here. "There are shenanigans and some emotional fireworks (quite tasteful) over the night between the rehearsal dinner and the wedding, but this isn't so much a romantic comedy as a lightweight indie ensemble drama that never quite gels"
"Middle Men" (Paramount) digs into the shallow end of the American Dream to chronicle the rise of Internet porn as an economic goldmine, with Luke Wilson as the modest businessman who sees the profit potential in the new digital pipeline of smut. "This sprawling, apparently real world-inspired, often outrageous tale of the dirty business of Internet porn and how it got that way – that is, so huge and so easy – is pretty clearly Gallo's homage to Scorsese's "Casino"," writes MSN critic Glenn Kenny. "It's no surprise that "Middle Men" isn't quite as smart, or nearly as difficult, as Scorsese's multileveled, often almost oppressively intense picture… But the picture is never not engaging, and it certainly has its moments." Giovanni Ribisi, Gabriel Macht, Kelsey Grammer and James Caan co-star. Not much in the way of supplements, but then the entire Internet is provides all the pertinent evidence you could want, right?