FEATURED POST
Plus Criterion editions of 'The Game' and 'Eating Raoul,' a silent 'David Copperfield,' and more
By 
SeanAx
 Sep 26, 2012 10:37PM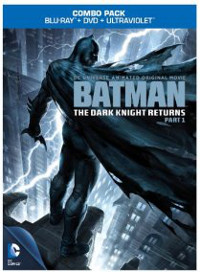 "This Is Cinerama" (Flicker Alley) is less a movie than a glorified travelogue – emphasis on the glory. It launched Cinerama, the first high definition theater format (before IMAX), with roar, and debuts in a deluxe Blu-ray+DVD Combo Pack along with companion release "Windjammer" (Flicker Alley). Videodrone's review is here.
"Batman: The Dark Night Returns, Part 1" (Warner), the latest DC Universe animated original movie, tackles Frank Miller's landmark Batman graphic novel. It's their most ambitious project to date and if you accept the fact that no conventional animated film could ever really capture the graphic edge of Frank Miller's dystopian vision or the psychotic intensity of his vigilante fantasy, then you can appreciate how much this direct-to-disc animated feature got right in its translation to a more mainstream audience.
Peter Weller voices old man Bat as an angry, bitter, seventy-something resurrection of the once-retired hero who comes back by sheer force of will in a Gotham City spiraling into chaos, and Ariel Winter (of "Modern Family) is Carrie, the girl who becomes his Robin. Streamlined to a more conventional narrative, the animated film loses the power of Miller's defining graphic design but is accurate to the story, which becomes more of cartoon of weak-willed liberals in a savage world right out of an Ayn Rand fantasy. But the blocky, square-jawed Batman has the same hard, etched lines and graphic presence of the comic book page and the fight scenes deliver a different kind of action:  the sheer force of will and physical endurance of the old man Bats pushing his body past its limits. The deliberate pacing and pounding action is more about the force of the blows than the grace and spectacle of the choreography. It would take a far more daring approach to really do justice to Miller's groundbreaking work, which is defined as much by his graphic design as by his writing, but this is at the very least interesting and at best unexpected. The second part of the story is set for release in 2013.
Blu-ray and DVD, with the featurettes "Batman and Me: The Bob Kane Story," previews of upcoming DC Universe animated original movies, and two bonus "Batman" cartoons from the animated series. Exclusive  to the Blu-ray is the featurette "Her Name is Carrie… Her Role is Robin" and a digital comic.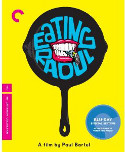 Good taste has nothing to do with "Eating Raoul" (Criterion), Paul Bartel's clever black comedy about Paul and Mary Bland, a mild-mannered couple (Bartel and Mary Woronov) who turn to kinky sex and murder to earn the cash needed to open their dream restaurant in the country.  Robert Beltran is Raoul, a thief who elbows his way into their plot and puts the moves in Mary. Features commentary by screenwriter Richard Blackburn, art director Robert Schulenberg, and editor Alan Toomayan, two terrific short films by director Paul Bartel – "The Secret Cinema" (1968) and "Naughty Nurse" (1969) – and the original documentary "Cooking Up Raoul" featuring interviews with stars Mary Woronov, Robert Beltran, and Edie McClurg, plus outtakes, an archival interview with Bartel and Woronov, and a booklet with an essay by film critic David Ehrenstein.
"The Game" (Criterion), David Fincher's 1997 follow-up to "Seven," is the second Fincher film to get the Criterion treatment. Michael Douglas stars as a humorless business tycoon (an even more rigid version of 'Wall Street"'s Gordon Gecko) finds his life infiltrated and terrorized when his brother's gift (Sean Penn) of a real life adventure takes an ugly turn. Mastered from a new digital transfer and featuring a new 5.1 surround mix supervised by sound designer Ren Klyce and Fincher, it also features commentary by Fincher, Savides, actor Michael Douglas, screenwriters John Brancato and Michael Ferris, digital animation supervisor Richard "Dr." Baily, production designer Jeffrey Beecroft, visual effects supervisor Kevin Haug, and visual effects producer Robyn D'Arcy, an hour's worth of exclusive behind-the-scenes footage and film-to-storyboard comparisons for four of the film's major set pieces (with commentary), and an alternate ending, plus a booklet with an essay by film critic David Sterritt. Blu-ray and DVD.
"David Copperfield" (Thanhouser), the 1911 three-reel adaptation of the Dickens novel produced by the Thanhouser Company, is one of the class productions of America's pre-feature silent era: handsomely mounted and sweeping in scope, even as it condenses the novel to a about 40 minutes. It's a well-mastered version a beautiful Italian print (with optional English subtitles) restored by the L'Immagine Ritrovata of Bologna. I don't know if I've ever seen another film of this vintage that looks so good: sharp, clear, with only minor damage and scratching. There's a piano score by Philip Carli and the supplements including commentary Dickens scholar Joss Marsh and a bonus film: Thanhouser's 1912 two-reel production of "Nicholas Nickleby." Available at Thanhouser Company Film Preservation Inc.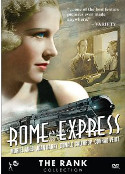 Three more films from the British Rank Collection debut: "Rome Express" (VCI), a 1933 thriller that anticipates Alfred Hitchcock's "That Lady Vanishes"; the 1946 "Caravan" (VCI) with Stewart Granger as a poor boy who risks all to make his fortune and win the woman he loves; and the 1948 comedy "Woman Hater" (VCI), directed by Terence Young and starring Granger and Edwige Feuillere.
VCI also releases new special editions of the 1981 "Dark Night of the Scarecrow: Deluxe Collector's Edition" (VCI), with commentary, an expanded featurette, and cast reunion Q&A from 2011, and the 1987 "Forever Evil" (VCI), with both the 110 minute director's cut and a longer Home Video Premiere Cut, plus commentary and deleted  scenes.
"Weird-Noir: Six B-Movies" (Image) are genuine B-movies crime films from the 1950s and 1960s, culled from the Something Weird library. Beverly Garland stars in "Stark Fear" (1963), but she's the only familiar face in the line-up, which is filled out by "Girl on the Run" (1953), "The Naked Road" (1959), "The Seventh Commandment" (1961), "Fear No More" (1961), and "Fallguy" (1962). Two discs, DVD only.
Also check out the Videodrone B-Sides for September, which includes the Australian shark attack thriller "Bait 3D," and the MOD Movies round-up, spotlighting the early B-movie crime dramas of Budd Boetticher.
Plus:
- "Resident Evil: Damnation" (Sony) is not one of the big screen sequels to the Milla Jovovich action fantasies but a CGI animated featured from Japan that takes a different approach to the video game. Released with an English dub soundtrack. Blu-ray and DVD, with featurettes and a gag reel. Also available at Redbox.
- "In the Devil's Garden" (1971), directed by Sidney Hayers and starring Suzy Kendall and Frank Finlay, is a British horror with giallo (Italian horror) flavor. DVD only.
- "Shut Up!" (Hen's Tooth), a French action comedy from writer / director Francis Veber, stars Gerard Depardieu and Jean Reno as mismatched cellmates on the run from the cops and fellow criminals. French with English subtitles, DVD only.
- "Adventures in Plymptoons" (Cinema Libre) is a documentary on independent animator and two-time Academy Award nominee Bill Plympton. DVD only, with featurettes.
- "Super Hero Clown Party" (Cinema Libre) is an indie character comedy about a guy whose job in, in fact, playing a super hero at kid birthday parties.
- "Scream Theater" - VCI has repackaged a batch of their horror films into "Scream Theater" double features. Most of them are just the usual B-movie junk from the 1960s through 1980s that have been staples of bargain bins since the VHS days, but there are some good films scattered through the volumes, like "The City of the Dead" (1960), a spooky British supernatural horror with Christopher Lee (on Volume 4), and the oddball black comedy "Children Shouldn't Play With Dead Things" (1972), the first film from director Bob Clark (Volume 6). And they are bargains at $9.99 apiece. The complete list is below:
"Scream Theater Volume 1: Sisters of Death / Scream Bloody Murder" (VCI)
"Scream Theater Volume 2: Terror Tenkill / The Last Slumber Party" (VCI)
"Scream Theater Volume 3: Don't Open the Door / Don't Look in the Basement" (VCI)
"Scream Theater Volume 4: Legend of the Witches / The City of the Dead" (VCI)
"Scream Theater Volume 5: Blood Cult / Revenge" (VCI)
"Scream Theater Volume 6: Children Shouldn't Play With Dead Things / Forever Evil" (VCI)
"Scream Theater Volume 7: Swamp of the Ravens / Zombie (aka I Eat Your Skin)" (VCI)
"Scream Theater Volume 8: Ruby / Kiss of the Tarantula" (VCI)
For more releases, see Hot Tips and Top Picks: DVDs, Blu-rays and streaming video for the week of September 25