FEATURED POST
Kristen Wiig lets the girls play in the guy's sandbox of gross-out comedy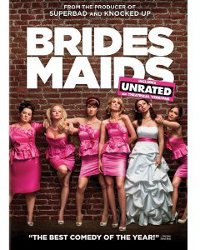 Every couple of years, some film with a predominantly female cast becomes a big hit and suddenly every paper and online film site is reminded that women also go to movies. With "Bridesmaids" (Universal), the story was extended to the insight that hey, women can be funny too. Really. Wow, insight indeed.
Read Videodrone's interview with "Bridemaids" star/co-writer Kristen Wiig
No, the real story is that women can have just as much fun playing in the comic sandbox of adolescent behavior, poor judgment and gross-out gags and that both male and female audiences find it just as funny. "Bridesmaids" found box-office gold in a girl-bonding romp filled equally with outlandish bridal showers and alcohol-fueled slapstick aggression, grand romantic gestures and furtive sex, high couture and low blows.
Wiig, like so many underutilized and highly creative performers before her, answered the lack of substantial roles by writing one for herself and her fellow funny ladies, but she built the character of Annie on a foundation of disappointment and anxiety that women and men both can relate to. An entrepreneur picking up the pieces from a failed business, she's broke, in a job she hates, a roommate situation that drives her farther into depression and a relationship with a cad who undercuts her self-esteem with every sleepover. When her best friend (fellow "SNL" regular Maya Rudolph) announces that she's getting married, the sinkhole just gets worse, especially when she finds herself competing with a spoiled society girl (Rose Byrne) who proclaims herself the new best friend.
The anxiety of underemployment and the palpable humiliation of slowly losing her independence gives a human dimension to the over-the-top comedy and helps smooth out the sometimes spotty nature of this kind of filmmaking. But mostly, it's satisfying to see Annie act out in ways that movies allow men to constantly but rarely extend to women: responding to stress and jealousy like an overgrown adolescent, misbehaving out of pique and anxiety, screwing up big and getting the opportunity to make good and be forgiven.