FEATURED POST
Looking to cram for the awards this weekend? Here's our guide to the year's nominated films currently available on Blu-ray, DVD and digital streams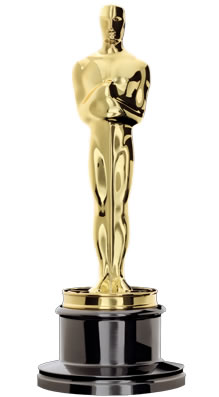 The Academy Awards finally arrive on Sunday, February 26. Have you seen all the nominees (see full list here)?
You only have a few days to cram, but the good news is that many of them are already available on Blu-ray, DVD, On Demand or streaming video. Not all of them, mind you -- best picture nominees "The Descendants," "War Horse," " Hugo," "Extremely Loud & Incredibly Close," and " The Artist" are still in theaters ("Hugo," by the way, arrives on Blu-ray and DVD on February 28, two days after the ceremony) -- but here's a list of those you can see now on a small screen near you. Click on the titles to get to the DVD/Blu-ray reviews on Videodrone.
"Moneyball" (Sony), arguably the brainiest sports movie ever, came away with six nominations, including Best Picture, Best Actor (Brad Pitt), Best Supporting Actor (Jonah Hill) and Adapted Screenplay. The Blu-ray and DVD editions offer a few peaks behind the production. Also available On Demand.
"Midnight in Paris" (Sony), the grown-up romantic fantasy that unexpectedly became Woody Allen's most financially successful film ever, earned four nominations, including Best Picture, Best Director and Best Original Screenplay. On Blu-ray and DVD with minimal supplements, and On Demand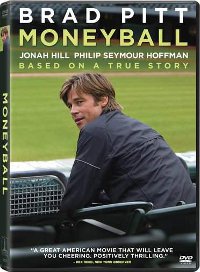 "The Tree of Life" (Fox), Terrence Malick's portrait of one boy's education growing up in Texas set against nothing less than the origins of life in the universe, picked up nominations for Best Picture, Best Director and Best Cinematography, and it is a stunning looking film on Blu-ray, which also features the supplements (there are none on the DVD). Also available On Demand.
"The Help" (Touchstone), based on the bestselling novel by Kathryn Stockett and featuring a great cast of powerhouse actresses, earned a Best Picture nod along with nominations for three of its stars: Viola Davis (heavily favored to take Best Actress), Jessica Chastain, and Octavia Spencer (Best Supporting Actress). Blu-ray and DVD, and the Blu-ray reveals some interesting stories behind the making of the film. Also available On Demand.
"Bridemaids" (Universal), Kristen Wiig's comedy of women behaving badly, earned two nominations: Best Supporting Actress (Melissa McCarthy) and Best Original Screenplay (for Wiig and her writing partner Annie Mumolo). It's also the funniest of the nominated films. Blu-ray and DVD, with plenty of supplements and outtakes, and On Demand.
"A Better Life" (Summit) features this season's biggest surprise: Best Actor nominee Demian Bichir is a dark horse in this category, and that's in large part because few people saw the film. Now's your chance. DVD only.
"Beginners" (Universal), an American indie dramedy of second chances, earned a Best Supporting Actor nomination for Christopher Plummer as a widowed father who comes out of the closet at age 75. Blu-ray, DVD and On Demand.
"Warrior" (Lionsgate), a sports drama about brothers in the world of mixed martial arts, picked up a Best Supporting Actor nomination for Nick Nolte, who plays the trainer father of the brothers. Blu-ray, DVD and On Demand.
"The Ides of March" (Sony), George Clooney's political drama starring Ryan Gosling, earned a nomination for Best Adapted Screenplay (which Clooney himself helped adapt). Blu-ray and DVD, with supplements, and On Demand.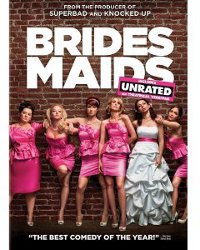 "Margin Call" (Lionsgate) tackles nothing less than exploring and explaining how and why the 2008 market crash happened. It succeeded well enough to earn a nomination for Best Original Screenplay. Blu-ray and DVD, both with commentary and featurettes, and On Demand.
Animated feature nominees "A Cat in Paris" (from France) and "Chico and Rita" (Spain) are still in very limited release but "Rango" (Paramount), "Kung Fu Panda 2" (DreamWorks) and "Puss in Boots" (DreamWorks) are readily available on Blu-ray and DVD.
"Hell and Back Again" (Docurama), which won the top documentary prize at Sundance 2011, and "If a Tree Falls: A Story of the Earth Liberation Front" (Oscilloscope), are the sole documentary nominees currently available (on DVD and Blu-ray, but HBO subscribers can see "Paradise Lost 3: Purgatory" via HBO GO.
None of the foreign nominees, meanwhile, are available on home video (at least stateside).
And if you really want to be complete and explore the craft and technical categories, you can check out the art direction and make-up of "Harry Potter and the Deathly Hallows - Part 2" (Warner), the costume design of "Jane Eyre" (Universal) and "Anonymous" (Sony), the sound editing of "Drive" (Sony), and the visual effects of "Real Steel" (Disney), "Rise of the Planet of the Apes" (Fox), "Transformers: Dark of Moon" (Paramount), and "Harry Potter" at home. On Blu-ray, DVD and On Demand.
The most difficult films to see, however, are usually the short films. The live action, animated and documentary shorts are often bundled together for special programs in some of the bigger markets for a limited time, and some are available via iTunes (the site is offering "The Fantastic Flying Books of Mr. Morris Lessmore" for free viewing, for instance), but otherwise these can be very difficult to track down. You can, however, see trailers and clips of these nominees at the official Oscars Shorts website here, with links to select availability of shorts and shorts packages on iTunes and On Demand. Anything to give you a leg up in the office Oscar pool.
Now grab your popcorn and your remote and start watching!
For more releases, see Hot Tips and Top Picks: DVDs, Blu-rays and streaming video for February 21