FEATURED POST
Two new collections and a handful of single discs from the anything goes days of early thirties Hollywood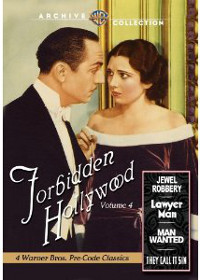 There were a couple of years when Hollywood, moving from the purely visual (with textual assist) storytelling of silent to the immediacy of sound, struggled to find its voice. When it did, the talkies exploded. When stilted line-readings in awkwardly-placed microphones gave way to rapid-fire patter and free-wheeling interplay, the verbal energy sent a lot movies racing, even when the visuals remained restrained.
That's part of the fun of the early thirties Hollywood movies, but only part. Before the  crackdown of the production code, these films fizzed with sex and sass, wise-guys and smart dames, hustlers and sharpies and even elegant society folk with wit and wiles and insouciant charm.
And personality. Lots of personality, thanks to stars like James Cagney, Barbara Stanwyck, William Powell, Joan Blondell, and the great stock company of supporting players at Warner Bros.. That, more than anything mentioned above, recommends the eight films on two recent collections from the Warner Archive.
"Forbidden Hollywood: Volume 4" (Warner Archive) showcases the debonair grace and amused attitude of William Powell in "Jewel Robbery" (1932), playing a cultured jewel thief in Vienna who romances a bored Baroness (Kay Francis) brought to life by his unconventional courtship. He's a guy who conducts a robbery as if hosting a soiree, keeping his victims duly entertained while relieving them of their valuables. Not exactly drawing room wit, but quite lively and fun when Powell is delivering the remarks, and as for its pre-code bonafides, there is an extended sequence with a "drugged cigarette" that is the earliest example of stoner gags I've ever seen. 
Powell is more of a street kid made good in "Lawyer Man" (1932) as a scrappy but scrupulously ethical lawyer who is framed by the political machine and becomes "the biggest, busiest shyster that ever hit this town" to get his revenge. But he's a cool customer even when he goes "bad," and to be fair, he can't even be evil. Ruthless, however, is another matter. Both are directed by William Diertele, as is "Man Wanted" (1932) with Kay Francis (again) and David Manners, and the set is filled out with "They Call It Sin" (1932) starring Loretta Young and George Brent.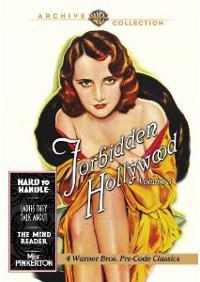 "Forbidden Hollywood: Volume 5" (Warner Archive) kicks off with a firecracker: "Hard to Handle" (1933) finds James Cagney in fine (and familiar) form as a self-made promoter and publicist hustling up stunts and advertising gimmicks, including a dance marathon that anticipates "They Shoot Horses Don't They." The plot bounces around but Cagney's crackling energy and happy-go-lucky attitude powers the plot and the love story, and supporting actors Ruth Donnelly and Allen Jenkins add to the personality quotient. 
I'm a big fan of the elegant, wolfish Warren William and he is superb in "The Mind Reader" (1933), playing a career huckster who scales the heights and then hits the skids as a carnival fortune teller with a side business "advising" society ladies. A lot like "Nightmare Alley," but with less style, more kick, and the kinds of brutal twists pre-code cinema could get away with. The women take charge in rest of the set: Barbara Stanwyck as one those "Ladies They Talk About" (1933) and Joan Blondell in "Miss Pinkerton" (1932).
These are not the "best" of era, simply bright spots in a busy period, but watching them together suggests a film industry racing from one film to another, jumping in with unformed scripts or sketchy stories and riffing their way through production on nothing but personality, attitude, wit, and the newfound confidence of finding their very distinct American voice in the new sound cinema of Hollywood. That's an exaggeration, to be sure, but unorthodox pacing and the brief running times (not one of these films runs over 80 minutes) gives you the sense that they were full speed ahead, racing just to keep up with demand.
These two collections are also part of a recent policy shift on the part of the Warner Archive. The first run of these sets are pressed DVDs rather than the burned DVD-Rs standard to the MOD service. There is no difference between them otherwise -- the image and sound quality is identical -- but there is widespread preference to the permanence of the pressed disc, which will likely have a longer shelf life and fewer potential compatibility issues with players. Warner doesn't advertise the pressed discs not does it keep track of how many are left (after the first batch is gone, subsequent sets will be burned as ordered), but at last check, consumers were still receiving pressed copies.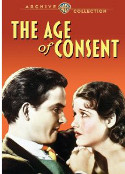 Each film is on a separate disc with menu artwork that suggests a single-disc release may be in the future (to be clear, this is my own guess; Warner has not announced any such plan).
In addition to these marvelous sets, Warner Archive has recently released a number of other films from the pre-code era individually. Here are my short takes on a few choice titles from the archive's RKO and MGM libraries.
"The Age of Consent" (1932), directed by the great Gregory La Cava, is a real oddity, a drama of college romance and responsibility in jazz-age culture. There's serious moralizing from a pair of professors whose own examples are hardly desirable: in their sacrifice for success, they lost out on love. They still mourn the loss. Maybe that's the McCarey touch; that bittersweet loss and regret comes back in his masterful "Make Way For Tomorrow."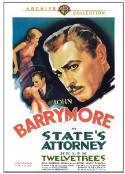 John Barrymore is "State's Attorney" (1932), a hard-drinking mob lawyer put up for DA by his old crime boss, with Barrymore rising to the position with a newfound moral conviction. The script is pretty much tossed together but Barrymore is perfect as the dazzling courtroom performer who drinks out of self-disgust.
"Lucky Devils" (1933) are the Hollywood stuntmen, a rough and tumble but superstitious bunch, and this fast-paced drama gets plenty of mileage from the dynamic action scenes and the anxiety between takes.
"Clear All Wires" (1933) showcases the rat-a-tat patter and mercenary character of Lee Tracy as a foreign correspondent who is not above double-crossing fellow journalists or staging his own news stories. The script wanders all over the place but Tracy's shameless snark and Una Merkel's dizzy bounce provides plenty of entertainment.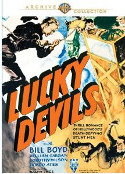 Available exclusively from Warner Archive:
"Forbidden Hollywood: Volume 4" (four discs)
"Forbidden Hollywood: Volume 5" (four discs)
Previous Pre-Code MOD reviews:
'Safe in Hell' and other Pre-Code Pleasures
Cagney, Crawford and Montgomery Before the Code
MOD stands for "Manufacture on Demand" and represents a recent development in the DVD market, where slipping sales have slowed the release of classic, special interest and catalogue releases. These are DVD-R releases, no-frills discs from studio masters, ordered online and "burned" individually with every order. You can read a general introduction to the format and the model on my profile of the Warner Archive Collection on Parallax View here and on the MGM Limited Edition Collection on Videodrone here.
For more releases, see Hot Tips and Top Picks: DVDs, Blu-rays and streaming video for week of August 7