FEATURED POST
Plus Bill Murray in 'Meatballs' and 'The Wayward Bus' from John Steinbeck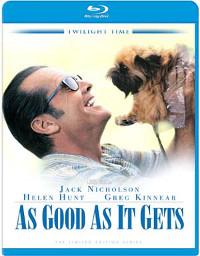 "The Gold Rush" (Criterion), Charlie Chaplin's 1925 frozen north comedy classic, has been on DVD before, but Criterion remasters the original silent version from a newly restored print for their new DVD release and Blu-ray debut. Videodrone's review is here.
"As Good As It Gets" (Twilight Time), James Brooks' 1997 romantic comedy for grown-ups, won Oscars for stars Jack Nicholson and Helen Hunt and an Oscar nomination for Greg Kinnear. Nicholson (who previously won an Oscar for Best Supporting Actor under Brook's direction in "Terms of Endearment") plays a misanthrope who happens to be a best selling romance novelist, and his evolution to joining the human race through a romance his favorite waitress (Hunt) and his friendship with his gay neighbor (Kinnear). Home video may be the proper home for this hit comic drama. After a successful career in sitcoms Brooks brings the same sensibility to this film, a triumph of character over story and acting over direction. The Blu-ray debut features no supplements apart from an isolated audio track with Hans Zimmer's score. Limited to a run of 3,000 copies, available exclusively from Screen Archives.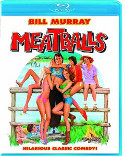 "Meatballs" (Lionsgate) is arguably the defining summer camp comedy, PG-rating and all, thanks largely to Bill Murray's cheeky performance. Murray plays the Prankmaster General head of the counselors, all grinning rebelliousness and energetic impudence but fond of the geeks and nerds of his underdog camp (one kid is even named Spaz) and all mock-inspirational speechifying in the battle with the snooty rich kids across the lake. Between the practical jokes unleashed on camp director Morty and flippant announcements over the camp P.A. system, he even get to play supportive big brother and help social outcast Chris Makepeace become a hero! There's no story to any of this, just a series of gags and incidents held together by Murray, who is practically the film's MC with his schtick and almost non-stop patter. The rest is a PG sex comedy without any actual nudity or crudity. Features commentary by director Ivan Reitman and co-writer/producer Dan Goldberg.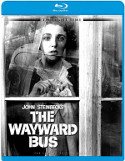 "The Wayward Bus" (Twilight Time) is a rare Twilight Time Blu-ray debut of a film that is still not on DVD. Based on a novel by John Steinbeck, it's kind of a modern "Stagecoach" on a bus down a bumpy California road with a passenger list of troubled souls, including Rick Jason as the married bus driver, Joan Collins as his unhappy, alcoholic wife, Jayne Mansfield as a stag-party girl, and Dan Dailey as a tired travelling salesman. Victor Vicas directs in B&W CinemaScope. Features commentary by film historians Alain Silver and James Ursini and an isolated audio track with the score by Leigh Harline. Available exclusively from Screen Archives.
"Red Scorpion" (Synapse), a post-"Rambo" action thriller, stars Dolph Lundgren as a Soviet Special Forces soldier in Africa who is betrayed by his Cuban partners and left to die in the desert. Saved by an African tribesman, he switches sides and defends the locals against Cuban aggression. Today it may be more famous for its backstory: it was developed and co-produced by Jack Abramoff (who gets story credit on the film). The Blu-ray+DVD combo pack presents the uncensored version of the film from a new digital restoration with commentary by director Joseph Zito with film critic Nathaniel Thompson, plus a featurette, bonus interviews (including one with Abramoff), rare behind-the-scenes video footage, and a booklet with liner notes.
For more releases, see Hot Tips and Top Picks: DVDs, Blu-rays and streaming video for June 12