FEATURED POST
A French hitman in Los Angeles and a continental crime movie in America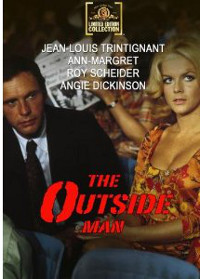 "The Outside Man" (MGM Limited Edition Collection) is out-of-town contract killer Lucien Bellon (Jean-Louis Trintignant), a Paris gunman hired to take out a Los Angeles mob boss, which he does with no fuss or loose ends. Or so he thinks, until he realizes that he's considered a loose end when a local hitman (Roy Scheider in a largely unspoken performance) targets him as he prepares to leave the country.
Though set and shot in Los Angeles, with a largely American cast (including Ann-Margaret as the proverbial hooker with the heart of gold who helps Lucien out, Angie Dickinson, John Hillerman, Alex Rocco, Talia Shire, and Georgia Engel) and a distinctive score with funky soul guitar and wah-wah pedal, this gangster movie turned cat-and-mouse thriller is a French production with a European sensibility shot on the streets of Los Angeles.
Director Jacques Deray may not be the best French crime movie filmmaker of his era but he has way of taking his time and methodically playing out his situations. He isn't so much interested in action as atmosphere and his portrait of American culture gives the crime movie conventions a distinctive sensibility. Deray and screenwriter Jean-Claude Carrière are fascinated with the urban landscape of Tower Records and hamburger joints and busy streets, and the perspective is as much from their perspective as it is of the Paris hitman abroad. Lucien runs across hippy hookers and a Jesus freak hitchhiker, checks the news on coin-operated TVs in the bus station, and takes refuge with a single mother and her bratty son (a very young Jackie Earle Haley), where they watch "Star Trek" reruns over dinner.
The script is clever and woven through with witty asides and blasts of dark humor, and if it never really tense or suspenseful, it features a superb cast (including Michel Constantin as Trintignant's Paris connection, who flies in to help settle the score), some very clever set pieces, and a great look at American urban culture from a European perspective. And the obligatory third act payback, a matter of honor and obligation doomed to mutual destruction, is both perfectly American and utterly French. Some gangster movie conventions are universal.
Available by order only from the MGM Limited Edition Collection, from Amazon, Screen Archives Entertainment, Critics' Choice Video, Classic Movies Now, Warner Archive, and other web retailers.
MOD stands for "Manufacture on Demand" and represents a recent development in the DVD market, where slipping sales have slowed the release of classic, special interest and catalogue releases. These are DVD-R releases, no-frills discs from studio masters, ordered online and "burned" individually with every order. You can read a general introduction to the format and the model on my profile of the Warner Archive Collection on Parallax View here and on the MGM Limited Edition Collection on Videodrone here.
For more releases, see Hot Tips and Top Picks: DVDs, Blu-rays and streaming video for the week of July 10