FEATURED POST
Plus 'Late Spring' in Japan, Abbott and Costello in 'Buck Privates,' and more
By 
SeanAx
 Apr 19, 2012 10:33AM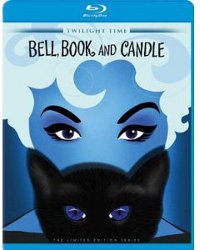 Kim Novak glows in "Bell, Book and Candle" (Twilight Time), the 1958 romantic comedy transplant from Broadway. Novak is at her best as a Greenwich witch halfway between the worlds of magical and mortality, looking after her dotty aunt (Elsa Lanchester) and mischievous warlock brother (Jack Lemmon) as they keep their skills in practice and staid, stuffy James Stewart is actually upstaged by kooky costars Lemmon and Ernie Kovaks. Elegantly photographed in rich, glowing colors by James Wong Howe, it's a fantasy world of New York set to a funky bongo-laced jazz score by George Duning and director Richard Quine gives the witches an almost beatnik sensibility, a real Greenwich Village subculture hanging out in underground clubs and smart curio shops. It's a lark but when it clicks it's bewitching. Features an isolated audio track with George Duning's score and a booklet with notes by Julie Kirgo.
"Late Spring" (Criterion), the classic Yasujiro Ozu drama of family duty and devotion, stars Ozu favorite Chishu Ryu as a widower determined to marry off his beloved only daughter (Setsuko Hara). Like so many of Ozu's films, it tenderly tackles the obligations children and parents have for one another, the sacrifices they make out of love, and the tension between the two, with a bittersweet compassion. So lovely and so sad. Features commentary by Richard Peña, program director of New York's Film Society of Lincoln Center, and "Tokyo-Ga" (1985), Wim Wenders' documentary tribute to Ozu's Tokyo, plus a booklet with essays by Donald Richie and Michael Atkinson.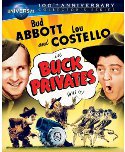 "Buck Privates" (Universal), the first feature to put Abbott and Costello in starring roles, inducts them into the army (they enlist by accident while ducking a New York cop) and follows their antics through basic training, where their drill sergeant is the very same New York flatfoot (Nat Pendleton) on their trail. Universal still wasn't sure the boys could support a film themselves so Lee Bowman and Alan Curtis take a big chunk of the film in a romantic subplot with Jane Frazee, easily the most forgettable part of the film. The Andrew sisters sing "Boogie Woogie Bugle Boy." Arrives on Blu-ray as part of Universal's 100th Anniversary Collection in a Blu-ray book with illustrated notes and scripts of Abbott and Costello's best bits in the film.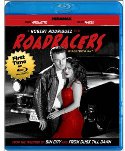 "Roadracers" (Lionsgate), the second feature from young turk filmmaker Robert Rodriguez, was originally made for HBO as part of a series of modern B-movies and shares that same spark of ingenuity and offbeat humor that made "El Mariachi" so much fun. This tale of a leather-clad small town rebel with a rockabilly heart is all broad strokes and bright colors, a 50s exploitation knock-off with a 90s sensibility in a never-land of fast cars, twangy guitars and malt-shop philosophy. It also marks the American debut of Mexican star Salma Hayek. Features director commentary and another of Rodriguez's "10-Minute Film School" featurettes.
"Désirée" (Twilight Time), a 1954 widescreen spectacle, stars Marlon Brando as Napoleon, Merle Oberon as Josephine, and Jean Simmons as Désirée, the love of his life. This romantic take on the rise and fall of Napoleon has never been on DVD in the U.S. so Blu-ray marks the film's digital home video debut. Features an isolated audio track with Alex North's score and a booklet with notes by Julie Kirgo.
"Murdoch Mysteries: Season One" (Acorn) is the second version of the Canadian mystery series about a 19th century CSI-styled investigator for the Toronto Police Department in the 1890s. 13 episodes on three discs.
For more releases, see Hot Tips and Top Picks: DVDs, Blu-rays and streaming video for April 17