FEATURED POST
Michelle Williams earned an Oscar nomination for her intense performance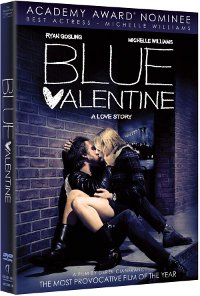 "Blue Valentine" (Anchor Bay)
Michelle Williams, passed over at Oscar nomination for "Wendy and Lucy" last year, finally got her deserving nomination for Best Actress for her emotionally naked performance in "Blue Valentine," opposite an equally intense and committed Ryan Gosling as young marrieds in an unraveling relationship.
Director Derek Cianfrance, who extensively used improvisations to create a spontaneity, intercuts his anatomy of the end of a marriage with flashbacks to the excitement and anticipation and hope of the beginning of the relationship, and shoots it all with a handheld camera that, which is more distracting that immediate and "real." But it does create a crucible for very powerful performances and a convincing relationship in all its contradictions.
In the words of MSN critic Glenn Kenny, "it is, in fact, really almost very, very good. Which means, when you break it down, that "Blue Valentine" largely feels genuinely honest, rather than aspiring to an obvious movie facsimile of "honest." It also means that the film is scrupulously conceived and genuinely well-constructed. That it is, finally, a considered work of ... wait for it ... art!"
The DVD and Blu-ray editions both feature a production-oriented commentary by director Derek Cianfrance (who spent years getting this film made and has plenty to say about every step) and co-editor Jim Helton, the 13-minutes "The Making of Blue Valentine" (which is more thorough and dense than most such productions), four deleted scenes and "home movie" footage created to give the couple a family history.