FEATURED POST
See an outtake from the offbeat romantic comedy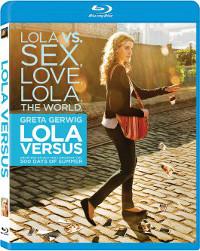 In "Lola Versus" (Fox), the lively comedy starring indie sweetheart Greta Gerwig, twenty-something New Yorker Lola tries to bounce back after she's dumped by her fiancé (Joel Kinnaman) three weeks before her wedding.
"With its utterly conventional plot, sunny New York cinematography and loose, light-footed feel, "Lola Versus" might as well be a pilot for some new sit-com or serial drama," writes MSN film critic James Rocchi. "There are some laughs here, and plenty of standard-issue moviemaking turns," but it is also "funny and frank about relationships and sex, to its credit, and it manages to be clear-eyed without being cringe-inducing on both topics."
Ultimately, though, the film belongs Gerwig, who "makes her likable, human, watchable -- and to such a degree that even when the film dips and slips into cliché territory you're glad to have Gerwig as your guide on the all-too familiar journey."
The Blu-ray and DVD debut features Commentary by director Daryl Wein and his co-screenwriter Zoe Lister-Jones, plus a collection of outtakes. See one of the outtakes below, exclusive to MSN, with Gerwig trying to calm Joel Kinnaman as he starts to freak out with wedding jitters.

The Blu-ray also has the original featurettes "Greta Gerwig: Leading Lady" and "The Filmmakers," the brief promotional featurettes "In Character with Greta Gerwig" and "World Premiere, deleted scenes and an alternate ending.
For more releases, see Hot Tips and Top Picks: DVDs, Blu-rays and streaming video for week of September 11