FEATURED POST
Plus 'A Christmas Wish' and more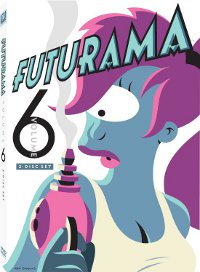 "Futurama: Volume 6" (Fox) features 13 new episodes of the Matt Groening's recently revived animated sci-farce about a modern day human frozen in the wacky future of the year 3000. The humor is in the same anything-goes vein of popular culture trawling of Groenig's first series, a little thing  called "The Simpsons," but in the words of Groenig: "'The Simpsons' is fictional. 'Futurama' is real." Features commentary on every episode, deleted scenes and three featurettes. On DVD and Blu-ray.
A wedding, a birth, a scandal, a fight to survive in a raging storm: "One Tree Hill: The Complete Eighth Season" (Warner) offers yet another season of young-adult melodrama shenanigans that has made this CW night-time soap opera into a long-running hit.
22 more episodes on five discs in a standard case with hinged trays, plus commentary on two episodes, three featurettes and a gag reel, plus an Ultraviolet digital copy for downloading and instant streaming via Wi-Fi.
"A Christmas Wish" (eOne) is a TV movie with Kristy Swanson, Edward Herrmann and Tess Harper. Originally made for the Hallmark Channel.
"Swamp People: Season Two" (History) features more episodes of the documentary series on the Cajun culture that lives in the Louisiana bayous and swamplands. 16 episodes on four discs, plus bonus footage.
"Mob Wives: Season One Uncensored" (VH1), the VH1 reality series about four women in Staten Island whose husbands are serving time for mob-related crimes, comes to DVD via the CreateSpace DVD on Demand platform, exclusively via Amazon. 10 episodes on three discs, plus deletes scenes and a reunion special.
For more releases, see Hot Tips and Top Picks: DVDs and Blu-rays for December 20