FEATURED POST
The fairest fantasy of all on television arrives on disc as if by magic!
By 
SeanAx
 Aug 29, 2012 10:32AM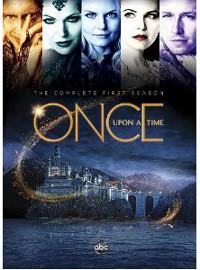 "Once Upon a Time: The Complete First Season" (ABC), the other network show about fairy tale figures in the modern world ("Grimm" was released a couple of weeks ago), recasts the classic tales of magic, heroes, witches, and curses in the template of a small town melodrama. Or should I say, curses the characters to live human lives with no memory of their magical pasts.
Ginnifer Goodwin takes top billing in busy ensemble cast as grade school teacher Margaret Blanchard, aka Snow White, the princess who (in the parallel flashbacks that run through the episodes) escaped the clutches of the Evil Queen (Lana Parilla), reincarnated on the mortal plane as Regina Mills, mayor of the small Maine town of Storybrooke.
Everything seems to be just fine until Henry (Jared Gilmore), the adopted son of the mayor, tracks down his birth mother, the evocatively named Emma Swan (Jennifer Morrison), and brings her back to the town where no one else seems able to leave. Including Emma, a very capable bail bondswoman who decides to take over as sheriff, take on the manipulative mayor, and take an active role in her son's life, even if she doesn't believe his stories of amnesiac fairy tale characters trapped on Earth.
And so begins the show's reworking of fairy tales, combining and recasting them into a universe where they interact and cross over, weaving the flashback fantasy worlds with their current human lives similar to the structure of "Lost," fitting for a show created by Adam Horowitz  and Edward Kitsis, veteran writers and producers of that cult series. (Genre specialist Jane Espenson, of "Buffy," "Battlestar Galactica," "Torchwood,"  and many other shows, is also on board as a consulting producer.)
In this version, Rumplestiltskin (Robert Carlyle), known as Mr. Gold in the human world, is something of the underworld fixer, a master of dark arts whose pursuit of power and wealth has come at the cost of everyone he ever loved. As each episode tackles a classic fairy tale, the stories are rewoven through the characters we come to know: "Beauty and the Beast" becomes a revealing episode in Rumplestiltskin's tragic emotional life (with Emily de Ravin as Belle), "Little Red Riding Hood" a werewolf tale resonant to this culture of curses, "Aladdin's Lamp" becomes entwined "Snow White"'s evil queen, and so on. I particularly like the transformation of Snow White into a forest bandit of Robin Hood dimensions, and it turns out that the wilds of British Columbia near Vancouver make for a great medieval fantasy forest world. An enormous green screen studio stands in for the rest for the magical kingdoms and a small town outside  of Vancouver serves as Storybrooke, Maine.
Josh Dallas co-stars as the show's Prince Charming (whose backstory is very interesting), Raphael Sbarge is a child psychiatrist who was Jiminy Cricket in a past life, and Eion Bailey is a mystery man from out of town with his own grudge to settle in Storybrooke, but for the most part, the women dominate these stories.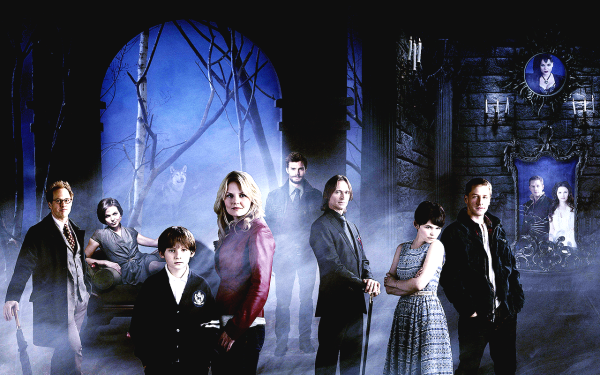 22 episodes on five discs on Blu-ray and DVD, plus commentary on five episodes, the featurettes "Fairy Tales in the Modern World" (the genesis of the story behind the series), "Building Character" (the process of creating a character from concept to costume  to camera), "Welcome to Storybrooke" (a tour of the town that serves as Storybrooke with Ginnifer Goodwwin as tour guide), plus deleted scenes and bloopers.
Exclusive to the Blu-ray is "Once Upon a Time: Origins," a survey of the source fairy tales and their evolution over the centuries (hosted by Josh Dallas) , and the "Season Play" function, which keeps track of where the viewer leaves off as they work through the series. It's not new to this disc (I first experienced it on the "Lost" Blu-ray releases), but it's a very handy way to keep your place in the show, and in its 2.0 incarnation, it allows multiple viewers to log in and keep their place in the continuity.
The new season begins September 30 on ABC.
See a clip form the show after the jump. Just click on "More" below.
For more releases, see Hot Tips and Top Picks: DVDs, Blu-rays and streaming video for week of August 28