FEATURED POST
Plus 'Young Adult,' 'Happy Feet Two,' a new 'Three Musketeers' and more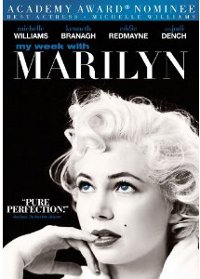 This is a good week for grown-up movies on the New Release rack, and the best of the batch is "The Descendants" (Fox), one of the best films of 2011 and an Oscar winner for Best Adapted Screenplay. Videodrone's review is here. And it's not so bad for family movies, either, and leading this line-up is "The Adventures of Tintin" (Paramount), Steven Spielberg's first foray into motion capture filmmaking. Videodrone's review is here, along with an exclusive clip from the Blu-ray.
But first, along with "The Descendants" comes "My Week With Marilyn" (Weinstein), built on an Oscar-nominated performance by Michelle Williams, "Young Adult" (Paramount) with an Oscar-worthy performance by Charlize Theron, and Lars von Trier's "Melancholia" (Magnolia), one of MSN's top films of the year and, yes, another superb Oscar worthy performance by Kirsten Dunst. We begin…
"My Week With Marilyn" (Anchor Bay), based on the memoir (of dubious authenticity) of a lucky young production assistant (played in the film by Eddie Redmayne) who shepherded the troubled American movie star through her stay England to make "The Prince and the Showgirl," stars Michelle Williams in an Oscar-nominated performance as Monroe and Kenneth Branagh as her exasperated, frustrated director, Laurence Olivier. "Directed by Simon Curtis, a TV director making the jump to the big screen with a film that will play far better on TV than in the theater, "My Week With Marilyn" features one great performance and one amusing one," argues MSN film critic James Rocchi. "Williams, as Monroe, isn't engaged in mere mimicry of Monroe's public persona and performances, but also trying to get at something deeper, and something richer, behind the icon. Branagh's Olivier is more a vocal performance than a physical one, clipped consonants and aspirated "S" sounds, the kind of ham who quotes "Othello" when he's upset. (Branagh's performance, unlike Williams', is more caricature than character, but it's a fun caricature.)"
On Blu-ray and DVD, with commentary by director Simon Curtis and the featurette "The Untold Story of an American Icon." Also available On Demand and day and date at Redbox.
See a trailer below, after the jump.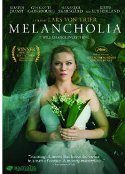 "Melancholia" (Magnolia), Lars von Trier's intimate and unnerving end-of-the-world film by way of family drama, was chosen as the Best Film of 2011 in the MSN critics poll. "Von Trier, a sufferer himself, sincerely understands depression (just as he understood anxiety in "Antichrist"), which may be why he maddens many," explains MSN contributor Kim Morgan. "Weaving himself into his characters, he's sadistic, masochist, empathetic, self obsessed, morbid and morbidly funny and then honest and honestly confused. With "Melancholia" he grants depressives a gift. Taking Justine's depleted darkness and imbuing her with celestial life through doomsday, he, to recall another German Romantic, creates an "Ode to Joy" through heartbreaking and gloriously inspirational...woe.​"
Kirsten Dunst offers an Oscar-worthy performance as the depressed Justine, the newlywed awaiting the end of the world with open arms, and Charlotte Gainsbourg, Alexander Skarsgård, Charlotte Rampling, John Hurt, Stellan Skarsgård, Udo Kier, and Kiefer Sutherland co-star. MSN film critic Glenn Kenny also praises the film in his review. Blu-ray and DVD, with four featurettes. Day and date at Redbox. See a trailer below.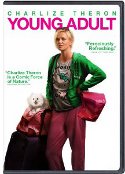 "Young Adult" (Paramount) reteams director Jason Reitman and screenwriter Diablo Cody for a portrait of arrested self-absorption and juvenile irresponsibility far more caustic than "Juno." "There's almost nothing cute about "Young Adult," the brisk, sharp and mordantly funny character study starring Charlize Theron as a self-deluding piece of work on a warpath to reclaim her lost high school love," writes MSN film critic Glenn Kenny. "Her adventures are cringingly funny and sometimes moving and eventually troubling." On Blu-ray and DVD, with commentary, two featurettes, deleted scenes, and an Ultraviolet digital copy for download and instant streaming. The Blu-ray also adds a director Q&A conducted by Janet Maslin at the Jacob Burns Film Center. Also available On Demand and via Redbox.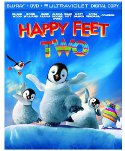 "Happy Feet Two" (Warner) returns to the Antarctic for more adventures of Mumble the dancing penguin and friends as he deals with fatherhood and the next frontier: flight! "There's a lot of plot here, and much moving about, and we never quite get the sense here, as we did in "Happy Feet," of one coherent story being told within a brand-new world," observes MSN film critic James Rocchi. "Instead, the sequel feels like it's a slightly disconnected set of stories and characters in that brand-new world." Available in Blu-ray, Blu-ray 3D and DVD editions, with interactive activities for kids and three sing-alongs,. The Blu-ray adds a couple of featurettes and a bonus DVD edition and the Blu-ray 3D includes standard Blu-ray and DVD copies. All feature an Ultraviolet digital copy, for download and instant streaming.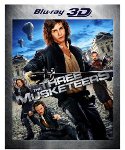 "The Three Musketeers (2011)" (Summit), the latest big screen rendition of the swashbuckling Alexander Dumas adventure, stars the generic would-be matinee star Logan Lerman as young hero D'Artagnon in a production mounted by sci-fi thriller and video game movie specialist Paul W.S. Anderson. " Everything in "The Three Musketeers" is puffed up absurdly — from Orlando Bloom's villainous pompadour to the plot about preventing war between France and England via a diamond heist — until it's like one of the airships that populate the film: It floats, but it's mainly filled with hot air," warns Entertainment Weekly film critic Keith Staskiewicz. Orlando Bloom, Milla Jovovich, and Christoph Waltz take the villain duties and Matthew Macfadyen, Luke Evans, and Ray Stevenson play the musketeers. On Blu-ray, Blu-ray 3D, and DVD, with commentary, deleted scenes, and featurettes. The Blu-ray editions also feature the interactive "Access: Three Musketeers" viewing mode.  Day and date at Redbox.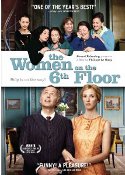 Foreign Affairs:
"The Women on the 6th Floor" (Strand), the hit comedy from France, stars Fabrice Luchini as a conservative businessman who is introduced to a new way of life when he's welcomed into the circle of Spanish women in the maids quarters upstairs in his luxury apartment house. San Francisco Chronicle film critic Mick LaSalle recomments the film: "Fabrice Luchini is one of the delights of world cinema, and in "The Women on the 6th Floor" he finds a role ideally suited to his odd mix of fussiness and sensitivity." Sandrine Kiberlain co-stars as his neurotic wife and Natalia Verbeke and Carmen Maura are part of the lively Spanish circle. DVD only, French with English subtitles.
"House of Pleasures" (IFC), from France, chronicles the last night in a glamorous, turn-of-the-century Paris brothel. "Despite copious full-frontal female nudity, "House of Pleasures" isn't mere sexploitation," writes New York Post film critic V.A. Musetto. Rather, it's a gorgeously filmed portrait of a bygone era, with painstaking attention to period detail. On the downside, the movie is overlong." French with English subtitles, plus two featurettes. DVD only.
"My Joy" (Kino Lorber), from documentarian Sergei Loznitsa, stirs true stories into the fictional journey of a truck driver on a haul that spirals out of control. ""My Joy has a bleak, grotesque, near-perfect poetry in its soul," writes Salon.com film critic Andrew O'Hehir. DVD only, Russian with English subtitles.
"@Suicide Room" (Wolfe), from Poland, is a portrait in high school bullying, humiliation, and disconnection, when a moody teen retreats into an internet chat room and starts living through his avatar. Chicago Reader film critic J.R. Jones describes it " a watchable exercise in gloom and doom. "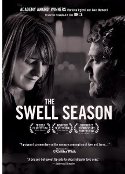 True Stories:
"The Swell Season" (Docurama) is an intimate look into the lives and careers of Glen Hansard and Marketa Irglova, the real-life musicians who fell in love while making the film "Once," as their romance is put under pressure on a two-year world tour. Los Angeles Times film critic Betsy Sharkey explains that ""The Swell Season" emerges as an incisive cut at fame's effect on the real-life music and romance of Hansard and Irglova. It's an accomplished piece of filmmaking from the trio, who are making their feature-length documentary debut." Nick August-Perna, Chris Dapkins, and Carlo Mirabella-Davis direct. DVD only, with deleted scenes and extended concert footage. Also available via digital download and On Demand.
"Teen A Go Go" (Cinema Libre), subtitled "A Little Film About Rock and Roll History," offers a look at the rock and roll explosion after the arrival of Beatles in America, as teens turned  to dancing and forming bands at an unprecedented rate. With featurettes and an interview with Lenny Kaye. DVD only.
"A Second Knock at the Door" (Cinema Libre) looks at military families dealing with the loss of loved ones through friendly fire. "Fresh" (Docurama) profiles new ideas in food production and "Bag It" (Docurama) examines the effect of plastic bag waste on the environment (appropriately, it is packaged in a 100% recyclable case with a PaperFoam tray). All DVD only.
Plus:
"Loosies" (IFC) stars Peter Facinelli as a New York pickpocket on the run and co-stars Jaimie Alexander, Vincent Gallo, and Jo Pantoliano. "Stuck Between Stations" (Lionsgate), a romantic drama about a soldier on 24-hour leave, stars Sam Rosen and Zoe Lister Jones and features commentary and a featurette. "Screwball" (Anchor Bay) is a sports mockumentary with Ross Patterson as a professional wiffleball player. "Deadheads" (Freestyle) is a zombie road comedy about to recently-dead who are more interested in beer than human flash, and features commentary and featurettes. All DVD only.
A few choice trailers are featured below, after the jump. 
For more releases, see Hot Tips and Top Picks: DVDs, Blu-rays and streaming video for March 13