FEATURED POST
Plus 'Clueless' and 'Pillow Talk'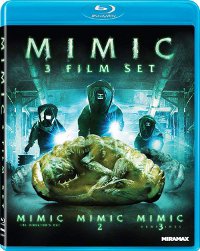 Kino's new edition of King Vidor's "Bird of Paradise" is reviewed on Videodrone here.
"Mimic: 3 Film Set" (Lionsgate) presents the Guillermo Del Toro's recently-released "Director's Cut" of the original 1997 "Mimic," the creepy underground horror of genetically enhanced insects, in a set with the Blu-ray debuts of the two direct-to-disc sequels. I haven't seen the original "Mimic" since its theatrical release so I can't say with certainty whether Del Toro's new, longer, somewhat re-edited cut is more interesting than the original version or I just appreciated it more after all this time, but I'm favoring the former. It comes off smarter and creepier than I recall the original, less about scares than a sustained atmosphere of eerie unease and skittery threats. The threat here comes from mutant bugs that have evolved from genetically-altered cockroaches to monstrous predators with the uncanny and ingenious adaptive mechanism that allows them to mimic human forms in the creepiest ways. Even Mira Sorvino seems more convincing as the entomologist who reluctantly plays Doctor Frankenstein with insect genetics in the face of a deadly viral outbreak. But only just. Del Toro outlines the project in a video introduction (this is the closest he'll come to his original intentions given the material at hand, he explains) and provides a commentary track, and the disc includes three featurettes and more deleted scenes.
A second disc features both the direct-to-disc sequels "Mimic 2," which turns the creepy stalker bugs into a genuine stalker on the streets of New York, and the more interesting "Mimic 3: Sentinel," which adds a dash of "Rear Window" to the tale of giant, predatory Judas Breed bugs and tosses in Lance Henriksen as a skulking creeper known as The Garbageman. Director J.T. Petty was handed the project due to the strength of his superbly unsettling indie-horror debut "Soft For Digging" and he makes something genuinely interesting from it. It's what the direct-to-video market should be all about: a training ground for young filmmakers to stretch their wings, even if said wings belong to giant predatory insects. Includes featurettes, deleted scenes, audition footage, and commentary by Petty.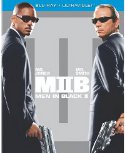 "Men in Black" (Sony) is rereleased along with the Blu-ray debut of "Men in Black II" (Sony), just in time for the new "Men in Black 3" coming to theaters. The original stars Tommy Lee Jones as a mysterious government agent up to his Raybans in an alien plot to destroy the world and NYPD detective Will Smith as his apprentice sidekick learning how to spot extra-terrestrials. Director Barry Sonnenfeld brings a sense of whimsy to the comic script, balancing farce with big-budget action, and he returns to the scene of the extraterrestrial crime with "Men in Black II" to save the world, this time from monstrous alien who takes the form of an underwear model (Lara Flynn Boyle, who spends most of the film in black lace lingerie). Rosario Dawson is the darling damsel in distress this time around and Rip Torn and Tony Shalhoub return. Both releases feature the supplements from the DVD special editions, including the "Telestrator" commentary (which turns your movie into a sports commentary complete with play by play diagrams) with director Barry Sonnefeld and friends, numerous featurettes, deleted  scenes and other supplements. Both disc also include an Ultraviolet digital copy for download and instant streaming.

"Clueless" (Paramount), the reworking of Jane Austen's "Emma" as a Beverly Hills high school romantic comedy among the privileged teens, made a star of Alicia Silverstone and introduced millions of teens to the classics without them ever knowing. It'ss really quite clever, and such a nineties time capsule. Aren't the classic, like, you know, timeless? Paul Rudd co-stars as her sensitive step-brother and Brittany Murphy and Stacey Dash co-star. Includes a whole batch of featurettes.
"Pillow Talk" (Universal), an Oscar winner for Best Screenplay, is the film the began the run of suggestive romantic comedies mixed with squeaky clean innocence starring Rock Hudson and Doris Day. She is an uptight interior decorator, he is a free living playboy, and they fight constantly over their shared telephone party line, little realizing who each other are when they meet cute and start dating. Tony Randall and Thelma Ritter co-star. Packaged in an illustrated Blu-ray book case as part of Universal's 100th Anniversary Collector's Series, with commentary by film historians Jeff Bond, Julie Kirgo and Nick Redman, featurettes, and a bonus DVD edition.
For more releases, see Hot Tips and Top Picks: DVDs, Blu-rays and streaming video for May 1