FEATURED POST
'Strangers on a Train' and 'Dial M For Murder 3D' both debut on Blu-ray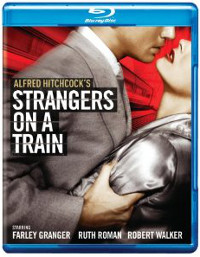 With the big Universal Hitchcock "Masterpiece" box set bumped a month to the end of October, a pair of Warner Hitchcock Blu-ray debuts now arrive ahead of the set: "Dial M For Murder 3D" (Warner), which includes a standard Blu-ray version, and "Strangers on a Train" (Warner), one of Hitch's greatest films.
"Strangers on a Train" (Warner) is one of Alfred Hitchcock's undisputed masterpieces, a thriller of demented wish fulfillment turned into a waking nightmare turns on a chance meeting. Demented playboy Bruno (Robert Walker, whose insidious insincerity is unsettling from his first scene) meets champion tennis player Guy (Farley Granger) with marriage problems (he wants out of a loveless marriage to marry Senator's daughter Ruth Roman, but his wife to refuses to grant a divorce). Bruno spins a story of swapping murders, proceeds to kill the troublesome wife, and insists Guy return the favor… or else. Hitch loved dark doubles and this is his most sociopathic shadow.
Scripted by Raymond Chandler from the novel by Patricia Highsmith (a master of psychopathic characters and warped psychologies), it's masterfully constructed and perfectly cast: Granger is the weakest of Hitchcock hero's, and appropriately so as he faces the prospect of his darkest wish coming true, and Walker's psychopathic intensity is icy and obsessive, the opposite of Granger's nervousness. Walker has the film's best moment as Bruno stares at Guy, the lone unmoving head in a crowd nodding back and forth with the volley of the tennis match.
Like the previous DVD, the Blu-ray debut features both the original theatrical version and the slightly longer preview version, which plays up the homoerotic aspects of Bruno and his attraction to Guy. It played theatrically in Britain but disappeared until it was rediscovered in 1991. Also features commentary on the theatrical version by director Peter Bogdanovich, "Psycho" screenwriter Joseph Stephano, Patricia Highsmith biographer Andrew Wilson, and others (including audio clips of Hitchcock from archival interviews), the retrospective documentary "Strangers on a Train: A Hitchcock Classic" (with Farley Granger, film historian Richard Schickel, and Patricia Hitchcock O'Connell, among others), the vintage newsreel <I>Alfred Hitchcock's Historical Meeting," and three featurettes: "The Hitchcocks on Hitch," "Strangers on a Train: The Victim's P.O.V.," and "Strangers on a Train by M. Night Shyamalan."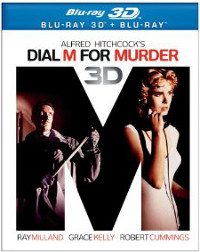 "Dial M For Murder 3D" (Warner) marks the debut Alfred Hitchcock's only 3D movie in 3D on home video, albeit only for those who have a full HD 3D TV, compatible 3D glasses, and a Blu-ray 3D player. For the rest of us, there as a standard Blu-ray for the "flat" version of the film, which is how most people saw it on original release. The 3D boom of the fifties had passed by the time the film was released and it ultimately was released in the standard "flat" version, with 3D screenings limited to special events and festival showings.
Grace Kelly (one of Hitchcock's favorite actresses) stars a blonde beauty targeted for murder by her ne'er do well husband (Ray Milland), and then framed for murder when she turns the tables and dispatches her attacker. The murder scene, shot in tight, discomforting close-up, is the highlight of the film, and Hitchcock used the then-new process to explore space rather than exploit it with gimmicky effects. But otherwise the screen version of Frederick Knott's stage hit suffers from a musty staginess, overcome only partially by Hitch's sense of humor and playful sense of character. Robert Cummings and John Williams co-star. Also features the documentary "Hitchcock and Dial M" and the trailer.
For more releases, see Hot Tips and Top Picks: DVDs, Blu-rays and streaming video for week  of October 9