FEATURED POST
Gary Oldman explains how to voice a peacock of a villain
Po, Master Shifu and the Furious Five are back in the "Kung Fu Panda 2" (Dreamworks) to defeat a terrible new villain: a scheming peacock voiced by Gary Oldman. MSN has an exclusive clip from the Blu-ray featuring Oldman discussing the art of giving voice to an evil animated peacock.
The animated feature, which sends Po on an odyssey to discover his true parentage, "packs lots of firepower," according to
MSN film critic Kat Murphy
, but "Despite improvements and reinforcements, "Kung Fu Panda 2" looks a little too much like training wheels for tots who will grow up to ride franchise machines like "Pirates of the Caribbean 4."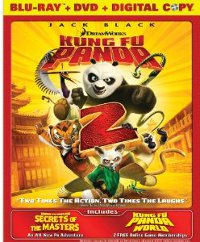 " There's magic here -- and in much of the gorgeously realized imagery of the film proper -- that deserves better than the movie's largely uncomplicated cartoon characters and adventures."
The DVD features commentary by director Jennifer Yuh Nelson and members of her crew, deleted scenes, cast interviews and an episode of the animated TV series "Kung Fuy Panda: Legends of Awesomeness." The "Awesome Double DVD Pack"  features the new animated short "Kung Fu Panda: Secrets of the Masters" plus bonus featurettes and DVD-ROM activities.
The Blu-ray also includes the exclusive featurettes "Animation Inspiration" and "The Animators' Corner" and a pop-up trivia track
For more releases, see Hot Tips and Top Picks: DVDs and Blu-rays for December 13