FEATURED POST
Plus direct-to-disc action, horror, and westerns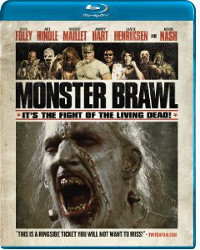 "Monster Brawl" (Image) is a concept for a culture that can't get enough of extreme fighting events and bad monster movies: a WWE-styled brawl featuring monsters, ghouls, and various undead creatures. With Dave Foley doing a sub-Howard Cosell as a sports announcer who has clearly seen better days and Lance Henriksen doing voice-over duties in a growling deadpan, this card of monster mash-up death matches has fun dropping horror movie monsters into the conventions of TV sports programs (because who doesn't want Frankenstein trash talk his opponent in grunts and roars?).
Unfortunately, the cleverness ends at the concept of Fight of the Living Dead (Swamp Gut versus Werewolf! Witch Bitch versus Cyclops! Zombie Man on the loose in the broadcast booth!) and falls apart in the follow-through. Not much of a script, even less direction, and what you have left is a bunch of guys in monster suits and make-up tossing each other around a ring on a foggy graveyard set. Kind of reminds me of "Orgy of the Living Dead" by way of that MTV claymation "Deathmatch" series, only not as funny or as violent. For that reason alone you gotta give it up for poor Foley, who has the right dubious attitude and sardonic delivery to make at least his scenes entertaining. And yes, that is Kevin Nash as the trash-talking Colonel on the American zombie soldier project. If that means nothing to you, then you probably won't get a lot out of this spoof.
Blu-ray and DVD, with commentary by writer/director Jesse Thomas Cook and producers Matt Wiele and John Geddes, a featurette, and outtakes.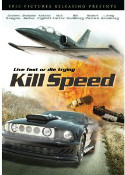 Action:
"Kill Speed" (Naedomi) puts Andrew Keegan in the drier's seat of a thriller about California drug runners caught between the Mexicans and the Russians. Greg Grunberg, Robert Patrick, Shawnee Smith, and Tom Arnold are the obligatory "names" in small roles. DVD only.
"Knockdown" (Arc Entertainment), set in the Bangkok underground of fight clubs and crime, also co-stars Tom Arnold (this time in a more substantial role) with Bai Ling. And "Down For the Count" (Lionsgate) is an actual Thailand boxing drama, but fear not, fight fans, this Muay Thai fight film is dubbed in English. Both DVD only.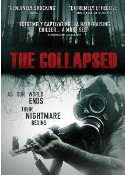 Science Fiction:
"The Collapsed" (Anchor Bay), a low budget end-of-the-world thriller that made the rounds of horror movie festivals, arrives on DVD with two commentary tracks and links to other supplements accessible online. You can check out the fan reviews here.
Horror:
"Exit Humanity" (Vivendi), part of the "Bloody Disgusting Selects" series, carries the subtitle "A Zombie Saga" and is set at the end of the American Civil War. Which gives you an idea that it's not your usual zombie saga. It co-stars Dee Wallace, Bill Mosely, and Stephen McHattie and played at Sitges and Toronto After Dark. You can check out the reviews here. DVD only.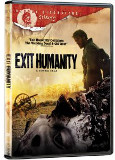 "Rogue River" (Lionsgate), which also stars Bill Mosely, sends a woman into the backwoods to spread the ashes of her dead father and runs across the kinds of nasty folks that inhabit low-budget backwoods horror films. Features commentary and featurettes. "Kids Get Dead" (MVD) sends a bunch of kinds into a cabin in the woods and… well, you read the title of the film. "The Disco Exorcist" (MVD) goes for the retro-horror vibe for a story about a black magic priestess looking for revenge on a sleazy swinger on the club circuit. Features commentary. DVD only.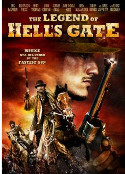 Westerns:
"The Legend of Hell's Gate" (Lionsgate) puts together a fine cast (Eric Balfour, Lou Taylor Pucci, Henry Thomas, and Summer Glau) for a direct-to-disc western that revolves around the assassination of Abraham Lincoln.
"Hatfields and McCoys" (Lionsgate) is not to be confused with the new cable mini-series with Kevin Costner. This is as a direct-to-disc historical picture from Fred Olen Ray with Jeff Fahey and Christian Slater. Ray provides commentary. Both DVD only.
Miscellaneous:
"C'Mon Man" (Lionsgate) is a comedy about a stand-up comedian (Jeff Woods) trying to hold on to his identity as he gets his big break. DVD only.
For more releases, see Hot Tips and Top Picks: DVDs, Blu-rays and streaming video for June 26