FEATURED POST
Watch a clip with our review of the numerous incarnations of the release on DVD and Blu-ray this week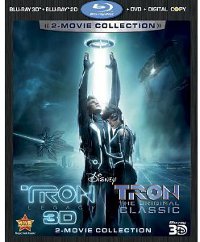 "Tron: Legacy"/"Tron"
"Rare is the costly box-office flop that actually gets a sequel, let alone a sequel almost 30 years after the fact. But that's Disney, and that's "Tron," for you."
So begins MSN critic Glenn Kenny's review of "Tron: Legacy," a videogame of a movie that is, in fact, about characters living inside a computer world that has transformed cyberlife into a despotic realm where life is a (mostly fatal) videogame and the losers of the digital bread-and-circuses are "derezed." Garrett Hedlund is the ostensible hero, the bad-boy genius son of Kevin Flynn (Jeff Bridges' character from the first film) who follows his missing father's trail right into the matrix. But the real draw, outside of flashy but soulless effects, is the return of Bridges himself as a grizzled guru hermit living in exile outside the core and (thanks to digital scrubbing) an ageless, creepily artificial cyberversion of himself that has turned himself (itself?) into a ruthless dictator eradicating all forms of life in the grid.
The original "Tron" was groundbreaking in its day for visualizing computing culture in an era before home computers, point-and-click operating systems, and cyberspace, and for using rudimentary computer animation to create the computer imagery… or at least most of it. Director/writer Steven Lisberger came from an animation background and resorts to old-school tools and simple animation to enhance the live action shooting and computer effects. And for all the dazzle of the cybercycles and sailships and glowing game characters, it's a pretty simplistic film: the first videogame movie. Which is to say it takes inspiration from the imagery of arcade games of the era and then creates its own conceptual world out of the cues. Just not a particularly deep one.
In that sense, "Tron: Legacy" is a genuine sequel. It updates the geekspeak and visual effects (yes, it's amazing what almost 30 years of computing history adds to the capabilities) and adds more conceptual tidbits with the idea of not simply artificial intelligence but digital evolution of programs into something new. It's sleek and zippy and full of glowing figures in a virtual universe that is as bleak and soulless as the first, and the rest is even more derivative in its adventure of a rebel against the machine.
See film clip below, plus details on the supplements offered in the various DVD/Blu-ray editions, after the jump