New Release Round-Up: Hey Boo Boo, it's Skyline and Yogi Bear
Plus "How Do You Know" "The Tourist" is out this week
The biggest home video releases this week are "The Tourist," a glamorous romantic thriller that stumbles through its paces despite Johnny Depp and Angelina Jolie leading the dance, and James L. Brooks' "How Do You Know," with Reese Witherspoon, Owen Wilson and Paul Rudd stumbling through romantic complications (click on titles for reviews and clips).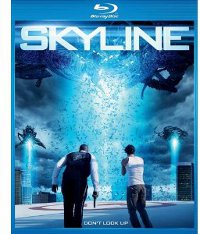 Not quite so big is the bargain-budget sci-fi thriller "Skyline" (Universal), a Los Angeles-set alien invasion film that arrived in theaters a couple of months ahead of the much bigger "Battle: Los Angeles." Eric Balfour is the ostensible lead in what is, in the words of MSN critic Glenn Kenny, "the front line of a group of characters so trivial and shallow that they make those stupid teens from "Cloverfield" look like the dramatis personae of Chekhov's "The Seagull"." It's directed by special-effects creators turned directors Greg and Colin Strause (who sign the film "The Brothers Strause") with a cast drawn largely from TV: Donald Faison, David Zayas, Brittany Daniel and Scottie Thompson.
More from Glenn Kenny: "(T)he brothers ARE pretty good with the tentacled, stomping, brain-ingesting, blowing-stuff-up aspects of the visuals, which get even more fun as they grow cheesier -- or at least that's how it seemed to this fan of old-school sci-fi pictures" but "they don't seem to have quite the same knack for simple suspense set pieces."
The DVD and Blu-ray releases both feature two commentary tracks (one by directors Greg and Colin Strause, the other by co-writer/producer Liam O'Donnell and co-writer Joshua Cordes), deleted and extended scenes, alternate scenes and animation pre-visualization of select scenes. The Blu-ray features the usual BD Live supplements.  You can check out film clips on MSN here.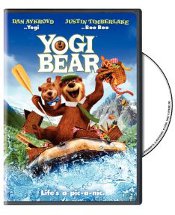 "Yogi Bear" (Warner) may not be your average bear, but the CGI debut of Yogi (voiced by Dan Aykroyd) and Boo Boo (voiced by Justin Timberlake) is far below average according to MSN critic James Rocchi: "it is somehow both cheap-looking and garishly expensive. It is rushed and thin and yet eternal in its grinding tedium. It feels like the direct-to-video sequel of itself, featuring the return of a cartoon character that debuted in the 1960s for the benefit of possibly no one except the copyright holders." And so on… Eric Brevig directs this mix of animation and live-action and Anna Faris, Tom Cavanagh and T.J. Miller headline the live action cast.
The DVD includes a smattering of minor supplements and the Blu-ray adds more mini-featurettes, interactive supplements and an animated short, plus a bonus DVD and digital copy. There's also a 3D Blu-ray Combo Pack with a handful of exclusive 3D supplements.  See film clips and trailers here.
"Arthur And The Invisibles 2 & 3: The New Minimoy Adventures" (Fox) - Luc Besson directs and produces these two sequels to his family adventure fantasy, a hybrid of live action and animation, from 2007. "Arthur 2: The Revenge of Maltazard" and "Arthur 3: The War of Two Worlds" were released to theaters in Europe in 2010 but debut as a double-fear disc stateside. And yet, any film that casts Lou Reed and Iggy Pop as the voices of its villains (for the English-language version) can't be all bad. Freddie Highmore and Mia Farrow headline the live action cast and Selena Gomez, Jimmy Fallon, Snoop Dog, will.i.am and Fergie fill out the voice cast. Oh yes, and this is a Wal-Mart exclusive, at least for the immediate future.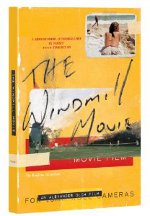 "The Windmill Movie" (KimStim/Zeitgeist) is an autobiographical essay film by proxy, begun by experimental filmmaker Richard P. Rogers (who spent 25 years working on his magnum opus) and completed after his death by filmmaker Alexander Olch, his former student, who adds his own creative personality in new scenes, narration and perspective. The DVD includes two previously unreleased shorts from Richard P. Rogers and a booklet with an essay by Scott Foundas.
Also new this week:
"People I've Slept With" (Maya), from Asian-American filmmaker Quentin Lee, is "a saucy comedy that deftly turns serious," according to Los Angeles Times critic Kevin Thomas.
"Looking for Palladin" (Monterey), starring Ben Gazzara and Talia Shire, is "A semicoherent, overacted mélange of travelogue, farce and suds," writes New York Times critic Stephen Holden.
"Meskada" (Anchor Bay) – Nick Stahl and Rachel Nichols are police detectives investigating a murder in working-class community in the indie crime drama.
"Consinsual" (eOne) – A romantic thriller of a married couple whose sexual escapades turn dangerous.
"Siren" (Lionsgate) – A seductive beach beauty lures a group of vacationers into her deadly games.
For more on DVD this week, visit weekly DVD listings in MSN.