Blu-ray Round-up: Kubrick's 'Full Metal Jacket' at 25
Plus 'Spaceballs' at 25, two with John Cusack, two by Derek Jarman and more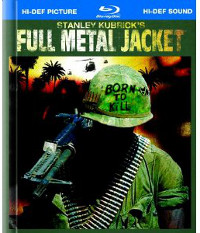 "Full Metal Jacket" (Warner), Stanley Kubrick's 1987 take on Vietnam, deconstructs not just the platoon drama but the machinery of war. There's nothing celebratory in the crucible of combat in Kubrick's adaptation of Gustav Hasford's novel "The Short Timers." Real-life drill Sergeant turned actor R. Lee Ermey is brilliant as he barks orders and insults to a fresh batch of draftees in the dehumanizing hell of basic training, but that's not the half of it. In a harrowing scene where a Viet Cong sniper literally picks away at a wounded American soldier, bullet by bullet, taunting the platoon to expose themselves in a doomed rescue attempt, Kubrick (through the eyes and experiences of Mathew Modine's wise-ass Private Joker) takes a cold, hard look at the experience of killing and watching friends die under fire. "Full Metal Jacket" chronicles nothing less that destruction of the human psyche and soul in war. Dispassionate where other Vietnam films are effusive, it's nonetheless a harrowing, brilliant portrait, and it gets a new special edition for its 25th Anniversary.
New to this edition is the original documentary "Stanley Kubrick's Boxes," which gives the viewer unprecedented access into some of the boxes of research materials accumulated by Kubrick over the course of his career, and photos from the set taken by Matthew Modine. Also features the previously available commentary by actors Adam Baldwin, Vincent D'Onofrio, and R. Lee Ermey with critic/screenwriter Jay Cocks and the featurette "Full Metal Jacket: Between Good and Evil." Read my interview with Matthew Modine and see a clip from the film here.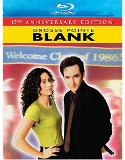 "Grosse Pointe Blank" (Hollywood) and "High Fidelity" (Touchstone) are two of the best John Cusack films of the 1990s. In "Grosse Pointe Blank" (1997) Cusack is a former military assassin gone independent now experiencing an early mid-life crisis, so he hits his high school reunion and confronts the sweetheart (the delightful Minnie Driver) he abandoned for a life of human target shooting. Director George Armitage gets the mix of wry humor and edgy violence dead on, and co-writer/co-produce​r Cusack's cocked-grin charm and earnest determination tells us not to take it all too seriously without sinking his character into farce. Cusack's sister Joan almost steals the film in a few brief scenes as his deliriously sunny but ruthlessly efficient secretary, and Alan Arkin is at his understated best as a reluctant shrink offering such sage advice as: "Don't kill anybody for a while." No supplements.
"High Fidelity" (2000), directed by Stephen Frears from an adaption of the Nick Hornby novel co-scripted by Cusack, offers us Cusack as a music junkie with commitment problems who tries to understand his latest break-up by examining his "top five" break-ups. Features a terrific supporting cast: Jack Black, Lisa Bonet, Joelle Carter, Joan Cusack, Sara Gilbert, Iben Hjejle, Todd Louiso, Lili Taylor, and Catherine Zeta-Jones. Features a conversation between director Frears and star/co-writer/co-pr​oducer Cusack and deleted scenes.
See a clip from the film below.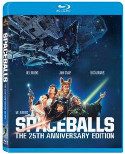 "Spaceballs: The 25th Anniversary Edition" (MGM), Mel Brooks' parody of the "Star Wars" phenomenon, is a spotty farce starring Rick Moranis as the evil dweeb Dark Helmet, Bill Pullman as the intergalactic rogue Lone Starr, John Candy as his half-man/half-dog co-pilot Barf ("I'm my one best friend!"), and Daphne Zuniga as the outer space valley girl Princess Vespa. Mel Brooks appears as the corrupt President Skroob and the moss-back mystic Yogurt, who teaches them about the greatest force in the galaxy: merchandising! Features all the supplements from the previous special editions -- commentary, featurettes, film flubs, etc -- plus the new featurette "Farce Yourself! Spaceballs and the Skroobing of Sci-Fi" hosted by Mel Brooks. "May the Schwartz be with you!"
Derek Jarman's 1979 "The Tempest" (Kino) is a lush, imaginative interpretation of Shakespeare that is part musical comedy, part punk-chic fashion layout, and all painterly beauty sculpted out of light, simple costume design and zero budget backdrops. Is it Shakespeare? I wouldn't base my term paper on this version, but Jarman gives his own reading of this tale of magic, revenge, master and slave power relations, love and forgiveness. Also features three short films from early in Jarman's career.
It debuts on Blu-ray along with Jarman's 1976 feature debut "Sebastiane" (Kino), which is spoken in Latin with English subtitles.
Plus:
-  "Romy and Michele's High School Reunion" (Touchstone) stars Mira Sorvino and Lisa Kudrow as party-girl best friends who pretend to be big shots at their high school reunion.
- "Adventures in Babysitting" (Touchstone), the directorial debut of Chris Columbus, sends nice kids from the suburbs (babysitter Elisabeth Shue and her charges) into the mean big city of Chicago.
- In "Clue: The Movie" (Paramount), the board game and its colorful characters come to life in a mystery spoof, complete with three different endings
See a clip from "High Fidelity" after the jump. Just click on "More" below.
For more releases, see Hot Tips and Top Picks: DVDs, Blu-rays and streaming video for week of August 7