Coming Up: The Adjustment Bureau
Adjusting the future on DVD and Blu-ray in June
By 
SeanAx
 Apr 18, 2011 11:08AM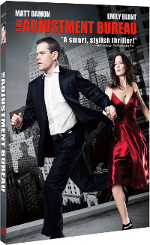 Matt Damon's future gets adjusted on home video when "The Adjustment Bureau" hits DVD and Blu-ray on June 21.
Adapted from (or, more accurately, inspired by) the short story "Adjustment Team" by Philip K. Dick, it stars Damon as a political candidate whose chance meeting with a free-spirited dancer (Emily Blunt) threatens to unravel a well-planned future, at least according to a bunch of bureaucratic agents with interdimensional powers and very spiffy hats who do their best to break up their budding romance. George Nolfi (who wrote "The Bourne Ultimatum") makes his directorial debut.
Being a genre movie with science fiction elements and a quantum sensibility, there will be a hefty collection of supplements on both the DVD and Blu-ray editions.
Details after the jump.
BONUS FEATURES AVAILABLE EXCLUSIVELY ON BLU-RAY™ COMBO PACK:
THE LABYRINTH OF DOORS: INTERACTIVE MAP OF NEW YORK – Explore the bustling metropolis of New York City as only a member of the Bureau can: using the intricate network of portals to leap from location to location. Each location will trigger a short video pod, either with a behind-the-scenes look at that location with cast and crew or a scene from the film that took place there.
BD-LIVE™—Access the BD-Live™ Center through your Internet-connected player to get even more content, watch the latest trailers and more.
pocket BLU™:   The groundbreaking pocket BLU™ app uses iPhone®, iPod® touch, Android™, PC and Macintosh to work seamlessly with a network-connected Blu-ray™ player.  Also available on the iPad®, owners can enjoy a new, enhanced edition of pocket BLU™ made especially to take advantage of the tablet's larger screen and high resolution display.  Consumers will be able to browse through a library of Blu-ray™ content and watch entertaining extras on-the-go in a way that's bigger and better than ever before.  pocket BLU™ offers advanced features such as:
o                    Advanced Remote Control:  A sleek, elegant new way to operate your Blu-ray™ player. Users can navigate through menus, playback and BD-Live™ functions with ease.
o                    Video Timeline:  Users can easily bring up the video timeline, allowing them to instantly access any point in the film.
o                    Mobile-To-Go:  Users can unlock a selection of bonus content with their Blu-ray™ discs to save to their device or to stream from anywhere there is a Wi-Fi network, enabling them to enjoy content on the go, anytime, anywhere.
o                    Browse Titles:  Users will have access to a complete list of pocket BLU™-enabled titles available and coming to Blu-ray™ Hi-Def.  They can view free previews and see what additional content is available to unlock on their device.
o                    Keyboard:  Entering data is fast and easy with your device's intuitive keyboard.
uHEAR™:  Never miss another line of dialogue with this innovative feature that instantly skips back a few seconds on your Blu-ray™ disc and turns on the subtitles for the section you couldn't hear!
MY MOVIES™:  Consumers can rent a variety of Universal favorites such as Meet the Parents, Fast & Furious, Mamma Mia!, Coraline, Knocked Up, The 40-Year-Old-Virgin, Forgetting Sarah Marshall, or Role Models for $2.99 each, to instantly stream via BD-Live™, the pocket BLU™ app or on the web at UniversalHiDef.com
BONUS FEATURES AVAILABLE ON BOTH DVD AND BLU-RAY™ COMBO PACK:
DELETED AND EXTENDED SCENES
LEAPING THROUGH NEW YORK – An inside look at how the production team filmed David Norris' (Matt Damon) race to the courthouse, featuring interviews with Damon, director George Nolfi, special effects coordinator Mark Russell and producers Michael Hackett and Chris Moore.
DESTINED TO BE – The Adjustment Bureau provided Matt Damon with his first opportunity to play a true romantic lead in a feature film. Co-star Emily Blunt, director George Nolfi and Damon himself reflect on this new role for the star and the relationship between David Norris and Blunt's character, Elise Sellas.
BECOMING ELISE – A look at Emily Blunt's dance training for the role of Elise. Blunt, Matt Damon, George Nolfi and Blunt's dance choreographer discuss her transformation from slender actress to well-muscled athlete.
FEATURE COMMENTARY WITH WRITER AND DIRECTOR GEORGE NOLFI