Robert Duvall Gets Low
A big screen short story and a tall tale with human dimensions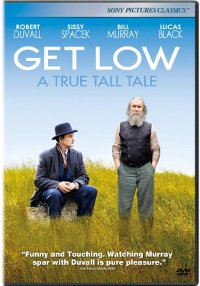 "Get Low" (Sony) is an endangered species: a movie made for grown-ups. A lovely film about regret, self-punishment and redemption on a scale both human and mythic (or at least American folkloric), it's a feature with the personality of a short story, filled with quietly offbeat characters and directed with a deft balance of comedy and tragedy.

Which is why it had a tough time finding an audience in this era of high-concept blockbusters and star-studded "serious" dramas. But those very qualities are exactly what make it such a film home viewing experience, where this lazy river of a big screen short story can settle in at its own speed. In the intimacy of home, these marvelous characters can become guests sharing their stories.
Robert Duvall is Felix Bush, aka "the mysterious hermit of Caleb County," a cantankerous creature who arranges to have his funeral before he dies and invites the entire country to attend. Ostensibly he wants to hear the stories everyone has to tell (and there are plenty, most of them elevated to the level of rural myth). But in reality, he needs to finally tell his own story, which has been locked in his heart as part of his self-imposed sentence.
The film strolls its way to a big revelation which can't help to be anti-climactic, largely because an explanation is never as interesting as a character and Duvall's cranky backwoods loner is a marvelous character: ornery, tortured, angry, lonely and unforgiven. But it is gracefully handled, not so much an explanation as a confession (both spiritual and personal). The film never attempts to force emotion from the tragic elements of the comic drama. Director Aaron Schneider (making his feature debut) is content to observe the small wonders of human interaction and the friendships formed in the unusual enterprise of creating a funeral party for the crazy old nutter Bush. That modesty is quite rewarding.

While "Get Low" didn't figure in this year's Academy Awards nominations (despite some underdog buzz for Robert Duvall's performance), there is plenty of Oscar power from years past: Duvall of course (from "Tender Mercies"), and Sissy Spacek ("Coal Miner's Daughter"), who is bright and graceful as widow who shares a past with Felix that is tangled around his secret. Bill Murray (a nominee for "Lost in Translation") is all dry wit as the funeral home operator, a deadpan huckster with understandable anxieties bubbling under his unflappable front. And director Aaron Schneider is an Academy Award winner himself, for Best Live Action Short in 2003.
The DVD and Blu-ray both feature commentary by director Aaron Schneider with actors Robert Duvall and Sissy Spacek and producer Dean Zanuck, which plays out as a low-key discussion largely between Schneider and Duvall reflecting on the film and little production stories, with Spacek and Zanuck chiming in with comments. It's more about swapping stories and offering praise than digging into the craft and inspiration, but they are good company. The production featurettes "The Deep South: Buried Secrets" and "Getting Low: Getting Into Character" are slight little productions, easy-going promotion pieces that offer little more than a tour behind the scenes, while "A Screenwriter's Point of View" gives co-screenwriter C. Gaby Mitchell a chance to discuss involvement. The "Cast and Crew Q&A" and "On the Red Carpet" are both edited from interviews recorded from festival appearances.
For more on DVD this week, visit the weekly DVD listings on MSN.