Cult and Classics Round-up
Pre-code shenanigans, prohibition slapstick and "Broadcast News" among the new offerings this week
The classic release of the week is, hands down, "
The Prowler
" (VCI), the long-awaited home video debut of the 1951 film noir classic by
Joseph Losey
. All but absent from TV screenings since the days of early days of cable, never released on VHS and previously unavailable on DVD, this almost impossible to see film debuts on DVD in a nearly stellar edition and reveals a startling portrait of working class envy, restless resentment and brutal opportunism in pursuit of a curdled American Dream.
Read more here.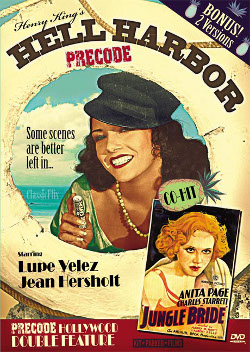 I also caught up with "Basil Dearden's London Underground" (Criterion/Eclipse),​ a four-disc set spotlighting an often overlooked workhorse of the British film industry who, at his best, tackles controversial issues with intelligence, craft, ambition, professionalism and the ability to rise to the challenge of his material. The four films in this set—"Sapphire" (1959), "The League Of Gentleman" (1960), "Victim" (1961) and "All Night Long" (1962)—display Dearden at his best. Read here for reviews of the individual films.
"Hell Harbor / Jungle Bride: Precode Hollywood Double Feature" (VCI) is a reminder that not all pre-code cinema is snap and sass and wicked fun. Lupe Velez is the naïve sexpot of the island in "Hell Harbor" (1930). The Mexican spitfire plays Anita, the Caribbean island girl daughter of the brutish Morgan (Gibson Gowland) who has bartered her hand in marriage to blackhearted trading post operator and black market pearl trader Horngold (Jean Hersholt). In her innocence and desperation to escape the marriage, she proceeds to plot the murder of an American sailor (John Holland), which falls apart when she falls for her target, and steal a fortune in pearls. Even with her adorable broken English babbling and flirtatious woman-child manner, such behavior is a stretch to believe, let alone forgive. And title aside, this isn't quite the hellish cesspool that such a label would suggest. The pre-code outrageousness comes largely in a scene where Morgan takes a bullwhip to his daughter after she laughs in the face of Horngold's proposal. She responds by pulling a knife. This is quite the loving household.
This 1930 production displays the growing pains of Hollywood's sudden transformation to sound—the film moves in starts and stops and the soundtrack of tinny voices is only magnified by the lack of aural atmosphere (not just music but pretty much any suggestions of offscreen sound). Henry King directed classics of silent cinema and was soon back on top of sound cinema filmmaking but he's flailing here with only the glowering pouts and radiant smiles of little Lupe to keep the film going. It's also notable as the first reteaming of Gowland and Hersholt since the silent classic "Greed" and the first appearance of cult actor Rondo Hatton, who has a small role as one of the island's disreputable characters.
VCI's disc features two versions of the film: a brisk 64 minute cut, which was edited by the studio for general release to pick up the pacing, and a limited-release 84-minute version. The latter has more atmosphere and better explains the hold Hersholt has over Gowland, but the frontloaded extra scenes (including a sequence with Velez singing on the beach) slows the start of the film considerably and the print is in only fair shape. The shorter version is taken from a superior print, though it pretty much cuts Rondo Hatton's part out of the story. The co-feature, "Jungle Bride" (1933), isn't quite as exotic as the title sounds: the survivors of a shipwreck set up housekeeping on a deserted island, and the men vie to see who will get the only girl on the island. It's been available on public domain editions before; VCI's edition isn't stellar, but it looks fine.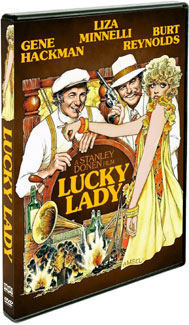 "Lucky Lady" (Shout! Factory) is a slight and sometimes awkward screwball adventure of three mismatched would-be criminals (Gene Hackman, Liza Minnelli and Burt Reynolds) who become master rum runners on the California coast during the Great Depression. Directed by old Hollywood hand Stanley Donen from a busy script by Willard Huyck & Gloria Katz, this nostalgia-tinged comes from the same affection for old Hollywood cinema that inspired films like "Paper Moon" and "What's Up Doc," but it never matches the invention, the romanticism and the comic energy of either of those knowing throwbacks. Minnelli's brash, eye-rolling sass and Reynold's good-natured mugging tend to go overboard, saved from drowning only by Hackman's understated confidence and cool as the brains of the bunch, but their chemistry and camaraderie of the trio props up the silly script and the slapstick shenanigans. They seem to genuinely enjoy each other's company and that alone justifies their ménage-a-trois partnership. John Hillerman plays the elegantly sinister gangster who goes to war over the liquor trade (he played a similar role in the superior "Paper Moon") and a very young Robby Benson is the boyish pilot of their first yacht. The disc also includes two archival promotional featurettes which don't offer much insight to the films but do include behind-the-scenes footage and scenes of Hackman piloting his personal plane on his day off.
"Broadcast News" (Criterion) was released last week on both DVD and Blu-ray but arrived to late for that column. The newly mastered edition (supervised and approved by director James L. Brooks and editor Richard Marks) not only replaces the old 1999 release (mastered before the era of high definition and plasma widescreen sets) but adds new commentary by Brooks and Marks, the documentary "James L. Brooks—A Singular Voice" and an alternate ending with comments by Brooks (as he watches it for the first time since editing the film), plus other supplements and an accompanying booklet.
"11 Harrowhouse" (Shout! Factory) stars Charles Grodin (who also adapts the novel) as a cat burglar who teams up a wealthy widow (Candice Bergen), an eccentric oil baron (Trevor Howard), a bitter employee (James Mason) and a cockroach to heist a London jewel exchange for billions in uncut diamonds. Grodin's tongue-in-cheek narration sets the tone for this lightweight caper film directed by Aram Avakian.
Also new this week:
"Sleepy Eyes of Death: Collector's Set Vol. 2" (AnimEigo) - Raizo Ichikawa is the deadly wandering sword-for-hire Nemura Kyoshi, the half-breed son of a Japanese noblewoman and the Christian missionary who raped her, in the series known as "Son of the Black Mass" in Japan and "Sleepy Eyes of Death" in the U.S.. This set features films 5-8 of the 12-film series: "Sword of Fire," "Sword of Satan," "The Mask of the Princess" and "Sword of Villainy."
"Lorna the Exorcist" (Mondo Macabro), the 1974 Jess Franco erotic horror (and really, what else did Franco make in the seventies but erotic horror) starring Lina Romay, Pamela Stanford and Howard Vernon, presents both the English and French language soundtracks and features interviews and deleted/extended scenes.
"Butch and Sundance: The Early Days / Death Hunt: Double Feature" (Shout! Factory), the former with William Katt and Tom Berenger directed by Richard Lester, the latter with Charles Bronson and Lee Marvin directed by Peter Hunt.
"Shopping" (Severin), a re-release of the indie British crime thriller of wild youth that launched the careers of both future star Jude Law and future big screen video game director Paul W.S. Anderson.
And, direct-to-DVD, comes a pair of sequels: "Mean Girls 2" (Paramount) and "Beverly Hills Chihuahua 2" (Disney).