Blu-ray Round-up: Memento at Ten
A Blu-ray upgrade of the film that established Christopher Nolan's reputation, plus the rest of the Blu-ray debuts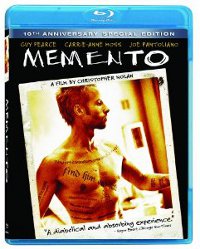 "Memento: 10th Anniversary Special Edition" (Lionsgate)
"You see, I have this condition…" Guy Pearce is Leonard, a detective who has no short term memory and relies on notes he tattoos on his body to find his wife's killer. In this method, of course, lies madness, but it's a mind-bending ride to the end… or rather, to the beginning. Christopher Nolan's ingenious thriller is wonderfully dark and wickedly clever: the film starts at the end of the story and works back in stair step scenes, throwing us into every scene blind and trying to figure where we are, just like Leonard. We, however, can see the brewing tragedy as we fit the pieces together. The ground shifts beneath this post-modern film noir in every jump, but more affecting is the sense of loss, loneliness, and disconnection behind Leonard's makeshift realities.
The film was released on a generous two-disc Limited Edition DVD set in 2002 and was an early Blu-ray release in 2006 from Sony. The Lionsgate "Director Approved" Blu-ray is newly remastered for high-definition and the sharp-looking image is an upgrade from the earlier editions, more vivid and more exacting, and it includes most of the supplements from the DVD special edition missing from the previous Blu-ray. All versions include the thoughtful commentary by director/screenwrite​r Christopher Nolan (whose quiet voice has a wonderful intensity to it) and the excellent 25-minute "Anatomy of a Scene" featurette originally made for the IFC cable channel. This also includes the 24-minute "IFC Interview with Christopher Nolan" (conducted by Elvis Mitchell), Jonathan Nolan's original short story "Memento Mori" and galleries of "Tattoo Sketches" and pages from "Leonard's Journal." New to this release is the seven-minute "Remembering Memento" interview with Christopher Nolan.
What is not included from the previous release: the Shooting Script, some of the Production Stills and Sketches and, most conspicuous, the Chronological Version, a gimmick that straightens the narrative out in chronological order. It was interesting mostly as a technical exercise, proving just how effective Nolan's ingenious structure is in creating tragedy from the story, but it's too bad it's not carried over as it was a clever little device.
Just click on the titles to find reviews of the Blu-ray releases of"Bambi: Diamond Edition" (Disney), "Daughters of Darkness" (Blue Underground) and "Cable Guy: 15th Anniversary Edition" (Sony) on Videodrone.
Also new this week:
"Waiting For Dublin" (Cinema Libre) is a romantic drama set in World War II, where an American fighter pilot (Andrew Keegan) grounded in a remote Irish village falls in love with a local beauty.
"Michael Jordan to the Max" (Lionsgate) is the Blu-ray debut of the IMAX film that follows the basketball superstar in his final season on the court.
And, of course, the new releases "127 Hours" (Fox) and "Love & Other Drugs" (Fox) are at Videodrone here and "Faster" (Sony) and "Burlesque" (Sony) are covered here.