"Paul" – Stranger in a Nerd Land, with an exclusive extended video clip
An alien road movie out of a sci-fi geek's dreams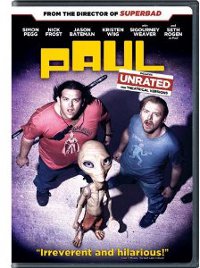 Slacker road movie meets extraterrestrial escape odyssey in "Paul" (Universal), a "Close Encounters of the Nerd Kind" from the writer/star of "Shaun of the Dead" and the director of "Superbad." All of which builds expectations for a more, let's say, dynamic film than what emerged. Simon Pegg and Nick Frost, the buddy team that powers "Shaun" and "Hot Fuzz," are sci-fi geeks on an RV tour of American UFO sites who end up driving an escaped little green man on the run from the government. Seth Rogen voices the CG character, giving him an easy-going quality of a stoner buddy with as much pop-culture savvy and even more common sense than his human counterparts. Not just wise, but wise-*ss, yet always in a manner that lets us know he really likes hanging out with people.
See an MSN exclusive nine-minute scene from the film below the jump

Watching it on DVD creates a different atmosphere of expectations than a big screen viewing. It got tepid reviews in the theaters ("something about "Paul" feels underbaked," complains MSN film critic James Rocchi) and, yes, it never reaches the levels the comic creativity and clever pop-culture skewering of Frost's "Shaun of the Dead" and "Hot Fuzz" or the jagged character dynamics and chaotic honesty of Mottola's "Superbad." The sci-fi/Spielberg movie references get too nerdy for even me sometimes, though I confess that I love the bluegrass band in doing the cantina song from the "Star Wars" in a country roadhouse. And, of course, Jason Bateman kills as a federal agent who doesn't take sh*t from anyone.
But while Mottola never gets the road movie comedy out of low gear, he also creates an easy camaraderie between the trio and, when Kristin Wiig joins them (as a Bible belt true believer who gets a jolt of scientific reason and makes up for lost time with an over-eager potty mouth) the quartet. Rogen's brand of comedy can get annoying but Paul is easily his most likable character and this group is good company for home viewing. Like Paul, I like hanging with these guys too.
Director Greg Mottola, writers/stars Simon Pegg and Nick Frost, co-star Bill Hader and producer Nira Park gather for the commentary track, which opens predictably enough with a lot of joshing back and forth but fairly quickly settles into tackling the film scene by scene, with more joking around the edges. The DVD also features the 15-minute "The Evolution of Paul" (with priceless test footage featuring Pegg and Frost in early seventies rocker roadie fashions), more than ten minutes of bloopers and the short montages "Simon's Silly Faces " (more properly a blooper sub-category) and "Who the Hell is Adam Shadowchild?"
The Blu-ray offers an extended "Unrated" edition, which is six minutes longer but doesn't push anything beyond the original film's R-rating, plus a significant collection of supplements. "Between the Lightning Strikes: The Making of Paul" is a 40-minute featurette that, between the cast and crew's obligatory gushing over their collaborators, offers a breezy tour of the shoot that makes it look like a pretty fun set. Among the eight "BTS Featurettes" are another 20 minutes of hanging out with the cast in "RV Doorway: The Cast of Paul On-Location" and a looks at the practical solutions to shooting a film with a CGI star in "The Many Pauls." The rest are a mix of production pieces and comic interludes, but you owe it to the little kid in you to check out "Smithereens," an unedited look at the real-life demolition work (no CGI here) of blowing up a house. The Blu-ray also features the usual (unnecessary) BD-Live interactive extras plus a bonus DVD and (for a limited time) digital copy of the film.
My favorite tidbits from the supplements (Blu-ray edition): Pegg originally had Rip Torn in mind to play Paul ("we wanted him to be much older and much grumpier") but rewrote the part for Rogen. Seth Rogen provided the voice and the motion capture performance on the greenscreen, but Joe Lo Truglio took his place where necessary on the set.

Extended video clip from "Paul," exclusively on MSN