"Tracy and Hepburn: The Definitive Collection"
All nine films from Hollywood's great screen couple
By 
SeanAx
 Apr 13, 2011 10:43AM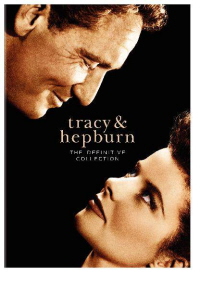 "Tracy and Hepburn: The Definitive Collection" (Warner)
Spencer Tracy and Katharine Hepburn were one of the great screen couples of Hollywood. They made nine films together, from "Woman of the Year" in 1942 to the 1967 "Guess Who's Coming to Dinner," completed weeks before Tracy died of a heart attack. Warner collects all nine of the films in the box set, "Tracy and Hepburn: The Definitive Collection," the first comprehensive collection of their collaborations.

Making their respective DVD debuts on this set are "Keeper of the Flame" (1942), a "Citizen Kane"-esque drama directed by George Cukor and starring Tracy as a journalist looking into the mystery behind a deceased industrialist and Hepburn as the widow, and "The Sea of Grass" (1947), a sweeping western saga with Tracy as a cattle baron and Hepburn as his Midwest society belle bride, and directed by Elia Kazan. And "Without Love" (1945), a romantic comedy co-starring Keenan Wynn, Lucille Ball, and Gloria Grahame, was previously available exclusively in the "Katherine Hepburn: 100th Anniversary collection" box set.
The set is completed by previously-available​​ titles. "Woman of the Year," directed by George Stevens, established their chemistry with a romantic tussle between lumpy sportswriter Tracy and erudite political pundit Hepburn.  Frank Capra's "State of the Union" (1948) casts Tracy as an idealistic businessman who tosses his hat in the presidential race and Hepburn as his estranged wife who give him a reality check when his party handlers pull at his convictions to get him to bend to political expediency. The sparks are back in the George Cukor-directed "Adam's Rib" (1949) as Assistant District Attorney Tracy goes head to head in the courtroom with opposing counsel Hepburn, who happens to be his wife. Hepburn is a female athlete and Tracy a slightly shady sports promoter in "Pat and Mike" (1952), also directed by Cukor. By "Desk Set" (1957) they are aging gracefully while still throwing sparks, but it's decidedly minor in their filmography, and it was their last pairing until they reunited for Stanley Kramer in "Guess Who's Coming to Dinner" (1967), a sort of command performance by Hollywood's screen royalty. The film earned Katherine Hepburn her second of four Academy Awards for Best Actress.
The 10 disc set, collected in a fat keepcase with hinged trays, includes commentary on "Desk Set" by actors Dina Merrill and Neva Patterson and introductions to "Guess Who's Coming to Dinner" by Tom Borkaw, Quincy Jones, Karen Kramer and Steven Spielberg, plus bonus animated and live-action shorts and select trailers. The 1986 documentary "The Spencer Tracy Legacy," hosted by Hepburn in tribute to her companion and co-star, completes the set.
"Tracy & Hepburn: The Definitive Collection" will also be available On Demand from cable and satellite providers and via digital download.