Blu-ray Round-up: Akira Kurosawa's 'Rashomon'
Plus a new, improved edition of 'Patton,' a Mary Pickford collection, a Muppet Christmas, and more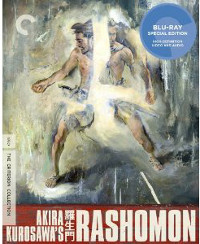 "Sunset Boulevard" (Paramount), directed by Billy Wilder and starring Gloria Swanson as a delusional former silent movie queen, is the blackest of Hollywood's self portraits. Videodrone's review is here.
"They Live: Collector's Edition" (Shout! Factory), John Carpenter's skewed invasion movie, is witty and weird and unexpectedly political, in a B-movie sort of way. Blu-ray+DVD combo pack, with supplements. Videodrone's review is here.
"Rashomon" (Criterion) won the Oscar for Best Foreign Film. It took the Golden Lion at Venice. It put Japanese master Akira Kurosawa on the international cinema map. And it remains one of his greatest, most sophisticated, and most powerful films. Shot under a dapple of light filtered through the leaves of a thick forest, this story of a crime told from the contradictory perspectives of the three participants and one onlooker, is one of his most visually splendid films, but under all that beauty is a subtle and captivating look at the changing perspectives of truth as seen through the eyes its storytellers, filtered through one man's commentary, and finally viewed through the lens of a camera. With the shadowy look and elegant style of a silent masterpiece (wonderfully preserved in this new high-definition transfer, with restored image and sound) shot through a modernist perspective, it shook the film world with its audacity and its ingeniousness.
In his accompanying commentary track, Japanese film historian Donald Ritchie remarks that "the source of the movie is about relative truth but (Kurosawa) wanted to make a film about relative reality, which is an entirely different thing." Through the course of his smartly observant commentary, Ritchie provides (in his own words) "an explication" of the film, examining the changing styles Kurasawa employs for the different stories and providing insight to the Japanese conventions both embraced and parodied by Kurosawa.
New to this edition is the sixty-eight-minute documentary "A Testimony as an Image" featuring interviews with cast and crew. Carried over from the previous DVD release is a six-minute video introduction by Robert Altman ("It changed my perception about what is possible in film and what is desirable"), a twelve-minute excerpt from the documentary "The World of Kazuo Miyagawa" featuring interviews with Miyagawa and Kurasawa discussing their collaboration on "Rashomon," and an archival audio interview with actor Takashi Shimura. The accompanying booklets features an essay by film historian Stephen Prince, reprints of Ryunosuke Akutagawa's "In a Grove" and "Rashomon" (the source stories for the script) and an excerpt from Kurosawa's book "Something Like an Autobiography."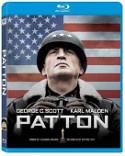 "Patton" (Fox), the warts-and-all portrait of the egomaniacal General and brilliant strategist, is vibrantly brought to life in George C. Scott's intense performance. He's a marvelous conundrum, a magnetic blood and thunder figure somewhere between pragmatist and madman, and it won seven Oscars in all, including one for Scott's most famous performance and Francis Ford Coppola's screenplay. Franklin J. Schaffner directs and Karl Malden (as General Omar N. Bradley), Stephen Young and Michael Strong co-star. This new edition is a corrective to one of the most critically reviled Blu-ray releases of the past five years. The original Blu-ray was roundly criticized for heavy DNR (digital noise reduction) and edge enhancement on the image, wiping away detail along with film grain and giving an unnaturally smooth, waxy look to the actors. Fox has gone back for a new transfer from the 65mm negative and this time they've pulled out the detail from the original image without needless digital enhancement.
There's nothing new to the release besides the fresh transfer but that's plenty for fans of the film. Carried over from the previous release is commentary and a video introduction by screenwriter Francis Ford Coppola, and a bonus DVD of standard-definition supplements: the documentaries "History Through the Lens: Patton - A Rebel Revisited," "Patton's Ghost Corps," and "The Making of Patton," a gallery of production stills accompanied by Jerry Goldsmith's complete musical score, and a gallery of behind-the-scenes stills accompanied by audio essay on the historical Patton.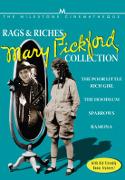 "Mary Pickford Rags & Riches Collection" (Milestone) - Mary Pickford was America's sweetheart of the teens, Hollywood's first female superstar, and the darling of silent cinema. She played plucky youngsters long after reaching adulthood, and her business acumen and good cinematic sense made her one of the most powerful figures in all of Hollywood. Three films from the prime years of Mary Pickford's stardom are gathered around the themes of "Rags and Riches," with films featuring Pickford at both ends of the economic scale: "The Poor Little Rich Girl" (1917), with Pickford as the lonely, neglected adolescent daughter of a workaholic father and social-climbing mother; "The Hoodlum" (1919), the story of a rich girl forced to survive life in the slums through pluck, which luckily Pickford has plenty of; and "Sparrows" (1926), her most rousing film. In the latter, she's big sister and mother figure both to a rag tag collection of child orphans made virtual slaves by a gnarled, swamp dwelling Simon Legree, and their escape to the promised land through the dank, fetid, alligator-infested swamp is thrilling. All three films include original scores performed by small orchestras. Supplements include the early short drama "Ramona" (1910), directed by D.W. Griffith and starring Pickford in the title role, commentary two features, and Pickford home movies. Also available on a new DVD edition as well.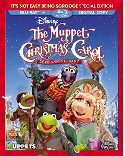 Michael Caine is Scrooge, the sole human in "The Muppet Christmas Carol" (Disney), the Muppet version of the Charles Dickens classic. The brightness of the Muppet characters and the fantastic ghosts created by Henson's Creature Shop for this film softens the melancholy of Dickens for a kid-friendly retelling. Features two commentary tracks (one by director Brian Henson, the other by the Muppets), a handful of featurettes, the "Disney Intermission" (a series of skits, gags, behind-the-scenes bits, and other distractions when you hit pause), and a digital copy of the film for portable media players.
"Planes, Trains and Automobiles" (Paramount), the home for the holidays comedy from John Hughes starring Steve Martin and John Candy as an odd couple tossed together by an airport closure was previously available as a Best Buy exclusive and is now widely available. The two-part documentary "John Hughes: Life Moves Pretty Fast" and a deleted scene are presented in HD, while three additional featurettes are in standard definition.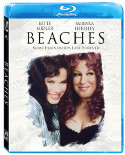 "Beaches" (Touchstone), the chick-flick weepy about the decades-long friendship of two girls who meet on a beach and grow up to become brassy Bette Midler and classy Barbara Hershey. Features commentary by director Garry Marshall, the interview featurette "Mayim Bialik Remembers Beaches," Barbara Hershey screen test, bloopers, Bette Midler music video and a clip from "AFI's 100 Years ... 100 Songs" with Bette Midler.
"Sweet Home Alabama" (Touchstone) stars Reese Witherspoon as a New York City fashion designer attempting to get a divorce from her high school sweetheart (Josh Lucas) so she can marry the city's most eligible bachelor (Patrick Dempsey). Arrives on Blu for its tenth anniversary, with the supplements from the previous DVD: commentary, eight deleted scenes, and an alternate ending.
"Rescue 3D" (Image), the IMAX documentary, offers both Blu-ray 3D and standard Blu-ray options, plus the featurette "About the Rescuers."
For more releases, see Hot Tips and Top Picks: DVDs, Blu-rays and streaming video for week of November 6