Classic: The Original 'Invasion of the Body Snatchers'
Still the most insidious alien invasion film ever made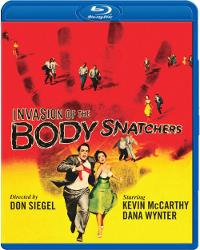 "Invasion of the Body Snatchers" (Olive) – The original version of the oft-filmed science fiction horror is still the most insidious alien invasion film ever made. This is an invasion from within. Small town family doctor Kevin McCarthy returns to his small California coastal community from an out-of-town trip to find everything just a bit off: friends and family suddenly become "other," emotionless beings that trade personality and joie de vivre for ruthless efficiency. This loss of emotion is set against the growing romance between McCarthy and Dana Wynter, who pull together as they stumble across the corpses of unformed people (a weird mix of plant and person) and become isolated within the transforming community. Director Don Siegel transforms the atmosphere for sunny and open to dark and claustrophobic as the humans become a kind of hive mind.
Other alien invasion films were about life and death, but this is far more insidious: it's about loss of soul and self, and the desperation to hold on as doppelgangers were grown to take their place. The film coined the phrase "pod people" and has been called a metaphor for the repressive conformity of both Communism and McCarthyism in the fifties. That it works for both readings, and remains resonant for every generation (substitute urban alienation or emotional suppression), is testament to its genius and its power. "You're next!"
This is one of the first releases in Olive's exclusive arrangement with Paramount to distribute the Republic Pictures catalog on Blu-ray and DVD – "High Noon" also debuts today -- and Olive gives both films their respective Blu-ray debuts.
Olive presents the film its 2.00:1 SuperScope format and the new HD transfer, mastered from a clean, strong 35mm print (the original negative is lost), is the best it has ever looked on home video. This presentation does, however, come with some controversy. The film was photographed at the more familiar aspect ratio of 1.85:1 and cropped (without the participation of the director) at the wider ratio for release. So while this is in fact accurate to the film's original release, it's not what the director intended. But it is effective, interestingly enough; the tight cropping enhances the claustrophobic quality of the images. No supplements.
For more releases, see Hot Tips and Top Picks: DVDs, Blu-rays and streaming video for the week of July 17