Blu-ray Round-up: 'A Bullet for the General' is an Unheralded Spaghetti Western Classic
Plus 'Lethal Weapon Collection' and classics from Miyazaki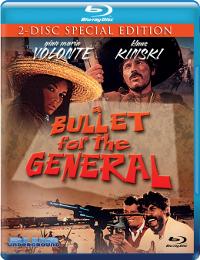 "Lethal Weapon Collection" (Warner) gathers all four high-energy, comic-inflected, buddy cop thrillers with Mel Gibson and Danny Glover as mismatched partners turned best friends, from the explosive and edgy 1987 "Lethal Weapon" to the overkill of "Lethal Weapon 4" in 1998. This edition features brand new supplements, including commentary tracks and a retrospective documentary. Videodrone's review is here.
"A Bullet For the General" Blu-ray (Blue Underground) – The rich, brutal, cynical culture of Italian westerns (aka spaghetti westerns) is dominated by Sergio Leone's great movies, but there is a whole legacy of cynical, hard-edged, and even politically daring Italian westerns of the sixties and seventies. "A Bullet For the General" (1966), set in the culture of mercenaries and bandits operating in the lucrative chaos of the Mexican revolution, is one of the best of these.
Gian Maria Volonté stars as a charismatic bandit leader who passes himself a revolutionary guerilla as he robs military transports and sells the arms to the revolution for hard cash. Klaus Kinski gets second billing as Volonté's brother, a wild eyed warrior priest in bandoleros dedicated to the cause, while Lou Castel (who became a regular in Fassbinder's movies) plays the American gangster who signs on with the crew as cover for his own mission, riding through the desert in a neatly-pressed three-piece suit even on the hottest days. Damiano Damiani directs it like a twenties gangster picture in the sun-baked desert and white-dust hills of the cutthroat west, where life is cheap, loyalty is rare, and rival gangs constantly battle for guns and contraband. But it is also a portrait of the evolution of a bandit from mercenary to revolutionary, a transformation that puts him at odds with his own gang and especially Castel, the devil on his shoulder and his strangely loyal comrade in crime. There is a sophisticated story of personal commitment and political awakening behind the brutality and cowardice and betrayals, and an unexpected twist on friendship and loyalty.
The Blu-ray debut features the International cut with both English and Italian soundtracks and the slightly shorter American cut (English only), plus a five-minute interview with director Damiano Damiani (he explains that his intention was to make a parody of a western, but it doesn't come off that way) and a bonus disc with a feature-length Italian documentary on actor Gian Maria Volonté.

See a trailer below, after the jump.
Arriving in conjunction with "The Secret World of Arrietty" are the Blu-ray debuts of two classic animated features from Studio Ghibli: "Castle in the Sky" (Disney), a grand adventure fantasy from Hayao Miyazaki's private mythos, and "Whisper of the Heart" (Disney), a tender coming of age tale written and produced by Miyazaki. Reviewed on Videodrone here.
For more releases, see Hot Tips and Top Picks: DVDs, Blu-rays and streaming video for May 22