Videodrone's best of 2012 on home video: Top 10 disc debuts
The top disc releases of the year, part 1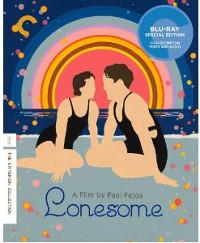 For a dying medium, the disc market continues to release a robust slate of superb DVDs and Blu-rays, classic and contemporary both. 

Here is my annual round-up of the Best of 2012, a small compendium of lists: for disc debuts, Blu-ray releases, TV on disc and manufacture on demand. There is a lot of good stuff out there. Here's my perfectly subjective picks for the great stuff, with points for heroic efforts and creative archival additions.
Disc Debuts
1. "Lonesome" (Criterion), completed just as sound technology came to the movies, is one of the last great silent films. Or should I say, mostly silent. Finished just as "The Jazz Singer" kicked off the rush to talkies, it was revised just before release with the addition of three sound dialogue sequences. While these soundie sequences tend to stick out, being static and somewhat awkward, they are brief and a little endearing, a unique gimmick in the midst of a turbulent changeover. "Lonesome" is much more than a gimmick, however. It's a gem of an intimate romance right out of the late-silent film culture of "Sunrise," "The Crowd," "People on Sunday" and others. Directed by Hungarian émigré Paul Fejos, it is delicate and sweet, playful and creative, and cinematically inventive without showboating.
If you've never heard of Paul Fejos, that's likely because his films simply haven't been available in any form in the home video era. Which makes Criterion's release not just a debut but a rescue. In addition to a beautifully mastered edition of "Lonesome" from the restored duplicate negative, the set presents two bonus Fejos classics from the same era: his 1927 "The Last Performance" with Conrad Veidt and Mary Philbin (with a new score by Donald Sosin) and a reconstructed sound version of Fejos' 1929 musical "Broadway," for which Fejos had a massive camera crane built. That's in addition to archival interviews and other superb supplements. This is 2012's true gift of cinema, presented on Blu-ray and DVD by Criterion. (Full review here)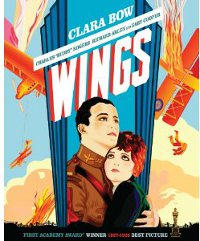 2. "Wings" (Paramount) - Clara Bow took top billing in the 1927 film that won the very first Academy Award for Best Picture, but the real star of this World War I drama is the amazing aerial spectacle: the dogfights in the sky over the battlefields. Paramount's restoration of the film (for the studio's 100th anniversary) is more lavish and extensive than I have ever seen for a silent film, a sharp, shimmering digital master of a landmark done out of respect for film history more than any hope of profit. Damaged sequences were repaired or replaced and missing shots and scenes restored from prints culled from archives around the world, and then repaired and corrected with months of digital restoration, and set of a new recording of the original score with sound effects created the old fashioned way by Oscar-winner Ben Burtt. It's the kind of thing studios routinely do for commercial classics like "Casablanca" or "The Wizard of Oz," but rarely for something like this. Blu-ray and DVD. (Full review here)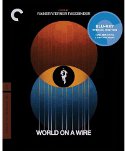 3. "World on a Wire" (Criterion), made by Rainer Werner Fassbinder in 1973 for German television, was for years one of the only films by the director that simply didn't get screened or made available on home video. We just assumed that it was a lesser production, as suggested by the little attention it received in English language studies of Fassbinder. We assumed wrong. The first film to explore virtual reality, with no special effects to speak of mind you (you might say that Fassbinder suggests his levels of reality and identity with mirrors), it creates a near future out of modern architecture (some of it still under construction), gangster-movie fashions, futuristic bric-a-brac, and more glass and mirrors than a carnival funhouse, giving it the visual density of Fassbinder's theatrical films. And even at 3 ½ hours, this film races with action, ideas, and a paranoid anxiety that nothing is as it seems. Blu-ray and DVD. (Full review here)

4. "Margaret" (Fox), the much delayed and debated second feature from director / screenwriter / playwright Kenneth Lonergan, was shot in 2005. After six years of legal wrangles and creative fights, a 150-minute cut was released in a few cities in 2011, and then it practically disappeared. Even after a brief return in 2012, most people didn't have a chance to see the film until its home video release. A powerful, provocative, ambitious drama set in the shadow of September 11, 2001, it's a marvelously messy film about the messiness of emotions and people and relationships. An even messier version can be found in the "Extended Cut," the version that Lonergan originally fought to get released and is available as a bonus DVD on the Blu-ray release of the 150-minute theatrical cut. (Full review here)

5. "David Lean Directs Noël Coward" (Criterion) features beautifully mastered editions of the first four features directed by David Lean -- "In Which We Serve" (1942), "This Happy Breed" (1944), "Blithe Spirit" (1945), and "Brief Encounter" (1945) -- all of them made in partnership with author/producer Noël Coward. Officially, David Lean is second-billed to Coward in the director credit for "In Which We Serve" and takes solo credit for the subsequent films, but is clearly the man behind the camera in all of them. Lean is clearly a talent to be reckoned with from the first film, but seeing him develop over the four films, find his strengths, and then produce his first genuine masterpiece ("Brief Encounter") is quite an experience. Blu-ray and DVD. (Full review here)
6. "Jean Grémillon During the Occupation (Eclipse Series 34)" (Criterion) casts a welcome spotlight on the work of a French director little known outside of France, notably a trio of films he directed during the German occupation that are considered his best work: "Remorques" (1941) starring Jean Gabin, "Lumière d'été" (1943), and "Le ciel est à vous" (1944). Let the rediscovery begin. DVD only. (Full review here)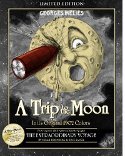 7. "A Trip to the Moon: Limited Edition" (Flicker Alley) features the home video debut of the painstakingly restored color version of the landmark George Méliès fantasy short, perhaps the most famous film made before "The Birth of a Nation" and (in the words of film historian and archivist Serge Bromberg) "the first international hit in motion picture history." Accompanying the short is a documentary on the film, its legacy, and its restoration. Blu-ray and DVD combo pack. (Full review here)
8. "Columbia Pictures Film Noir Classics Volume III" (TCM Vault Collection), a collaboration between Sony Picture and Martin Scorsese's The Film Foundation, uses the term "classic" loosely – the five films in this collection are not the celebrated stand-outs of the genre – but that said, this box contains some minor gems polished out of low budget productions, notably the Gothic-flavored "My Name Is Julia Ross" (1945), the bare-knuckle gangster noir "The Mob" (1951), and the anxious pulp noir thriller "The Burglar" (1957) with Dan Duryea and Jayne Mansfield. DVD only. (Full review here)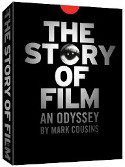 9. "The Story Of Film: An Odyssey" (Music Box) – Mark Cousins takes an unconventional, expansive, and almost exhaustive approach to the history of cinema, from the first moving images to modern movies, that emphasizes innovation, expression, and the cross-cultural fertilization of ideas spanning the entire globe. The 15-hour series acknowledges the business and culture of movies, but celebrates the art above all. DVD only. (Full review here)
10. "The Dark Knight Rises" (Warner), the culmination of Christopher Nolan's trilogy of high-minded comic book superhero action spectacles by way of pop-art social commentary, doesn't want for ambition. It's a big canvas with big (if vague) ideas, big metaphors, and outsized performances. And a big disc presentation too: the Blu-ray combo pack features hours of supplements on the film and the series as a whole. (Full review here)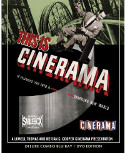 Honorable mentions:
Historical: "This Is Cinerama" (Flicker Alley) is neither documentary nor drama. It's a pageant, a showcase, an immersive experience that launched Cinerama -- the first high definition theater format -- with a roar. This disc is more historical record than immersive experience, but wow, what a production, from the film itself to the exhaustive supplements. Blu-ray and DVD combo pack. (Full review here)
Classic: "Swamp Water" (Twilight Time), Jean Renoir's first American feature, isn't ranked among his best films, perhaps because its never been available on home video for reevaluation. Twilight Time's superb Blu-ray release (it's still not on DVD) shows just what a beautiful film it is, not simple for Renoir's generosity of character and complexity of community and family relationships, but for the magnificent cinematography as well, both on location and in the studio. (Full review here)
Cult: "When Horror Came To Shochiku (Eclipse Series 37)" (Criterion) collects a quartet of late 1960s sci-fi/horror oddities from the Japanese film studio Shochiku, which jumped into the genre late and produced insane movies on threadbare budgets and incoherent scripts. The mutant masterpiece of this collection is the bleak, bizarre "Goke, Body Snatcher from Hell" (1968), an astonishing journey to hell on Earth that makes the case for mankind as beyond redemption. DVD. (Full review here)
Art House Epic: "Mysteries of Lisbon" (Music Box), Raul Ruiz's elegant, nearly 4 ½-hour drama, is a film of labyrinthine storytelling and cinematic weaves of character and narrative across time and space, a work of exquisite elegance and magnificent insight into human nature and the contradictions that define us. Ruiz died just after the film's international release, so this presentation (which also includes interviews with Ruiz and others) serves as a fine tribute to the director. Blu-ray and DVD. (Full review here)
Art House Essential: "Certified Copy" (Criterion), Iranian master Abbas Kiarostami's first film made outside of Iran, is a sublime drama of art, love, and the life of a marriage in one day. Both a delicate romance and a complex portrait, you could describe it as the cinematic equivalent of a Picasso cubist portrait, presenting multiple experiences along the timeline of a relationship in a single day. It gets the Criterion treatment in its home video debut.  Blu-ray and DVD. (Full review here)
Art House Essential: "The Turin Horse" (Music Box), Bela Tarr's hypnotic two-and-a-half hour trip to a life of desolation on the edge of the end of the world is nothing if not demanding, but it's the kind of cinematic experience that is increasingly harder to find. Home video may never do justice to the experience of being immersed in the texture of the film in a darkened theater (and frankly a lot of cinemas fail as well), but the superbly-produced Blu-ray from Music Box is as close as you'll come. And the fact that it's on Blu-ray at all proves that the disc is far from dead.
Click here for Videodrone's Best Blu-ray Releases, Best TV on Disc, and Best MOD Releases and Notable Achievements for 2012 
Are you sure you want to delete this comment?