New Release Round-Up: Denzel Washington is "Unstoppable"
plus "Waiting for 'Superman'," "You Will Meet A Tall Dark Stranger" and more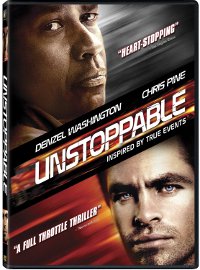 "Unstoppable" (Fox)
Denzel Washington and director Tony Scott team up once again in this high-concept thriller about a runaway freight train headed on a collision course with the city and a couple of blue collar guys -- Washington as the veteran engineer and Chris Pine as the junior conductor -- who chase it down and put their lives on the line to stop it. Oh yeah, it's packed with toxic chemicals, just in case the threat of "a missile the size of the Chrysler Building" hurtling into an urban core isn't enough to fear.
"Once you get over the fact that these guys have the most dazzling teeth you've ever seen on any pair of guys working on the railroad, Washington and Pike make an appealing, engaging team," admits MSN critic Glenn Kenny. "Scott handles the action and suspense aspects of this picture with customary élan. These days, when smash-bam-boom set pieces in big Hollywood pictures seem almost stroboscopic, Scott's version of quick-cutting seems practically classical."
The DVD features two commentary tracks: one recorded for the disc featuring director Tony Scott and the other – called "Tracking the Story: Unstoppable Script Development" – edited together from script meetings between Scott and writer Mark Bomback. There's also the half-hour featurette "The Fastest Track: Unleashing Unstoppable." The Blu-ray edition features three additional featurettes -- "Derailed: Anatomy of a Scene," which shows how the crew derailed a real train for the film, plus an overview of the stunt work of the film and a breezy group interview on location with Scott, Washington, Pine and Rosario Dawson -- and a bonus digital copy for portable media players.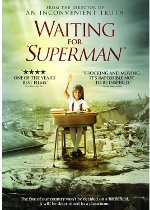 "Waiting for 'Superman'" (Paramount) -  David Guggenheim, whose documentary "An Inconvenient Truth" supercharged the debate over climate change (and earned him an Academy Award in the process), takes on the failures of American public education and proposes some possible solutions with this provocative documentary. ""Waiting for 'Superman'" is emotionally engaging, as hopeful and honest as it is wrenching and moving," proclaims MSN critic James Rocchi. "At the same time, "Waiting for 'Superman'" doesn't shy away from plainly stated facts." The disc features by director Davis Guggenheim and producer Lesley Chilcott, 30 minutes of deleted scenes and a few very brief featurettes of no real note, but in keeping with the spirit of the call to action, consumers receive a $25 gift card for buyers to donate to a local school of their choice through DonorsChoose.org. In addition, Paramount Home Entertainment will donate a portion of the proceeds from the sale of each "Waiting For "Superman"" DVD and Blu-ray to Get Schooled, an independent non-profit organization founded by Viacom and the Bill & Melinda Gates Foundation. For more information, visit www.getschooled.com.

"You Will Meet A Tall Dark Stranger" (Sony) -  Woody Allen has been delivering a movie a year like clockwork for decades, variations on a theme in a new permutation. "You Will Meet A Tall Dark Stranger" sounds romantic and arrives the day after Valentine's Day and it features the usual high level of talent (Josh Brolin, Anthony Hopkins, Naomi Watts and Antonio Banderas star, with "Slumdog Millionaire" beauty Freida Pinto as the youthful object of desire), but this is one of Allen's portraits of curdled romance with a wry comic tone and jagged humor. "In spite of writer-director (and less-and-less-freque​nt performer) Woody Allen's oft-stated pessimism, there's always something almost comforting about the cinematic realms he creates from that perspective," writes MSN critic Glenn Kenny. "But still, there is a settled quality here -- Allen haters will just call it "laziness," and they won't necessarily be wrong -- that makes matters a bit pat and weirdly self-congratulatory.​" There are no supplements on either the DVD or Blu-ray release.
"Glorious 39" (Entertainment One) – Romola Garai stars in this World War II thriller from Steven Poliakoff about dark secrets in a powerful British family and a Nazi conspiracy. Bill Nighy, Julie Christie, David Tennant and Christopher co-star. The DVD and Blu-ray both feature a behind-the-scenes featurette.
Also new this week:
For more on DVD this week, visit weekly DVD listings in MSN.