Streams and Channels: The 'House of Cards' at Netflix
The Netflix original series with Kevin Spacey is an ambitious challenge to broadcast and cable programming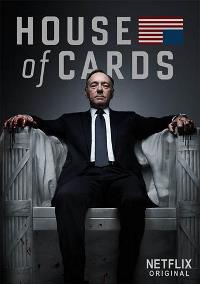 "House of Cards," the second original series produced for Netflix (the first is "Lilyhammer"), launched on the subscription streaming video service on Friday, February 1.
Based on a British mini-series from the nineties (and the novel by Michael Dobbs before it), it moves the political circus to the American tent and casts Kevin Spacey as a congressman who takes a slash and burn approach to stepping up the political ladder. David Fincher produces and directs the first two episodes of the savage political satire.
It is an impressive investment -- $100 million for 13 serialized hours -- and as impressive a production as you'll find on the more extravagant cable shows. That's not to say it's necessarily lavish. This is a show that occurs in the corridors of power, which means congressional offices, committee meeting rooms, bars, hotel rooms, and the politically-connecte​d cocktail parties in homes of the Washington power elite. But David Fincher sets the style in the first episodes, and it's handsome, elegant, and cinematic, like an Alan Pakula drama from the seventies with the sharp, cool look of Fincher's digital aesthetic.
Spacey revisits his honeyed southern accent from "In the Garden of Good and Evil" to play Francis Underwood, the heavyweight party animal who goes lone wolf when he's passed over for a promised appointment after helping carry a President into office. He's been the steadfast party man all the way -- not out of loyalty or idealism, mind you, but out of expediency and self-interest -- but when he's betrayed, he turns his diplomatic acumen and negotiating skills to paving his own path to power, and he builds that road over the bodies of his own party members.
That's part of what differentiates this story from other political dramas. They're all about power, sure, but this is baldly so. Underwood uses an education bill, the centerpiece of his party's campaign, as a lever to pry opponents out of his way and, when necessary, bludgeon them into submission.
Which is not to say it's surprising or even necessarily more cynical than what we've seen on such shows as "24," "Scandal," or any number of network or cable dramas. It is, however, compelling, thanks to Spacey's easy touch and smooth charm as the heavyweight politico posing has a lightweight, and to his superb supporting cast.
Robin Wright is equally good as the congressional wife who runs a charitable foundation with all the warmth and compassion of Lady Macbeth -- she is as observant, calculating, and coldly ruthless as the Congressman -- and Fincher and Spacey (who is also an executive producer) attract a superb line-up of actors: Kate Mara as the young political reporter who trades rises fast thanks to his tips, Corey Stoll as a fellow congressman with a weakness for… well, pretty much anything, and Michael Kelly as Spacey's top aide and loyal henchman.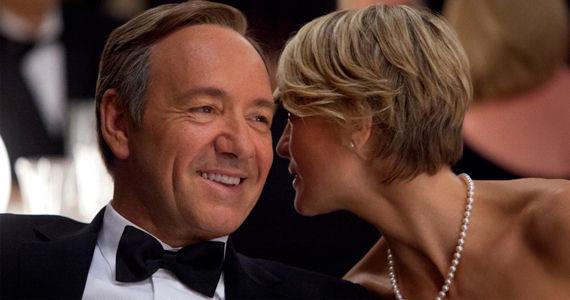 Launching such a major production on a streaming video service is significant enough, but Netflix did TV one better: it launched all 13 episodes at once, letting subscribers choose their own pace. You can bet that a lot of viewers opted for a binge-viewing marathon. I'm taking a little more time, but it is addictive.
The original British "House of Cards" is also available on Blu-ray, DVD, and streaming at Netflix.
The trailer is after the jump. Click on "More" below.
For more releases, see Hot Tips and Top Picks: DVDs, Blu-rays and streaming video for week of February 5