Cool and Classic: John Ford's 'The Quiet Man' more beautiful than you've ever seen
Plus Cary Grant and Ingrid Bergman are 'Indiscreet,' Nicol Williamson solves 'The Seven-Per-Cent Solution,' and more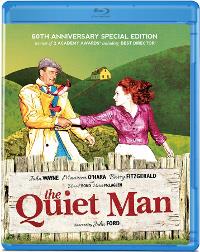 "The Quiet Man: 60th Anniversary" (Olive) presents an all-new edition of one of John Ford's most beloved films, a sweet and sentimental drama with a rough-and-tumble humor, an earthy beauty, and a powerhouse pairing of John Wayne and Maureen O'Hara. Wayne is the strapping American ex-boxer who tries to rebuild a life in Ireland, the land of his birth, while holding back the temper that still haunts him, and O'Hara the fiery Irish redhead who proves his obstinate onscreen in a battle of wills. Ford turns Wayne into a romantic hero and populates the shamrock green Irish village with figures full of blarney and charm, among them Barry Fitzgerald, Ward Bond, Mildred Natwick, and Victor McLaglen as O'Hara's snarl of a brother.
The film has been on DVD before, and those editions had well-publicized color problems. This version is mastered for its Blu-ray debut and a new DVD edition from a 4K scan of the original camera negative and it looks absolutely gorgeous. Both editions include the archival featurette "The Making of The Quiet Man" hosted by Leonard Maltin and previously included on the earlier DVD release, and an accompanying booklet featuring a lengthy excerpt from Joseph McBride's book "Searching for John Ford."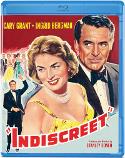 "Indiscreet" (Olive), directed by Stanley Donen, reunites Cary Grant and Ingrid Bergman in a continental romantic comedy, adapted by Norman Krasna from his own play. Bergman is a famous stage actress who leaps into a romantic affair with married diplomat and NATO economic expert Cary Grant. Donen conducts this American take on drawing room comedy with a deft confidence, creating a delicately discreet, sweetly melancholy, light romantic drama, until everything takes an abrupt turn to farce. It's ultimately pretty thin, sustained by the charm and grace and chemistry of Grant and Bergman, and it never breaks free of its stage origins, despite some lovely scenes shot on location in London. It's still quite entertaining, but the first two acts are so promising that the third act downshift into obvious comic complications can't help but disappoint, if only a little. Blu-ray and DVD.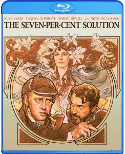 "The Seven-Per-Cent Solution" (Shout! Factory), based on a novel by Nicholas Meyer, imagines the meeting between Sherlock Holmes (Nicol Williamson) and Sigmund Freud (Alan Arkin), as engineered by Watson (Robert Duvall), worried over Sherlock's cocaine addiction. While the three of them collaborate on a case, Freud investigates the roots of Sherlock's addiction. It's a great story with marvelous period detail, but Williamson is overly mannered as Holmes and Duvall awkwardly miscast as a stalwart but somewhat slow Watson. Arkin, however, provides the modern spark in this Victorian world, and Vanessa Redgrave is both fragile and forceful as a former addict whose kidnapping (by, of all things, a Turkish Pasha collecting specimens for his harem) leads to a swashbuckling chase on a train. Laurence Olivier, Joel Grey, Samantha Eggar, and Charles Gray co-star and Herbert Ross directs. The Blu-ray+DVD Combo pack features an interview with author Nicholas Meyer.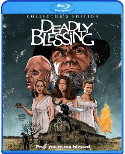 "Deadly Blessing: Collector's Edition" (Shout! Factory) is the disc debut of the Wes Craven horror set in Hittite community with a cult-like culture presided over by Ernest Borgnine. Maren Jensen stars with Susan Buckner, Lisa Hartman, Lois Nettleton, and a young Sharon Stone. Blu-ray and DVD, with commentary by director Wes Craven and interviews with actress Susan Buckner and writers Glen M. Benest and Mathew Barr.
Olive continues rolling out the B-movies the John Wayne made at Republic before "Stagecoach" made him a star. The 1939 "Frontier Horizon" (Olive) is another of the eight "The Three Mesquiteers" programmers, this one with Ray Corrigan and Raymond Hatton as his partners and featuring the screen debut of Jennifer Jones (billed under her real name, Phyllis Isley). He headlines "The New Frontier" (Olive), from 1935, and "King of the Pesos" (Olive), from 1936, solo. All three on Blu-ray and DVD.
Plus:
"Trust" (Olive), Hal Hartley's 1990 sophomore effort, reunites the director with Adrienne Shelley, the star of his debut, and pairs her with Martin Donovan in his first leading role. Blu-ray and DVD, with the retrospective featurette "Upon Reflection: Trust."

- "The Sex Thief" (Kino), a 1974 sexploitation homage to the James Bond series starring David Warbeck, is notable as the directorial debut of Martin Campbell, who graduated to directing a pair of actual James Bond films: "Goldeneye" and "Casino Royale." Blu-ray and DVD.
- "It's In the Bag" (Olive), starring Fred Allen and "guest stars" Jack Benny, Don Ameche, William Bendix and others, adapts "The Twelve Chairs" as an American free-for-all. Blu-ray and DVD
- "Cujo" (Olive), the 1983 adaptation of Stephen King's novel with Dee Wallace, arrives on Blu-ray and DVD with new commentary by director Lewis Teague.
- "Ticks" (Olive), the 1993 horror  from director Tony Randel, on Blu-ray and DVD with commentary by Randel and co-star Clint Howard.
For more releases, see Hot Tips and Top Picks: DVDs, Blu-rays and streaming video for week of January 22