The New Release Rack: Vacancy at 'The Best Exotic Marigold Hotel'
Plus 'Hysteria,' 'Katy Perry' in concert, Oscar nominee 'Chico and Rita' and more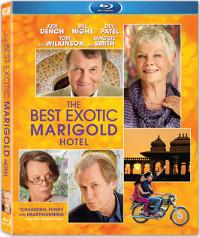 "The Cabin in the Woods" (Lionsgate), a wily, witty, very entertaining love letter to horror movie fandom from Joss Whedon and Drew Goddard, debuts on Blu-ray, DVD, and On Demand this week. Videodrone's review is here, and we have an interview with director Drew Goddard here.
"The Best Exotic Marigold Hotel" (Fox) sends the best in British acting talent of a certain age (Judi Dench, Bill Nighy, Tom Wilkinson, Maggie Smith, just to name a few) to a retirement home in India, where they find a rundown hotel rather and face culture shock but are soon charmed by the country, the people, and the exuberant entrepreneur (Dev Patel) who runs the hotel.
MSN film critic Glenn Kenny finds the whole enterprise familiar and blandly executed. "It's pretty common for such utterly pat material to be redeemed or at least made tolerable by a cast of first-rate performers. But as well as Dench, Wilkinson, Nighy and Smith acquit themselves (everyone does his or her level best, but these performers were my favorites), their efforts didn't bring the movie to life (and I'm not certain they could)." Penelope Wilton, Celia Imrie, and Ronald Pickup also star and John Madden directs.
On Blu-ray and DVD, with the featurettes "Behind the Story: Lights, Colors and Smiles" and "Casting Legends." The Blu-ray includes three additional featurettes. Also available On Demand.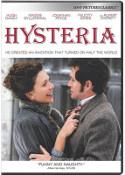 "Hysteria" (Sony), ostensibly the story of the invention of the vibrator (yes, *that* kind of vibrator), stars Hugh Dancy as the young doctor who invents the darn thing and Maggie Gyllenhaal as a feminist and activist whose feistiness turns his head. Glenn Kenny complains that "the movie is neither a full-out nudge-nudge, wink-wink farce nor an entirely high-minded historical treatise on the oppression and potential liberation of women in Victorian England…. What it winds up being is kind of mushy." Jonathan Pryce, Felicity Jones, and Rupert Everett co-star.
On Blu-ray and DVD, with commentary by director Tanya Wexler, a Q&A with Wexler and actors Dancy and Pryce, featurettes and deleted scenes. Also available On Demand and at Redbox.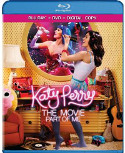 "Katy Perry: Part of Me" (Paramount), a concert film that interspersing footage from the pop superstar's 2011 World Tour with behind-the-scenes footage and a whirlwind tour through her life and career, is a light, bright, bouncy film that "gives its target audience just about as much truth as it can handle," according to MSN film critic Glenn Kenny. "What is there of interest for non-Katy-Perry fans? Not a whole lot…. Still, I was hardly bored," he confesses.
Available on a movie-only DVD and a Blu-ray+DVD Combo Pack with a bonus featurettes and full concert performances of select songs, plus a digital copy (via iTunes) and Ultraviolet copy for instant streaming. Also available On Demand and at Redbox.
"The Woman in the Fifth" (New Video), a psychological thriller starring Ethan Hawke as an  American novelist in Paris and Kristin Scott Thomas as seductive translator, is a British/French co-production directed by Pawel Pawlikowski. "Accepting Pawlikowski's mood of poetic seriousness may be a chore for some," admits Time Magazine film critic Richard Corliss. "Others will find this creepy little sonata a dream or nightmare worth succumbing to, and believing in." English and French dialogue with English subtitles, plus a featurette. DVD only.

Foreign Affairs:
"Chico & Rita" (New Video), the music-infused story of a jazz pianist and a singer from 1948 Cuba whose music takes them around the world, is both an animated romantic drama and a colorful survey of jazz and salsa in an era of great creativity. A collaboration between award-winning director Spanish director Fernando Trueba, artist and designer Javier Mariscal, and graphic artist Tono Errando, it's the first animated feature for all three of them and it was nominated for an Academy Award. The film "beguiles first and foremost as a bebop romance that evokes a bygone era as well as, or maybe even better than, "The Artist"," writes New York Post film critic Lou Lumenick.
Blu-ray and DVD, with commentary by directors Fernando Trueba and Javier Mariscal and a featurette. A Blu-ray+DVD Special Edition also includes a mini-comic excerpt from the graphic novel and a bonus CD soundtrack (which won a Latin Grammy award). Also available On Demand
See a clip from the film after the jump. Click on "More" below.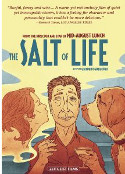 "The Salt of Life" (Zeitgeist), Italian writer/director/star​ Gianni de Gregorio's follow-up to "Mid-August Lunch," follows a sad-sack retiree attempting to spice up his love life with comic results. Italian with English subtitles. DVD only, with a director interview and behind the footage. Reviews here.
"Oslo, August 31st" (Strand), an intimate character portrait of a man taking stock of his life as he steps out of a drug rehab facility, received glowing reviews across the board on its international release. Joachim Trier directs. In Norwegian with English subtitles, DVD only. Reviews here.
"Silenced" (CJ Entertainment) is a controversial drama from South Korea inspired by the true story child abuse in a school for special needs kids and the cover-up one teacher tried to bring to light. Korean with English subtitles, DVD only, with featurettes and deleted scenes. Reviews here.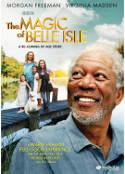 Plus:
-  Morgan Freeman and Virginia Madsen star in "The Magic of Belle Island" (Magnolia), a family drama of second chances set over a summer at a lakeside cabin. Blu-ray and DVD, with commentary, featurettes, and an interview with director Rob Reiner. Also available at Redbox. Reviews here.
- "The Do-Deca-Pentathlon" (Fox), from filmmaking brothers Jay and Mark Duplass, is an indie comedy built around the competitive sports event by two obsessive brothers. Blu-ray, DVD, and On Demand. Reviews here.
- "The Babymakers" (Millennium) stars Paul Schneider and Olivia Munn as a couple so desperate to have a child that the husband stages a heist… of a sperm bank. Blu-ray and DVD, with featurettes and interviews. Reviews here.
- "Salvation Boulevard" (Sony) is a satire of Evangelical fervor, Deadhead tours, and lapsed faith with a solid cast: Greg Kinnear, Pierce Brosnan, Jennifer Connelly, Ed Harris, and Marisa Tomei. DVD only, available at Redbox. Reviews here.
- "Speak" (Tumblewood) is a documentary about conquering a fear of public speaking by entering the World Championship of Public Speaking. DVD only.
For more releases, see Hot Tips and Top Picks: DVDs, Blu-rays and streaming video for week  of September 18