Coming Up: TV on DVD in May includes the debut seasons of "Covert Affairs" and "Rizzoli and Isles"
Plus new seasons of "True Blood" and "Royal Pains"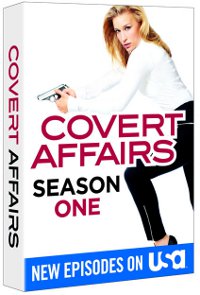 May 17 is the release date for "
Covert Affairs: Season One
" (Universal), the USA Network's rookie spy adventure starring Piper Perabo as the rookie spy promoted to CIA field work while still in training. For all the international espionage, it's a lightweight adventure that fits right in with the USA sensibility.
May 24 sees the release of TNT's femme-centered cop drama "
Rizzoli and Isles
" (Warner) starring Angie Harmon and Sasha Alexander and based on Tess Gerritsen's novels.
Both of these short-season shows arrive in time to help push off the second seasons debuts.
"Human Planet" (BBC), the new BBC documentary series, comes to DVD and Blu-ray on April 26, two days after its American debut on the Discovery Channel.

More TV due dates:
"True Blood: The Complete Season Three" (HBO) arrives on May 31
"Royal Pains: Season Two" (Universal) is set for May 17
"Psych: The Complete Fifth Season" is due May 31