'Cars 2' - Big Oil, Detroit Lemons and Secret Agent Cars
Mater takes the lead in a head-on collusion between car race adventure and spy thriller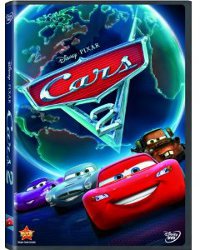 Tow Mater (voiced in a good old boy drawl by Larry the Cable Guy), the lovable hick who played support in the first "Cars," takes the lead in "Cars 2" (Disney), which sends Mater along with his best buddy Lightning McQueen (Owen Wilson) on a globe-trotting race circuit and into the middle of an international conspiracy where he is mistaken for an American secret agent car.
Yes, it's the classic wrong man (or, I suppose, wrong car) scenario meets racing drama: a little James Bond (courtesy of Michael Caine as a vintage model with superspy gadgets), a little bit Speed Racer, a little eco-awareness conspiracy drama: it's a battle between big oil and a new biofuel upstart with the lemons of the world grinding the gears of progress.
Pixar has a track record as the best storytellers in American animation and John Lasseter, the company founder and chief creative officer, is back behind the wheel for this one, but it's easily the weakest story they've tackled to date. It's not that this overbusy concoction is a bad film. It's energetic, colorful and jammed with bright gags, driven in top gear from start to finish and set to a spot-on score by Michael Giacchino, who channels the Bond aesthetic with a bounce. Kids will be entertained and so will adults. I just didn't find myself particularly engaged.
MSN film critic Glenn Kenny, however, appreciates the lightness of the production. "Sometimes it's a relief when a film doesn't swing for the emotional fences, when it's just content with being a lively, pleasurable, colorful diversion," he wrote in his original review. "It all goes by very briskly, and brings frequent smiles, one or two not-unpleasant tugs-to-the-heart, but no overt tragedy or potential tragedy. A light summer feast for the senses that will have the whole family vrooming, for sure."
The DVD and Blu-ray releases are much lighter on supplements than previous Pixar home video releases but I doubt the kids will mind because it does include two bonus animated shorts. "Hawaiian Vacation," which played in front of the film in its theatrical run, features the "Toy Story" characters putting on a tropical getaway for Ken and Barbie and adds a nice chapter to  the ongoing saga. "Air Mater" is a new tall tale short with Mater learning to fly.
For those looking for the more conventional production supplements, director John Lasseter and co-director Brad Lewis (as they are billed on the credits) contribute a commentary track, with Lasseter taking the lead with long stories about his inspirations for the script and the scenes. In fact, it's a little dull and not as informative as other, more lively Pixar tracks. Maybe they need to get in a few more voices for the next one.
The film was originally released to theaters in 3D and there is also a deluxe Blu-ray 3D edition.
For more releases, see Hot Tips and Top Picks: DVDs and Blu-rays for November 1