New Release: '21 Jump Street' Plays It For Laughs
Channing Tatum and Jonah Hill are mismatched buddy cops who go back to high school
By 
SeanAx
 Jun 26, 2012 11:00AM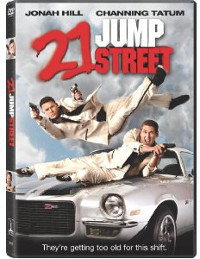 "21 Jump Street" (Sony) – Who knew Channing Tatum was actually, you know, funny? In this knowing update / spoof of the eighties TV series (itself a kind of updating of "The Mod Squad"), Channing Tatum is the thick-headed athlete and popular high school kid and Jonah Hill the nerdy brain who bond years later when they both enroll at the police academy and have each other's back when they go back to high school in an undercover operation.
The twist here is that, in less than a decade, the whole high school paradigm of cool has shifted beyond the ability of Tatum's one-time big man on campus to fathom; bullying is decidedly uncool, ignorance is not bliss, and even the drug dealers are ecologically aware. Which makes the overweight, socially maladroit Hill the new hip kid in this tag team search for campus the drug pipeline.
"The movie reboot of the quasi-iconic/definit​ively cheesy young-cop TV series is hyper-aware of what a bad idea it sounds like, which is one reason the filmmakers opted to make it a hyper-self-conscious​ comedic send-up of the series," writes MSN film critic Glenn Kenny. "But, my oh my, I'm already making it sound too highbrow. Fear not: The movie is replete with shots of the hunky Tatum mock-humping perps before cuffing them, exchanges in which Hill makes nearly as many petulant penis jokes as he did in "Superbad," and a running stream of gags and situations that hammer home just how coarse and territorial (but still lovable, sort of!) even the most "politically correct" contemporary high school students act. Whoo-hoo!"
It's a lot funnier than it has any right to be. Did I mention that Ice Cube plays their commanding officer, an angry black officer who embraces his own stereotype? Or that the directors are Phil Lord and Chris Miller, whose previous feature was the animated "Cloudy With a Chance of Meatballs" and are just as free with sight gags and throwaway jokes in their live-action filmmaking? And keep an eye out for the stars of the original TV series (including one pretty boy by the name of Johnny Depp who went on to a pretty good big screen career) in knowing cameos.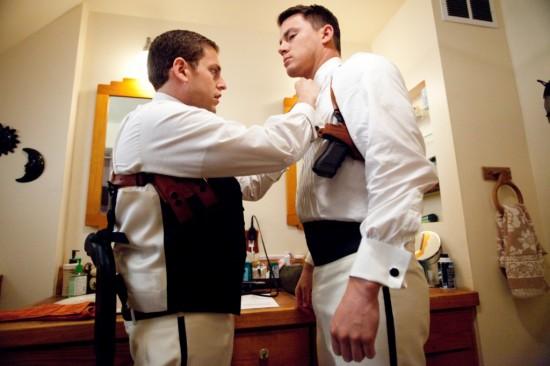 On Blu-ray and DVD, with commentary by directors Phil Lord and Chris Miller with stars Hill and Tatum, the featurette "Back to School," and four deleted scenes. The Blu-ray adds another 16 deleted scenes, four more featurettes, and a couple of collections of outtakes. Both Blu-ray and DVD also include an Ultraviolet digital copy for download and instant streaming. Also available On Demand and at Redbox.
See the Redband trailer (NSFW) below, after the jump.
For more releases, see Hot Tips and Top Picks: DVDs, Blu-rays and streaming video for June 26