TV on Disc Channel Guide: 'Gossip Girl' – The prime time fashion show ends
Plus 'The Loretta Young Show' mega-set, 'Attenborough's Life Stories,' more 'Nurse Jackie' and more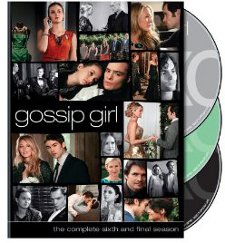 "Weeds: Season Eight" (Lionsgate), Showtime's comedy starring Mary-Louise Parker as a dope-dealing single mom with a dysfunctional life, ends its run by coming full circle to where it all began. Blu-ray and DVD. Videodrone's review is here.
"Gossip Girl: The Complete Sixth and Final Season" (Warner) of the nighttime soap opera is a brief ten episodes featuring Blake Lively and Leighton Meester best friends and centers of New York's Upper East Side young and rich social circle. Based on the best-selling book series by Cecily von Ziegesar, the show follows the precious lives of the spoiled offspring of the fabulously wealthy of Manhattan's elite, and the parents are, if anything, more self-absorbed and status-conscious than the kids. Gosh, it's tough to be rich, trendy and beautiful. Co-stars Penn Badgley, Chace Crawford, Ed Westwick, Kaylee Defer, Kelly Rutherford, Matthew Settle, and Kristen Bell as the voice of Gossip Girl.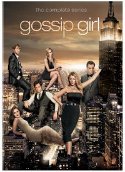 10 episodes on three discs, plus a farewell featurette, a series retrospective, and an audiobook download of the "Gossip Girl" prequel "It Had to Be You," plus deleted scenes and a gag reel. DVD.
If you can't get enough of this prime time fashion show melodrama, also arriving this week is the box set "Gossip Girl: The Complete Series" (Warner), collecting all six seasons and 121 episodes in a simple slipcase. Nothing here that's not on the original disc releases -- even the packaging is the same, simply dropped into a box -- but it's a less expensive way to buy the entire series. DVD.
"The Loretta Young Show: Best of the Complete Series" (Timeless) – Big screen star Loretta Young hosted this anthology series, which ran from 1953 to 1961, and starred in over half of the show's over-250 half-hour episodes.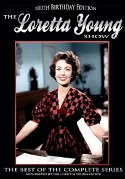 She established her trademark entrance, sweeping into an apartment set in a glamorous gown to the applause of an unseen audience and directly addressing the camera, in the show's first episode (initially called "Letter to Loretta" before the name was changed to "The Loretta Young Show" sometime during the first season), before introducing the story that week. The shows themselves were a mix of comedy, romance, family drama, and crime stories, all original scripts with new characters every episode. Or mostly every episode. There are some multi-episode stories and played Inga Helborg (a "Farmer's Daughter"-like character) in four separate stories spread across the seasons, all of them included here. The episodes were mastered from 16mm TV syndication prints or pre-HD video masters and there are moments of missing audio and damage. The quality is not stellar but acceptable, especially given the scope and size of the project.
The set, authorized by the Loretta Young Estate and released to celebrate her 100th Birthday, collects 145 episodes of the anthology series (more than half of the show's run and most of the episodes starring Loretta Young) in a box set of 17 discs, along with interviews with Young, her children, and actress and co-star Beverly Washburn, home movies, and an actress bio. DVD.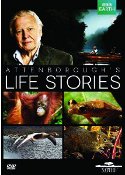 BritTV:
"Attenborough's Life Stories" (BBC) is a three-part documentary series with naturalist Sir David Attenborough reflecting on the changes he's witnessed in his lifetime: "Life on Camera," "Our Fragile Planet," and "Understanding the Natural World." Originally produced for the PBS natural history series "Nature" in collaboration with the BBC.
"Doctor Who: Reign of Terror" (BBC), story no. 8 in the series, stars William Harnell as the Doctor in an early six-part story that takes them to the French Revolution. Episodes 4 and 5 are missing and animated versions are included in their place. Features commentary, featurettes, and other supplements. DVD.
"Top Gear: 50 Years of Bond Cars" (BBC) is an special episode of the British car series presented by Richard Hammond.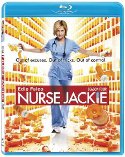 Another season:
"Nurse Jackie: Season Four" (Lionsgate), the pill-addiction companion piece to "Weeds" starring Edie Falco as New York hospital emergency room nurse and TV's most functional drug addict Jackie Peyton, is a superior show in every. Where "Weeds" plays this kind of personal crisis for easy laughs and minimal consequences, "Nurse Jackie" finds the humor more painful and ambivalent, and the repercussions of her actions reverberate through her marriage, her friendships, and finally (and most painfully) her two daughters. This season she faces two new challenges: sobriety and a new hospital administrator (Bobby Cannavale). Blu-ray and DVD, with commentary and two featurettes.
"The Hardy Boys: Season Three" (Shout Factory), the final season of what was previously called "The Hardy Boys / Nancy Drew Mysteries" and rotated the teen sleuths every week, is strictly a Hardy affair this time, with ten episodes of Shaun Cassidy and Parker Stevenson solving crimes as Joe and Frank Hardy. DVD, three discs.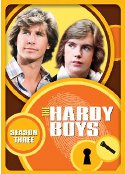 "Bonanza: The Official Fifth Season, Volumes 1 and 2" (Paramount) presents 34 episodes of the classic western with the Cartwright boys (Pernell Roberts, Dan Blocker and Michael Landon) and their dad (Lorne Greene), spread across nine discs in two volumes (available separately or wrapped together). With select guest commentary on five episodes plus other supplements. DVD.
"Matlock: The Eights Season" (Paramount) features 20 episodes of the geriatric legal show starring Andy Griffith on six discs. Urkel alert! "Family Matters: The Complete Third Season" (Warner) features 25 more episodes of the family sitcom on three discs. "Storage Wars: Volume 4" (Lionsgate) features 14 episodes of one of the top reality shows on the A&E network on two discs. All DVD only.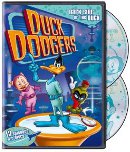 Plus:
"Duck Dodgers: Season One" (Warner) collects all 13 episodes from the 2003 debuit of the animated series featuring Looney Tunes favorite and Daffy Duck alter-ego Duck Dodgers, sidekick Porky, and nemesis Marvin the Martian. DVD, two discs.
"Slugterra: Return of the Shane Gang" (Shout Factory) features five episodes from the animated sci-fi series. DVD.
"Bible Stories from the Old Testament" (History) and "Bible Stories from the New Testament" (History) are a matched pair of three-disc sets featuring programs from A&E and History Channel (including "Biography" and "Mysteries of the Bible") focused on stories from the Bible. Both DVD.
For more releases, see Hot Tips and Top Picks: DVDs, Blu-rays and streaming video for week of February 12