The New Release Rack: Keira Knightly is 'Anna Karenina' in this lavish theatrical adaptation
Plus the horror of 'Sinister,' family comedy 'Fun Size,' Oscar-winning documentary 'Undefeated,' and more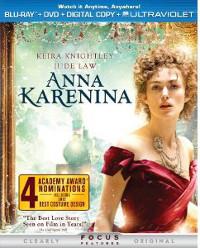 "Argo" (Warner), Ben Affleck's Oscar-nominated drama, arrives on Blu-ray, DVD, and On Demand, just in time to catch up with before the Academy Awards are handed out on Sunday. Videodrone's review is here.
Joe Wright's lush adaptation of Leo Tolstoy's "Anna Karenina" (Universal) plays out largely in a 19th-century theater, where the action unfolds not just on stage, but in the wings, in the balconies, and even on the floor, where seats are cleared out and sets moved in as necessary. One might suppose it's intended as a comment on a life lived as a public performance, but mostly it distracts from the complicated story of tragic, obsessive love. Keira Knightly plays Anna, who defies convention to be with her dashing soldier lover Vronsky (Aaron Taylor-Johnson) and Jude Law is her idealistic reformer husband. It picked up four Oscar nominations, all in the craft categories that period pieces usually get -- costumes, sets, cinematography, and music.
"Readers familiar with Tolstoy's book will immediately appreciate that there is nothing inherent in the material that justifies or even suggests such a hyper-stylized approach," complains MSN film critic Glenn Kenny. "As much as Anna's mad love for Vronsky represents a grievously ill-advised playing out of a passion that knows no reason, Tolstoy's treatment of it is hardly fanciful. That being the case, just because there's no rationale for a hyper-stylized treatment in the material one is adapting, there's no innate or actual prohibition against applying it, either. The thing is, if you do decide to apply it, you damn well better pull it off. Wright does not."
Blu-ray and DVD, with commentary by Joe Wright, the featurette "Anna Karenina: An Epic Story About Love," five additional production featurettes, and deleted scenes. The Blu-ray also features a digital copy of the film for portable media players and an UltraViolet digital copy for download and instant streaming. Also On Demand.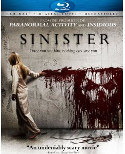 "Sinister" (Summit) stars Ethen Hawkes as a true crime writer who moves his family into the house where a brutal crime took place. What could possibly go wrong? "Writer-director Scott Derrickson ("The Exorcism of Emily Rose") and co-scripter C. Robert Cargill… clearly hoped to make "Sinister" an old-school horror movie, mining terror from classic haunted house scenarios designed to drive a desperate writer to "Shining"-style madness," explains MSN film critic Kat Murphy. ""Sinister" ought to look and play like lethal nightmare, in the tradition of John Carpenter's "Halloween." It doesn't. Derrickson and Company, lacking Carpenter's filmmaking chops and bone-deep faith in the genre, can't deliver the hair-raising goods."
Blu-ray and DVD, with two commentary tracks, two featurettes, and deleted scenes. The Blu-ray also features a digital copy of the film for portable media players and an UltraViolet digital copy for download and instant streaming. Also On Demand and at Redbox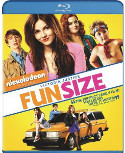 Nickelodeon teen starlet Victoria Justice stars in the family comedy "Fun Size" (Paramount) as a high school girl stuck babysitting her little brother, a little terror who goes missing, launching the crazy chase to find him again. "There's a good deal of sharp, funny stuff in it, to be sure," admits MSN film critic Glenn Kenny. "While never reaching full-on John Hughes levels… "Fun Size" goes further in depicting how real teens are likely to behave, whether we like it or not, than has been the wont of such essentially wholesome fare. And wholesome it is, essentially."
Blu-ray and DVD, with featurettes, deleted scenes, and a music video. The Blu-ray also features a digital copy of the film for portable media players and an UltraViolet digital copy for download and instant streaming. Also On Demand and at Redbox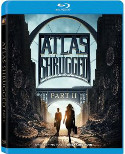 "Atlas Shrugged II: The Strike" (Fox), the second film in producer John Aglialoro's proposed film trilogy based on Ayn Rand's epically overrated and absurdly revered novel, recasts the leads from the first film. Samantha Mathis takes Dagney Taggart over from Taylor Schilling and Jason Beghe plays Henry Reardon for Grant Bowler. And who is John Galt? D.B. Sweeney, of course. It's actually a more interesting cast than the first film, though one with decidedly small screen presence, and director John Putch, a TV sitcom veteran, picked up a Razzie nomination as Worst Director. Even with the scaled-down budget, the film was a theatrical flop, but I assume producer John Aglialoro is hoping for true believers to make up the difference with disc sales. After all, as any true devotee of Ayn rand knows, the unfettered marketplace is the true arbiter of success. Blu-ray and DVD, with a featurette, deleted scenes, and an extended version of Sean Hannity's appearance. Also On Demand. Reviews here.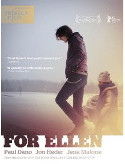 "For Ellen" (Tribeca) is an indie drama starring Paul Dano as a musician who inadvertently signs away all custody of his daughter in his divorce settlement and struggle to reverse the decision with the help of a good-natured lawyer (Jon Heder). So Yong Kim ("Treeless Mountain") writes and directs. DVD, with a promotional featurette. Reviews here.
"Small Apartments" (Sony) is a comedy about murder, madness, and the eccentric neighbors of a desperate man (Matt Lucas) in a seedy LA apartment. Billy Crystal, James Marsden, Johnny Knoxville, Rebel Wilson, Juno Temple, James Caan, Peter Stormare, and Dolph Lundgren co-star and Jonas Åkerlund directs. DVD, with a featurette. Also at Redbox. Reviews here.
"Special Forces" (eOne) is a French war drama starring Diane Kruger as a journalist captured by the Taliban and Djimon Hounsou as the leader of the elite military group sent to rescue her. Blu-ray and DVD, with original French and English dub soundtracks, featurettes, and deleted scenes. Reviews here.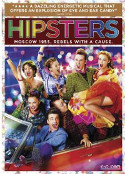 Foreign Affairs:
"Hipsters" (Kino) is an old-fashioned musical, coming-of-age tale, and adventure in youthful rebellion with a big difference from its Hollywood counterpart: it erupts in the underground youth culture of 1955 Moscow. In the conformist society of Soviet Russia, a group of self-defined "hipsters" parade about in peacock fashions, dance to swing and small combo dance bands from World War II-era America, and even seduce a loyal comrade into their ranks. It's a bright blast of hidden culture in a society where rebels are regularly jailed for much less. It's also a warped mirror reflection of what these Soviet youths imagine American culture is like from the snatched glimpses and slivers of artifacts gleaned from between the cracks of the Iron Curtain, a recreation at least ten years out of date and exaggerated to hyperbolic extremes. What's most interesting about "Hipsters" is not the narrative, however, but the evocation of this Russian subculture Russian subculture that Americans have not seen dramatized before. Russian with English subtitles, DVD only, with supplements. More reviews here.
Also from Russia comes "Bullet Collector" (Artsploitation), the drama of a bullied adolescent boy who lands in reform school and escapes his torments in a fantasy world. Russian with English subtitles, DVD, with a featurettes, cast audition tapes, a deleted scene, and a booklet. IMDb page here.
"North Sea Texas" (Strand) is a different kind of coming-of-age drama, this one a Dutch drama about a sensitive teenage boy in a small coastal town in Belgium who has a crush on his best friend. In Dutch with English subtitles, DVD. Reviews here.
"Our Paradise" (Breaking Glass) is another romantic drama with a gay theme, this one set in the Paris underworld of prostitution and petty crime. French with English subtitles, DVD. Reviews here.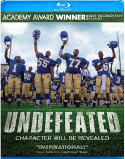 True Stories:
As we count down the days to the 2013 Academy Awards, "Undefeated" (Anchor Bay), which won the Oscar for Best Documentary last year, debuts on disc and digital. "You do not have to be a fan of sports to appreciate great sportswriting," writes MSN film critic James Rocchi in his rave review. "And the biggest compliment I can give the Oscar-nominated documentary "Undefeated" is that it feels like great sportswriting. Directed by Daniel Lindsay and T.J. Martin, who previously filmed the world of sport in the probably less-affecting "Last Cup: Road to the World Series of Beer Pong," "Undefeated" is about the Manassas Tigers of Memphis, Tenn., as coached by Bill Courtney. Early on, Courtney tells his charges, "You think football builds character? It does not. Football reveals character." And so, too, does "Undefeated.""
Blu-ray and DVD, with commentary by directors Daniel Lindsay and T.J. Martin, the featurette "The Making of Undefeated," and deleted scenes.
"Bestiaire" (KimStim/Zeitgeist) is filmmaker Denis Côté's documentary on the relationships between animals and people filmed at a safari park in Quebec. DVD, with a video interview with director Denis Côté. Reviews here.
For more releases, see Hot Tips and Top Picks: DVDs, Blu-rays and streaming video for week of February 19