TV on Disc Channel Guide: 'Life's Too Short' for Warwick Davis and Ricky Gervais
Plus the 'Jackson 5ive' cartoons of the seventies, the unfinished 'Doctor Who' story, and more
By 
SeanAx
 Jan 16, 2013 10:33AM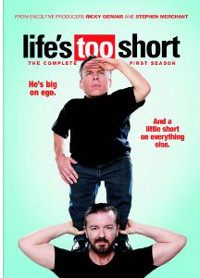 "Men of a Certain Age: The Complete Second Season" (Warner) stars Ray Romano, Scott Bakula and Andre Braugher as college buddies facing fifty with the realization that they aren't where they want to be. Videodrone's review is here.
"Life's Too Short: The Complete First Season" (HBO), written and directed by Ricky Gervais and Stephen Merchant, reworks their mockumentary format to spoof the career of Warwick Davis, star of "Willow" now on hard times, or so this seven-episode series claims. Gervais and Merchant make appearances as themselves but Davis comes off like yet another Ricky Gervais figure: conceited, self-aggrandizing, inconsiderate, rude, and so obsessed with his image that he sabotages every opportunity to appear reasonable and generous. He begins the show with a tax bill he can't pay (thanks to an incompetent accountant) and a collapsing marriage (thanks to his own arrogance), and rolls through one humiliation after another on the road to career suicide.
The star cameos are very funny, however, especially Liam Neeson, who steals the first episode when he plays improvisational comedy with all the levity of a cancer ward. Other guest stars include Johnny Depp, Sting, Helena Bonham-Carter, Steve Carrell, and Cat Deely. Seven episodes on two discs on DVD, with a featurette, behind-the-scenes clips, and deleted scenes.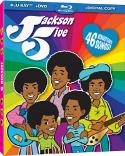 "The Jackson 5ive: The Complete Animated Series" (DreamWorks Classics) is quite the nostalgia release: all 23 episodes of the 1971 -1972 Saturday morning cartoon series produced by Rankin/Bass. Voice actors take the acting duties in the storylines but each episode features two complete songs by the Jackson Five, all remastered for this set, and Diana Ross reportedly voices herself in the pilot episode, a storybook rewrite of their discovery. They're all cute, fun-loving boys in this version, embarking on comic adventures on the way to their concerts (traveling by jalopy when not flying coach) and escaping every predicament with the help of Michael's pet pink snake and a pair of mice named Ray and Charles.
Like, it's pretty groovy, dig? Especially those funky music video breaks with images and strobing rainbow colors right out of Peter Max posters. The grit and dirt you see in the picture is from the animation cels, not the original prints, so you could say that those imperfections are really part of the original experience. The music has been mastered for this set. Blu-ray+DVD combo pack features 23 episodes on both two Blu-ray discs and DVDs, plus an episode guide.
"Perry Mason: Season 8, Volume 2" (Paramount) presents 15 more episodes of courtroom brilliance from Raymond Burr's definitive TV lawyer. As we approach the show's final season, Wesley Lau's Lt. Anderson has taken over from Ray Collins' Lt. Tragg but Barbara Hale and William Hopper are still lending their support as Mason's crack team and William Talman's D.A. Hamilton Burger still never has a chance against Mason's invariably innocent clients and courtroom genius. Four discs on DVD, plus a "Law Day" promo with Perry Mason.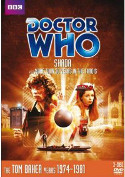 BritTV:
"Doctor Who: Shada" (BBC), story no. 109 in the series, stars Tom Baker as the Doctor and Lalla Ward as Romana in a story written by Douglas Adams. This was the only "Doctor Who" story that was never completed and it was never broadcast. The three disc set reconstructs the episode from original film negatives and studio recordings and supplements the presentation with linking material from 1992 and the 1993 Anniversary Special "More Than 30 Years in the Tardis." Also includes featurettes, interviews, and other supplements. DVD.
"The Man Who Lived at the Ritz" (BFS), a 1988 mini-series set in the Nazi occupation of Paris in 1940, stars Perry King as an American artist who tries to remains neutral but is pushed into joining the resistance after witnessing the actions of the German occupation. Two discs, DVD.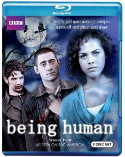 "Being Human: Season Four" (BBC) brings in cast changes – Michael Socha and Damien Molony replace Aidan Turner and Russell Tovey as the roommates of ghost Annie (Lenora Crichlow) – and sends them all to a run-down hotel in a seaside town to hide out and raise a werewolf baby. Meanwhile, the vampires are still trying to take over the world. Eight episodes on three discs on DVD and Blu-ray, plus featurettes, deleted scenes, and interviews.
"Merlin: The Complete Fourth Season" (BBC) continues the teen reworking of the King Arthur legend with Merlin (Colin Morgan) as a fledgling peasant sorcerer and Arthur (Bradley James) as an arrogant young prince learning to become a king. 13 episodes plus commentary tracks, deleted scenes and a featurette, on four discs on DVD.
"Waking the Dead: Season Seven" (Acorn), the British cold case detective series with Trevor Eve and Sue Johnston, continues with six more feature-length episodes on three discs on DVD.
"Last of the Summer Wine: Vintage 1997" (BBC) features ten episodes from the longest running sitcom on TV, plus the 1996 special. Two discs, DVD.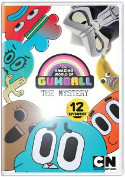 Kid stuff:
"The Amazing World of Gumball: The Mystery" (Warner) present a dozen 10-minute episodes of the Cartoon Network animated series. "Spongebob Squarepants: Extreme Kah-rah-tay" (Paramount) is a grab bag of eight stories from the hit animated series from Nickelodeon.
"Power Rangers Samurai: Volume 3" (Lionsgate) and "Power Rangers Super Samurai: Volume 3" (Lionsgate) are single disc-releases with four episodes apiece that claim to be "All new to DVD" on the cover but were actually released last year in "Complete Season" sets in 2012.
Plus:
"Bill Moyers: Becoming American – The Chinese Experience" (Athena) presents the three-part documentary series on the history of the Chinese in America, originally presented in 2003, plus a bonus follow-up program and a viewer's guide. Two discs in a box set, DVD.
"The Story of Math Collection" (Acorn) gathers three complete educational programs originally made for British TV and previously released on DVD: the four-episode "The Story of Math," the three episode "The Code," and the documentary "The Music of the Primes." Five discs on a box set.
"Ghost Hunters Academy" is the spin-off series of the SyFy hit show about paranormal investigators. 12 episodes plus supplements on four discs.
For more releases, see Hot Tips and Top Picks: DVDs, Blu-rays and streaming video for week of January 15