Videodrone's best of 2012 MOD and special home video mentions
The top disc releases of the year, part 4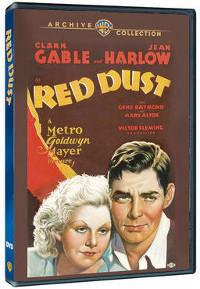 The last of the lists, with the best debuts from the manufacture-on-deman​d mode and a few assorted special prizes for stand-out achievements and dubious honors.
Manufacture-on-Deman​d
1. "Red Dust" (Warner Archive), the 1932 jungle melodrama starring Clark Gable as a rubber plantation foreman in East Asia and Jean Harlow as the street smart showgirl who lands upriver in his primitive plantation manor, is as sexy, frank, and grown-up as pre-code cinema gets. The star power made this a classic of late-night TV and early VHS release, but the lack of high-quality archival elements made it MIA when other star-powered Hollywood classics rolled out on DVD. Disc release was delayed until a satisfactory master could be created, and this is far more than satisfactory. It looks great and marks one of the biggest releases of the format. (Full review here)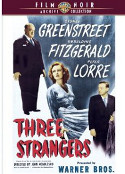 2. "Three Strangers" (Warner Archive), "Nobody Lives Forever" (Warner Archive), and "The Conspirators" (Warner Archive), three of the four features that elevated Jean Negulesco from studio contract man cranking out theatrical shorts to A-list Warner director, are the first films from the Warner Archive to carry the brand "Film Noir." "The Conspirators" (1944) is basically a "Casablanca" knock-off in Portugal, a standard studio thriller pulled off with style, but the other two are superb: "Three Strangers" (1946) a shadowy film of fate and greed and obsession from a John Huston screenplay and "Nobody Lives Forever" (1946) a street-smart film noir of con men and double crosses with John Garfield in the lead. (Full review here)
3. "Crime Does Not Pay" (Warner Archive) – The MGM series numbered 50 dramatic short films between from 1935 to 1947, all running about 20 minutes, most serving as a training ground for up and coming directors (including Jacques Tourneur, Joseph Losey, and future Oscar winner Fred Zinneman). They're a mix of procedural, with detectives doing proto-CSI work to solve the crimes, and morality tale with terrible ends for the criminals, and they are all collected in this six-disc set, most of them is better shape than I expected for such a forgotten series. (Full review here)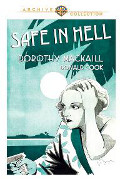 4. "Safe in Hell" (Warner Archive), a kind of B-movie riff on "Sadie Thompson" directed by William Wellman, and its star Dorothy Mackaill are two of most exciting discoveries I made this year, thanks to the creative curatory drive of Warner Archive. In fact, you could toss in any number of thirties films, from audacious pre-code dramas to rapid fire comedies, that made their home video debut this years thanks to Warner Archive, from "The Last Flight" (1931) and "Thirteen Women" (1932) to the eight films on "Forbidden Hollywood: Volume 4" and "Forbidden Hollywood: Volume 5." (Full review here)
5. "Having a Wild Weekend" (Warner Archive), the Dave Clark Five's answer to "A Hard Day's Night," has a title that suggests the knock-about fun and goofy banter of The Beatles on film, but it's more like a mop top exploitation version of the social drama cinema that was all the rage in the mid-sixties. Playwright Peter Nichols brings an edge of social satire and a shadow of existential emptiness to the runaway road movie story and John Boorman (making his feature debut) adds a kind of mod realism to the romp. In fact, leading man Dave Clark is the film's only real weakness. (Full review here)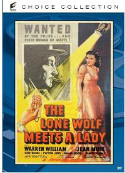 Honorable mentions:
"The Lone Wolf Meets a Lady" (Sony Pictures Choice Collection) and "Perry Mason: The Original Warner Bros. Movies Collection" (Warner Archive) – All hail the forgotten silver fox of thirties cinema: Warren William, the first man to play Perry Mason on screen (his Mason is quite the dapper bigwig with a pre-code sensibility: cavalier with professional ethics, obstructing justice to protect a client, flamboyant in the courtroom) and the best of the many incarnations of Michael Lanyard, the retired jewel thief turned gentleman detective in the "Lone Wolf" films. Keep an eye out in 2013 the anticipated release of two of his pre-code masterpieces on Warner Archive: "Employee's Entrance" and "Skyscraper Souls." Meanwhile, Sony, why not a "Lone Wolf" box set? (Reviews of "Lone Wolf" and "Perry Mason" here)
Sony Pictures Choice Collection – Sony's track record on its classic Columbia releases has been outstanding in 2012, with consistently good quality masters and excellent transfers. The only reason they didn't place any discs in the Top Five above is that the films themselves have simply not been as interesting as what's coming out of Warner Archive. The reason? They're releasing the cream of their classics on DVD in partnership with Turner Classic Movies as part of the TCM Vault Collection. Which is a win for everyone.

Home Video Supplement of the Year
"Stanley Kubrick's Boxes" on "Full Metal Jacket" (Warner) - The original documentary from Jon Ronson gives the viewer unprecedented access into some of the boxes of research materials accumulated by Kubrick over the course of his career, and a little insight into the nature of Kubrick's total focus when embarking on a project.  (Full review here)
Honorable mention:
"The Furious Gods: Making Prometheus" - The massive 220-minute documentary on "Prometheus: Four Disc Set" (Fox) is an exhaustive production that traces the film from conception to release. You gotta love the film to embrace it, but that kind of commitment is impressive by any measure. (Full review here)
Most welcome addition of 2012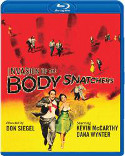 Olive Film's exclusive arrangement with Paramount to distribute the Republic Pictures catalog on Blu-ray and DVD has resulted in a consistently superior run of Blu-ray (and some DVD) debuts. Debuting with the original 1956 "Invasion of the Body Snatchers" (in the 2.00:1 SuperScope format) and "High Noon," Olive has plucked the prizes from the Republic catalog for their initial releases – 2012 offerings include "Pursued" (1947), "Body and Soul" (1947), "Force of Evil" (1948), "Macbeth" (1948), "Letter From an Unknown Woman" (1948), "Rio Grande" (1950), and "Johnny Guitar" (1954), to name my favorites – and got involved in mastering the discs from original negatives where possible and excellent 35mm prints where necessary.
Honorable mention:
Warner Archive introduced its first Blu-ray releases: "Gypsy" (1962) and "Deathtrap" (1982). These are not traditional manufacture-on-deman​d discs -- they are pressed in limited quantities, like small-batch brews -- but are available through the Warner Archive website just like their DVDs. And they look just fine. (Full review here)
Controversies of 2012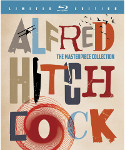 1. "Alfred Hitchcock: The Masterpiece Collection" (Universal) – Delayed after a British critic leaked his initial thoughts on a few substandard and simply inexcusable releases, the set came out a month after its initial release date with the worst of the issues corrected but a few of the films seemingly rushed through the mastering process (digital video noise reduction on "The Man Who Knew Too Much" and "Frenzy," annoying digital haze across most of "Marnie," poor image quality on "Family Plot"). All the discs are an improvement over the previous DVD releases and some are superb, but there should not have been any skimping when it comes to releasing what is supposed to be the definitive home video editions of Hitch's films. Videodrone's review of the set is here.
2. Fox Cinema Archives – 20th Century Fox stumbles into the manufacture-on-deman​d format, following the leads of Warner, Sony, and MGM to release some of the older titles from the vaults. The releases to date are… mixed, to say the least. Too many pan-and-scan editions of widescreen films (and this at Fox, the home of CinemaScope!), too many non-anamorphic editions among the few widescreen offerings they do offer, and many sub-standard editions from poor prints or pre-HD video masters. There are some fine releases, but the track record is far too inconsistent. Videodrone's initial report on Fox Cinema Archives here, and see Dave Kehr's piece in the New York Times for his far more public airing of the issues.
3. Jeffrey Wells accuses Criterion of screwing up "Rosemary's Baby," arguing that the company disregarded Roman Polanski's framing while himself disregarding the fact that Polanski participated and signed off on the disc, aspect ratio and all. Unlike the tempest that was "Barry Lyndon" in 2011, this home video debate never took off. Probably because Roman Polanski was perfectly fine with the Criterion treatment that Wells found so egregious. He corrected his own errors in a mea culpa but stuck to his increasingly obtuse claim and, after much entertaining debate, was soon ignored. ("Rosemary's Baby" reviewed on Videodrone here)
Other lists:
DVD Talk's Top Releases of 2012
Glenn Erickson: "Most Impressive Discs of 2012" at DVD Savant
Click here for Videodrone's Best Disc Debuts, Best Blu-ray Releases, and Best TV on Disc for 2012