Ewan McGregor and Christopher Plummer are 'Beginners'
An American Indie drama of fathers, sons, lovers and starting all over again
By 
SeanAx
 Nov 15, 2011 11:30AM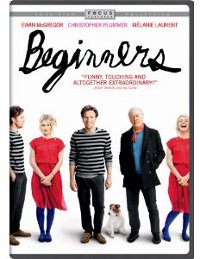 "Beginners" (Universal) stars Ewan McGregor as an artist challenged to open up his life after his newly widowed 75-year-old father (Christopher Plummer) comes out of the closet at age 75 and embraces the identity he had hidden all his life. Loving himself and living out his true nature allows the father, who spent his life guarding himself physically and emotionally, to open up to his son in ways he had shrouded in the past, as memories attest: Dad is absent from his past but for the back of a head always leaving with a perfunctory show of guarded affection.
Mills, inspired by his own experience with his father, gives the film a celebratory passion in the quiet closeness of father and son and the playful first-person storytelling, where gentle eccentricities and anxious memories and fears of commitment and loss swirl together. Mélanie Laurent co-stars as the woman who challenges McGregor to follow his father's lead and follow his heart. Plummer's performance is superb and already Hollywood is talking Oscar.
"There's no resisting Plummer as a sweet septuagenarian who revels through his few out-and-proud years, then soldiers through terminal lung cancer," concurs MSN film critic Kat Murphy, but she's less sold on the rest of the film than I am. "Folks will either embrace the "real"... or recoil from the reek of indie twee. Though drawn from the director's life-altering personal experiences, this amiable dramedy seems oddly lightweight and remote."
On DVD and Blu-ray with commentary by writer/director Mike Mills, the featurette "A Short Film About Making Beginners" and a promo. The Blu-ray also features the usual interactive BD-Live functions. Also available on Digital Download and On-Demand.
For more releases, see Hot Tips and Top Picks: DVDs and Blu-rays for November 15