TV on Disc Channel Guide: Britain and American Team Up to 'Strike Back'
Plus 'Power Rangers,' 'Carol Burnett,' 'Dance Moms,' and more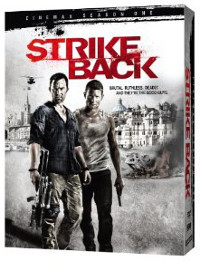 "Grimm: Season One" (Universal) is one of the new breed of urban fantasy shows, a mix of dark fairy tale, modern crime, and supernatural conspiracy set in the emerald forest of Portland, Oregon. Videodrone's review is here.
"Strike Back: Season One" (HBO) - Originally developed as a British action series about international intelligence agents infiltrating enemy organizations and stopping terrorist threats around the globe with a mix of spycraft and violence, "Strike Back" was reworked and relaunched as a co-production between Britain's BSkyB cable channel and the American pay cable channel Cinemax and relaunched with a new cast. That's the version released here as "Cinemax Season One," which stars Philip Winchester as Sgt. Michael Stonebridge, an agent in Britain's super-secret covert Section 20 and Sullivan Stapleton as American Damien Scott, a former (dishonorably discharged) Delta Force officer drafted to help out when a fellow agent is captured by a terrorist organization in Pakistan. Amanda Mealing co-stars as the Section 20 commander and Eva Birthistle is a veteran agent, and guest stars include Jimi Mistry, Liam Cunningham, and Iain Glen.
It's compared to "24" but it actually plays like a supercharged "MI-5" by way of a "Bourne" movie, with high-energy action, plenty of gunplay and explosions, maverick field agents, politically-minded commanders, and any number of conspiracies and double crosses winding through the stories. It doesn't have the intelligence or complexity of an ambitious HBO drama, but it's clever enough and delivers plenty of well-executed action sequences with a gritty style. The ten episodes play out as a series of five two-part adventures with a cliffhanger in the middle, and a season-long story connecting the individual stories. Give the show credit for an inventive conspiracy: it's all about the WMDs that were *supposed* to be found in Iraq and the blowback from the failure just now reaching escape velocity in a terrorist plot.
10 episodes on four discs on Blu-ray and DVD, with commentary on five episodes. The Blu-ray set features a bonus DVD version (on two flipper discs) and digital copy for download (via iTunes).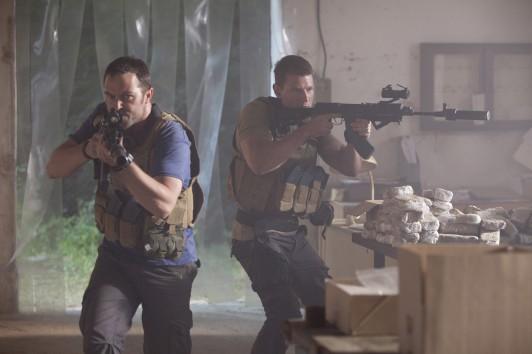 "Mighty Morphin Power Rangers: The Complete Series" (Shout! Factory) presents all 145 episodes of the original kids actions series that ran between 1993 and 1996 on American TV, with action scenes from the original Japanese TV series and all new character scenes (sans masks) with American actors (including Amy Jo Johnson) for the stateside incarnation. 19 discs in five volumes plus a case for bonus features, and the box set also includes an episode guide with stills and notes on the series. The series was carried on in "Power Rangers: Seasons 4-7" (Shout! Factory): 183 episodes on 20 discs over four volumes branded with the season subheading: "Zero," "Turbo," "In Space," and "Lost Galaxy." A 21st disc carries the bonus features, and the box set again includes an episode guide with stills and notes.
Previously these shows were only available via single-disc releases. Now all 338 episodes plus supplements are available as a package exclusively from the web, or you can purchase the 30-episode "Mighty Morphin Power Rangers: Season 1, Vol. 1" 3-disc set separately.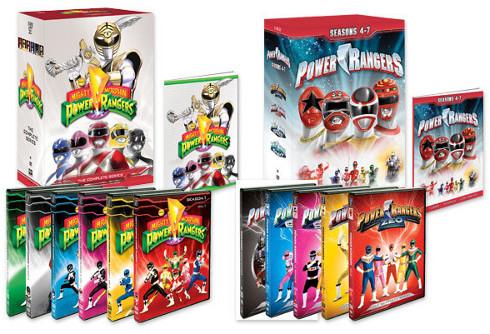 "The Carol Burnett Show: The Ultimate Collection" (Time Life) is another web exclusive, a 22-disc set featuring 50 episodes of the long-running sketch comedy/variety series co-starring the best comedy ensemble on seventies TV (Harvey Korman, Tim Conway, and Vicki Lawrence) plus supplements. Also available is the six-disc "Carol's Favorites" (Time Life). No review copy was made available.
"Dance Moms: Season One" (New Video) is the Lifetime original reality series set at the Abby Lee Dance Company, where little learn to dance and stage mothers clash with instructor Abby Lee Miller. 12 episodes on four discs, plus bonus footage and a highlight reel of "Most Outrageous Moments."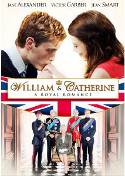 TV Movies:
"William & Catherine: A Royal Romance" (Lionsgate), originally made for the Hallmark Channel, stars Jane Alexander, Victor Garber, Jean Smart, and Dan Amboyer and Alice St. Clair as Prince William and Kate Middleton.
"Jesse Stone: Benefit of a Doubt" (Sony) is the eighth telefilm starring Tom Selleck as Robert B. Parker's small town police chief, once retired but now back on the job when a double homicide rocks the town of Paradise. Kathy Baker, Gloria Reuben, Stephen McHattie, William Sadler, and Saul Rubinel co-star.
For the adolescent crowd, there is "Let It Shine: Extended Edition" (Disney), a Disney Channel musical set in the culture of rap and hip-hop, and the animated "Winx Club: The Secret of the Lost Kingdom" (Paramount), which includes bonus episodes of the "Winx Club" series. Both DVD only.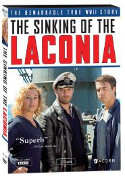 BritTV:
"The Sinking of the Laconia" (Acorn), a mini-series from writer Alan Bleasdale, revisits the real-life sinking of the RMS Laconia, a British ship with 2,000 civilian passengers, by a German submarine in 1942. Andrew Buchan, Ken Duken, Franka Potente, Thomas Kretschmann, Brian Cox, and Lindsay Duncan star. Includes the documentary featurette "The Sinking of the Laconia: Survivors' Stories." DVD only.
Fittingly another Andrew Buchan period piece, the 18th century legal drama "Garrow's Law: Series 3" (Acorn), arrives the same day. Four episodes on two discs, DVD only.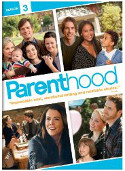 Another season:
"Parenthood: Season Three" (Universal) features 18 episodes from the hit dramedy based on the 1989 family comedy by Ron Howard, with Peter Krause, Lauren Graham, Dax Shepard and Erika Christensen as the children (and struggling parents) of Braverman clan elders Craig T. Nelson and Bonnie Bedelia. Jason Ritter, John Corbett, and Cee Lo Green guest star this season. Four discs, with commentary on two episodes, a deleted storyline, and other deleted scenes. DVD only.
"Gunsmoke: The Sixth Season – Volume 1" (Paramount) features 19 episodes half-hour from the 1960-1961 season (when it was still a half-hour drama) of western justice from James Arness' Marshall Matt Dillon and friends on three discs. "The Rookies: The Complete Second Season" (Shout! Factory), with Georg Stanford Brown, Michael Ontkean, Sam Melville, and Kate Jackson, features 23 episodes on six discs. Both DVD only.
"Ghost Hunters: Season Seven, Part 1" (Image) presents 12 episodes of the supernatural reality series on four discs and "Squidbillies: Volume Five" (Warner) has ten episodes of the animated series on a single disc. Both DVD only.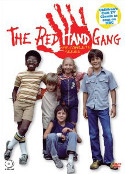 Plus:
- "The Red Hand Gang: The Complete Series" (VCI) features all 12 episodes of the 1977 kids adventure about a gang of five inner-city crime-solving kids. Three complete multi-episode stories on two discs, DVD only.
- "Dr. Seuss's The Cat in the Hat: Deluxe Edition" (Warner) presents the 1973 animated TV special along with two additional Dr. Seuss animated stories: ""Daisy-Head Mayzie" and "The Hooper-Bloop Highway." DVD+Blu-ray Combo Pack.
- "Dennis the Menace: 20 Timeless Episodes" (Shout! Factory) picks 20 spotlight shows from over the course of all four seasons of the vintage sitcom, including the first episode "Dennis Goes to the Movies." Two discs, DVD only.
For more releases, see Hot Tips and Top Picks: DVDs, Blu-rays and streaming video for week of August 7