Cool and Classic: Presenting the distinctly British comedy of Will Hay and Norman Wisdom
The early films of two of Britain's most popular screen comics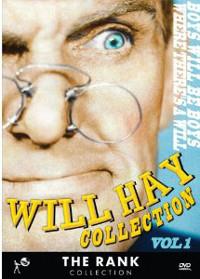 "Will Hay Double Feature Vol. 1: Boys With Be Boys / Where There's a Will" (VCI) features two British comedies from the thirties featuring the music hall star turned screen comedian playing variations on his stage characters. "Boys Will Be Boys" (1935) offers Hay in his schoolmaster persona, playing the headmaster at a school that teaches the criminal arts and "Where There's a Will" (1936) features Hay as a bungling solicitor hired by American crooks planning to rob a safe in his building. Both are directed by the unfathomably prolific William Beaudine during his brief sojourn in Britain. One disc on DVD only.
Jump ahead two decades for "Norman Wisdom Double Feature Vol. 1: Trouble in Store / One Good Turn" (VCI), presenting the breakthrough hits for the West End funnyman turned screen comedy superstar. "Trouble in Store" (1953) established his screen persona of the bumbling underling who creates chaos in slapstick scenes of physical comedy, and then saves the day with the very same fumbling pluck. The film was a hit and Wisdom returned in "One Good Turn" (1954), playing a bumbling (what else?) caretaker of an orphanage who must raise money to save his beloved institution. Both are written and directed by John Paddy Carstairs. One disc on DVD only.
"Murdock Scramble: The Second Combustion" (Sentai Filmworks), the sequel to "Mardock Scramble: The First Compression," is an anime feature from director Susumu Kudo. The Blu-ray and DVD both feature the original theatrical version and the director's cut, with Japanese and English soundtracks and optional English subtitles.
For more releases, see Hot Tips and Top Picks: DVDs, Blu-rays and streaming video for week of January 1