New Release: 'Margaret' and the Messiness of Life
Kenneth Lonergan's long-delayed film comes to home video in two versions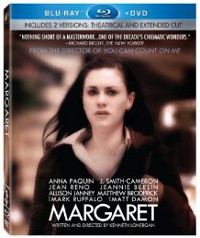 "Margaret" (Fox), the second feature from director / screenwriter / playwright Kenneth Lonergan (following "You Can Count On Me"), was shot in 2005 and caught in a kind of limbo for six years. The details are no long important, but after legal wrangles and creative fights, a 150-minute cut was released in a few cities in 2011, and then it practically disappeared, resurfacing in early 2012 after a long campaign by fans, supporters, and folks like me who never had a chance to see the film on its original release.
It's a powerful, provocative, ambitious drama set in the shadow of September 11, 2001, a marvelously messy film about the messiness of emotions and people and relationships, especially as they are tested in extreme circumstances. Pre-"True Blood" Anna Paquin is the high school girl Lisa, the privileged daughter of divorced artist parents, clashing with her actress mother (J. Smith-Cameron) and desperately trying to connect with her distant (physically and emotionally) writer father (director Lonergan himself) while dealing a trauma that upends her sense of emotional stability.
Lisa is an amazing character: infuriating, arrogant, anxious, guilt-ridden, vulnerable, aggressive, precocious… a teenager turning young adult, yes, but a fully realized human being who constantly surprises because she contains a multitude of impulses and contradictions that we're not used to seeing on the screen. Her story is all about flailing for meaning and understanding in a world where she doesn't even understand herself.
The original release ran 150 minutes, cut down from Lonergan's preferred three hour cut (which he struggled over with the help of Martin Scorsese), and there are parts of the film where the pieces seem to be missing, either because of holes in the narrative or simply abrupt changes in tone. But it is still an astounding film, one that would have been on my Top Ten list for 2011 had I actually seen it in 2011. More reviews here.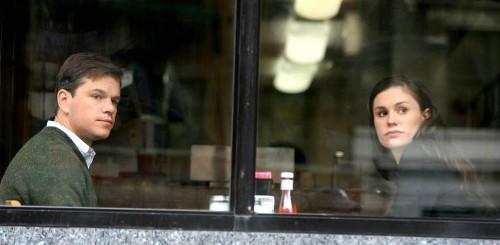 The film debuts on Blu-ray and On Demand (but not, curiously, DVD), and the two-disc  Blu-ray release features a never-before-seen extended cut of the film on a bonus DVD. It not a "director's cut" but an alternate cut that is "free from the constraints of worrying about the time," as Lonergan explained in an interview with indieWire. "To me, 'director's cut' means that what was released before was somebody else's cut. That, to me, always implies that what was released wasn't what the director wanted. That's just not what happened. The cut that was released was the cut I delivered. They're both the director's cut; they're just different cuts."
That version was not made available to me for review before my deadline so I can't really "recommend it," but I can't wait to finally see it for myself.
For more on the film, the fight over the editing, and the differences between the two versions, read Jim Emerson at Scanners and the New York Times magazine feature "Kenneth Lonergan's Thwarted Masterpiece" by Joel Lovell.
For more releases, see Hot Tips and Top Picks: DVDs, Blu-rays and streaming video for the week of July 10